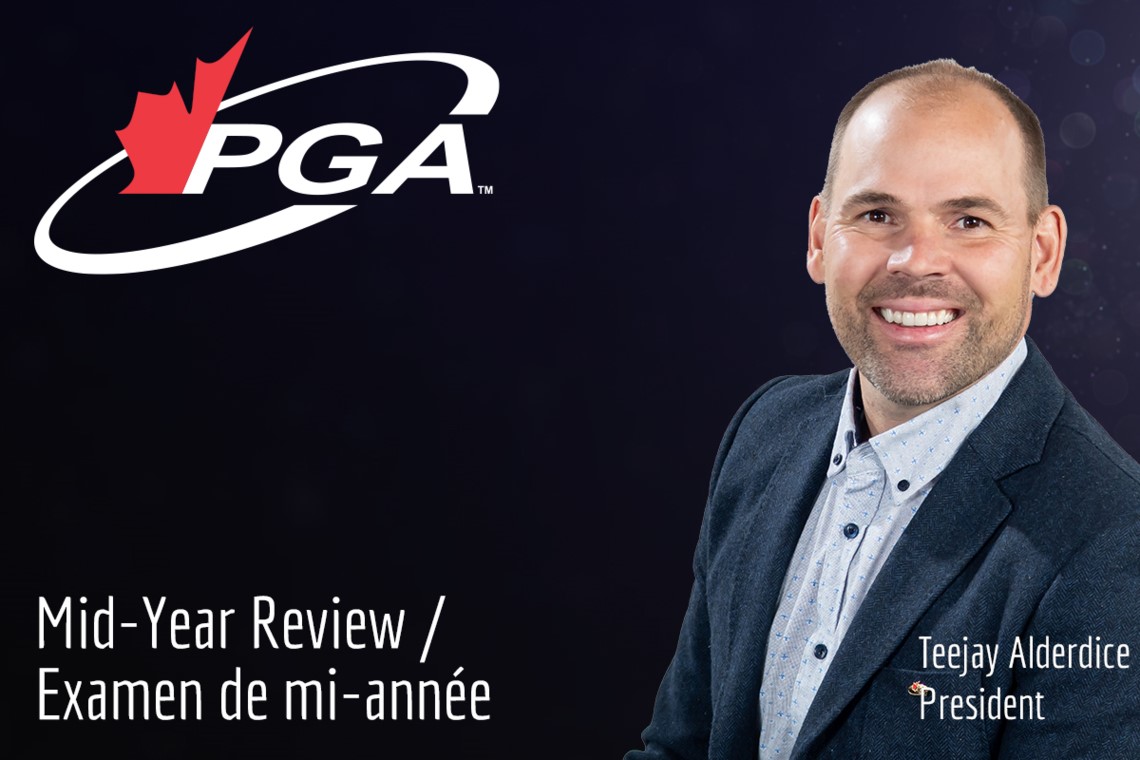 PGA of Canada Mid-Year Review
It has been a very exciting 2021 for our association and our members throughout the country. The topic of this past year's Tee Talks Live Digital Series was Resilience, which we all have shown throughout the past six months as we have successfully navigated the uncertainties of the pandemic and safely re-opened our golf facilities across the country.
As a National Board of Directors, we are committed to keeping you updated with progress, highlights, and areas to look forward to as a member. Included within this report are updates from the PGA of Canada as a snap shot of our 2021 mid-year review. The staff at the National Office prioritizes providing value to every member as we continue to be golf's driving force while promoting diversity and inclusion throughout the industry.
Enjoy the highlights and accomplishments from the past six months, and I look forward to the next six months and seeing how our members enhance the game of golf across the country.
Teejay Alderdice
PGA of Canada President
Operational Updates
Completed the draft of a new PGA of Canada strategic plan which will be reviewed by a series of focus groups and approved for implementation this fall
Initiated a new PGA strategic plan which will be launched later this year.
Completed the first membership satisfaction survey in more than 15 years with 40% completion from the membership. Stay tuned for our findings and next steps to be released this fall.
Revised a new member handbook to spotlight some of the highlights and features of the association, which was mailed to every member earlier this year.
20 bursaries were awarded, totalling $9005
Business Development
RBC Avion launched as the Official Credit Card of the RBC PGA Scramble, covering registration fees for cardholders and added a marketing program to their database which generates over 2-million monthly impressions.

GolfTV renewed as supporting partner of the RBC PGA Scramble, offering all players free access to the platform just for playing
Golf Avenue launched as supporting partner of the RBC PGA Scramble, supporting the program by offering contests for customers and opportunity for PGA Professionals to have Golf Avenue on site for trade-ins.
Lightspeed was welcomed as a National Partner and sponsor of the

Lightspeed

Tee Talks Newsletter.
NoSweat launched as supporting partner of all National Championships and creation of

NoSweat

Hardest Hole in Canada contest.
LivRelief launched as Official Pain Relief Cream of the Association, supporting all National Championships, providing product for courses to provide to their members/guests and contesting at league nights.
Membership
National Awards show, hosted by Bob Weeks and Kayla Grey, alongside Ian

Leggatt

, launched online for the first time, which was a resounding success with 542 registrants and over 300 people in attendance – posts including Awards content received over 300,000 impressions on Twitter.
Launched the Benevolent Fund, created to help members who are in dire financial need.
The Warren

Crosbie

Community Leader Award was created and awarded for the first time in January to Muncie Booth.
The Brooke Henderson Female Player of the Year Award, which will be awarded for the first time next January, was created to recognize the top-tournament-performing female PGA of Canada member.
Milestones to date: 51 new Class "A" members. There were 81 inactive apprentices to start the year, which was the lowest number ever, and we are now down to 52. There were 217 Apprentices in 2020, one of our highest incoming numbers on record, and we are doing great this year so far as well. In total, there are currently 3651 members, compared to 3501 at this time last year (an increase of 4.2%).
Education
Launched the Tee Talks Live - Digital Series, which was attended by 490 delegates. Over 100 members responded to the post-event survey and 99% of them were either satisfied or very satisfied with their experience. In addition, "Tee Talks Live" reached over a million people on Twitter. Foresight Sports Canada sponsored the event to make it free for all members.
New PGA Training Academy course catalogue was developed to encapsulate all courses, deliveries, credits, and costs in the Training Academy. More than 1,000 course registrations in the Training Academy have been completed so far in 2021.
The First Tee Canada launched in BC and Ontario, with PGA coach training expected to come to facilities later this year.
New courses launched include Executing Successful Golf Tournaments and Events and Improving your Teaching with Technology.
Two new courses coming this Fall include Finance for Head Professionals and a three-part Junior Golf Coaching course.
Revamped Training Academy registration experience to be launched later this fall
Developing a robust infrastructure for PGA Specializations and a marketing plan to go live to members and employers this fall.
National Coaching Certification Program (Instructor of Beginner Golfers workshop) will return to in person delivery for Apprentices this summer and fall.
Coach of Developing Competitors workshop, offered every two years, will make its first offering in Canada this fall. Delivered by Derek Ingram, Tristan

Mullally

, Greg Redmond, Glenn

Cundari

, Dr. Penny

Werthner

and more. For more information and to register, click here.
Championships
Secured venues to conduct all national championships

PGA Championship of Canada presented by

TaylorMade

Golf and

adidas

Golf, August 3-7 @ Le

Parcours

du

Vieux

Village,

Bromont

, QC
PGA Seniors Championship of Canada, August 3-6 @ Le

Parcours

du

Vieux

Village,

Bromont

, QC
DCM PGA Women's Championship of Canada, August 29-31 @ Oshawa Golf & Curling Club, Oshawa, ON
PGA Assistants' Championship of Canada presented by

Callaway

Golf, September 13-16 @ The Winston Golf Club, Calgary, AB
PGA Head Professional Championship of Canada presented by

Callaway

Golf, October 25-28 @ Lookout Point Country Club,

Fonthill

, ON

Rob Watson was hired in May as the Championship Manager
The 2022 PGA Championship of Canada will be the 100th playing of the event. As such, the association is already brainstorming ways make the event an even more exceptional experience for participants.
RBC PGA Scramble
Wayne

MacPhee

was hired in January as the RBC PGA Scramble Interim Manager
We are excited to deliver 11 regional finals as well as the National Final with

COVID

protocols in place.
The 2021 season has exceeded all previous statistics in the following categories:

Registered events – 164
Competitors through July 13:

9518 total
789 females – 8.3% (2020 was 7% female participation)
8729 males
Marketing
New member application process was launched in April.
New shirts were designed for the PGA Shop promoting diversity and inclusion.
Moving forward, we are reviewing our brand guidelines and updating them in conjunction with the new strategic plan.
Communications
Brendan

Stasiewich

was hired as the Communications Manager in February.
18 stories have been published to PGAofCanada.com that put a spotlight on our members. This has led to an uptick in web traffic and has provided us the opportunity to improve the look and feel of our social media platforms.
In the past six months the Instagram page has seen a 39% increase in followers, while the Twitter page has received 2.6 million impressions compared to 1.1 million in 2020, an increase of 137%.
PGAofCanada.com has seen 733,000 page views in the past six months, compared to 634,499 views during the same period in 2020 and 650,210 in 2019.
An increased focus has been put on RBC Scramble promotion, including the production of a 'sizzle' video that has been seen by more than 300,000 people online.
Bi-weekly newsletters continue to be sent that promote the various benefits of being a PGA of Canada member.
Looking ahead, we will be producing more written and video content promoting our members, as well as producing more content than ever before around our national championships. In addition, we are working on multiple sponsor-led initiatives that will provide value to members.
Employment
We've collected data from 2020's specialization survey and are working on creating marketing materials to help educate owners and employers across Canada on why they should hire and retain PGA of Canada professionals.
We've developed relationships with international employers that manage properties in Europe, Africa, the Middle East, and China to give more opportunities to our members.
We will be administering our 2021 compensation and benefits survey that will ensure complete confidentiality for the members. The survey is expected to be sent to members in the fall.
Finance
The Association is in a good financial position as of June 30th
We have yielded positive financial results for the first 6 months with the increased number of members, as well as managing our budgeted costs and the management of our financial reserves.
The Scramble is off to a great start and we are projecting a similar number of participation as last year which will further support our fiscal performance.
We are looking forward to bringing back our Championships and in-person events later this year subject to

Covid

regulations.