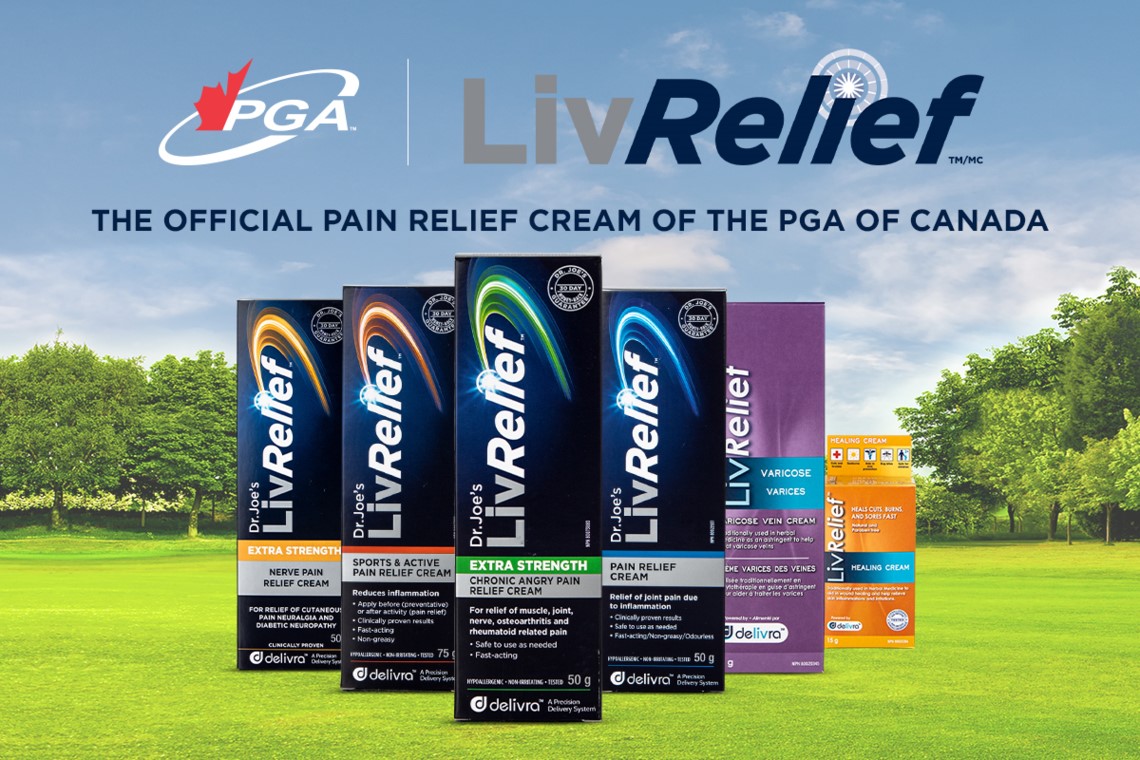 LivRelief™ Named Official Pain Relief Cream of the PGA of Canada
(ACTON, ON) – It was announced today that the PGA of Canada has entered a multi-year partnership with leading pain topical brand LivRelief™, a Canadian company with clinically proven pain relief creams available at over 6,000 retail locations, including pharmacies, grocery chains, independent health food stores and e-commerce across Canada.
"We are thrilled to announce LivRelief™ as our newest national partner and welcome a brand of their quality to our Association," said PGA of Canada President Teejay Alderdice. "It will be a huge benefit to players in all of our national championships to have access to their outstanding product and we are also excited to share their story with golfers who participate in LivRelief™ supported events at participating clubs."
The partnership will include brand immersion activities at all PGA of Canada National Championships, activations at numerous courses each summer and exclusive online contests for all golfers across the country.
"The PGA of Canada is one of the most respected golf entities in the world and we're excited to help support the association and its members," said Matt Wagar, LivRelief™ Senior Vice President of Global Marketing and Innovation. "Canadians are so passionate about the sport of golf and it's a great fit to demonstrate the pain-relieving benefits of LivRelief™ to help golfers enjoy the game as much as they can."
About Delivra Corp. and LivReliefTM :
Delivra manufactures and sells a growing line of natural topical creams with the proprietary transdermal delivery system platform under the LivReliefTM brand, for conditions such as joint and muscle pain, nerve pain, varicose veins, wound healing, and sports performance. LivReliefTM products are available in over 6,000 retail locations, including pharmacies, grocery chains, and independent health food stores across Canada, including, but not limited to, Shoppers Drug Mart, Walmart, Loblaw, Rexall, Pharmasave, London Drugs, Amazon and on-line at www.livrelief.com.

For more information, contact:
Brendan Stasiewich
Communications Manager
PGA of Canada
403-512-4625
brendan@pgaofcanada.com