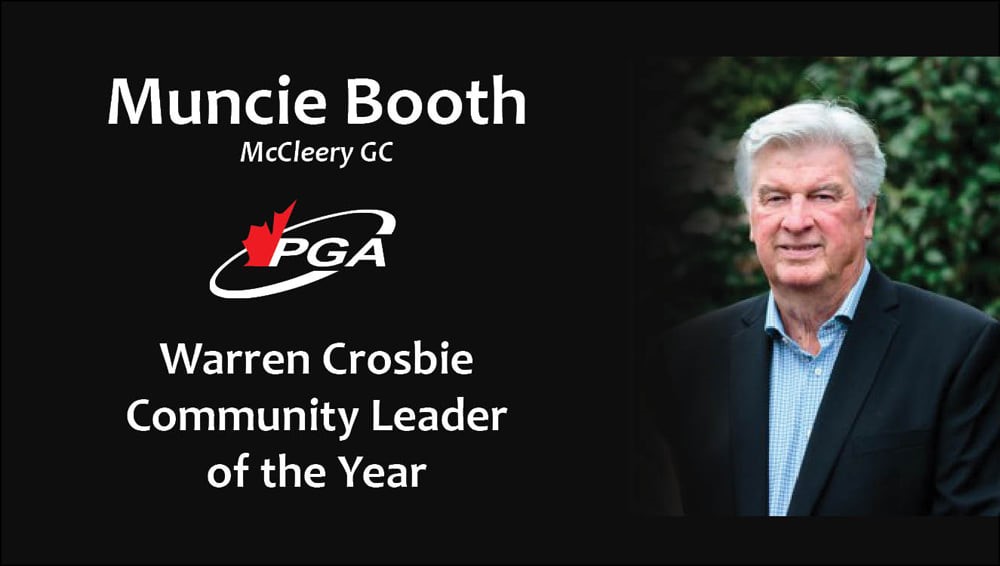 How Muncie Booth made golf accessible to Vancouver's inner-city youth
By: Jason Logan
One day in 1999, Muncie Booth, the head professional of Vancouver's McCleery Golf Course, was on a supply run driving through the city's notorious Downtown Eastside when he had a premonition. What, he pondered, did the children who lived in the ramshackle homes behind the crime-ridden Hastings and Keefer streets do for fun? What activities were available to them that were not on concrete? And might they enjoy some exposure to the game of golf?
At the time, Booth held the top jobs at both McCleery and its municipal sister Langara Golf Course, and he had started a junior camp at McCleery the previous year for children who lived near the course. Given the club's location on Southwest Marine Drive, down the road from the private Point Grey and Shaughnessy country clubs, that meant affluent children. Which was fine, but upon making that trip through Vancouver's toughest neighbourhood, Booth began to believe he'd be better served offering golf to underprivileged kids.
So Booth contacted the three community centres in that part of town — Strathcona, Thunderbird and Ray-Cam — and offered a deal. If he provided the golf courses and the equipment and the lessons, would they provide the kids? Absolutely was the answer, and thus the Inner City Youth golf program was born, with approximately 50 kids coming for a week that first year. For his 20-plus years running the program and for the countless youngsters he has introduced to the game, Booth was recently honoured with the PGA of Canada's inaugural Warren Crosbie Community Leader of the Year Award. He was surprised and humbled by the acknowledgement.
"I've had a lot of congratulatory emails sent to me by colleagues and friends and I've just said to them, 'I really didn't think I deserved something for doing something that should be done anyways. It's not like I did anything heroic. It didn't seem like something that was worthy of an award, but I was very appreciative of it once I got it," said the modest Booth.
Asked why he thought it was so important to launch Inner City Youth all those years ago, Booth provided a straightforward answer: "Because nobody else was doing it."
Born and raised in Vancouver, Booth spent his childhood and adolescence playing golf alongside the likes of Jim Nelford, Richard Zokol and Doug Roxburgh at Marine Drive Golf Club. After trying his hand on the old Canadian Tour, Booth returned home and was teaching lessons at a driving range when a client offered him the head professional job at the nine-hole Mission Golf and Country Club. He spent seven years there, followed by seven years at Chilliwack Golf Club, and then in 1992, after tiring of the political nature of private club life, he took the job at Langara. Six years later he added McCleery to his portfolio, and ran both clubs for some 15 years before giving up his duties at Langara a few years ago.
"I run the golf operations and the city collects the money," he described of the simpler arrangement with municipal golf.
When it comes to money for Inner City Youth, Booth has been able to rely on the many contacts he has made in his 41-year career as a golf professional. One gentleman, Fred Clarke, has donated $5,000 to the program every year. And money has also come from the men's and ladies' clubs of McCleery and Langara. Those folks, Booth said, are not wealthy people but they raise money for their own leagues and tournaments and set aside funds each year for Inner City Youth. Booth said they welcome the presence of the kids on the golf courses they play. Why? Because, Booth said, they are the "best behaved kids we have all-year round."
Shortly after its launch, the program proved popular enough for two weeklong camps, split by age. The kids, whose families must qualify for Vancouver's Leisure Pass Program, which provides low-income residents reduced rates to Parks Board recreation facilities, come for half-days and rotate through various stations where they are taught by top instructors. In fact, over the years the program has featured acclaimed PGA teaching professionals like Phil Jonas, James Harper and Leila Harman (nee Chartrand). Currently, McCleery's Director of Instruction Mike Vanderwolf leads the way. Very importantly, the kids are also taught golf's etiquette and they are served a hot brunch, which Booth said, is "their favourite part of the day."
Several kids have returned year after year and Booth was even able to hire two to work the range at McCleery for a summer. Booth said there are as many girls as boys in the program and that very few of the children are white. For many, it is their first time seeing a golf course in person and while COVID-19 caused the cancellation of the program in 2020 because the community centres the kids came from were closed, Booth is very hopeful the summer of 2021 will bring better news. Pandemic or no pandemic, these are kids who need a break, he explained.
"You can just tell on their faces that they love being there and getting away from the Downtown Eastside to a nice serene, quiet, friendly environment where there is nothing to be afraid of."