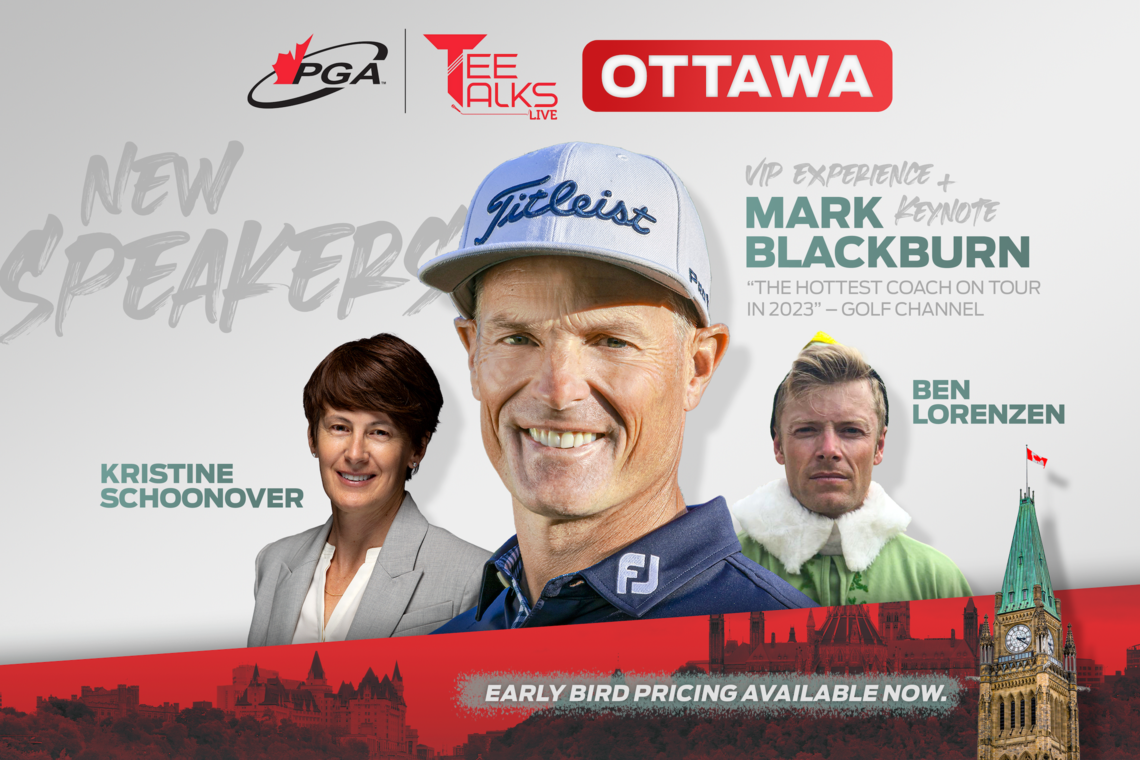 'Hottest Coach on Tour' Mark Blackburn Announced as First Tee Talks Live Headliner
Planning is well underway for the PGA of Canada's can't miss event of 2023; Tee Talks Live, heading to our nation's capital December 1-3.
We are extremely excited to release our first set of speakers and breakout leaders that will be joining us at one of the year's biggest events.
Mark Blackburn was recently named 'the hottest coach on Tour in 2023' by Golf Channel, and for good reason; in fact, you could argue he is having the best start to a PGA TOUR season in history based on his student's results.
Just this past week, Davis Riley became the third Blackburn-coached player to pick up a PGA TOUR victory since the turn of the calendar. Justin Rose and Max Homa (who knows a thing or two about swing instruction himself), round out the three 2023 champions.
Making the trip from Blackburn Golf Academy, 90 miles south of Birmingham, Alabama, the Golf Digest Top 10 ranked instructor will tell stories about his time as a PGA TOUR coach, his teaching philosophy for players of all levels and more.
Learn more about Mark here, you don't want to miss this!
As part of his keynote, Mark will be a part of the first ever VIP Experience, where a small group of PGA members will have the opportunity to register to get a more hands on and intimate experience with Mark at a local facility. Mark will showcase some of his teaching methods, uses of technology, and more while working with local athletes. More information about the VIP experience will be provided in the coming months.
While Mark is a renowned golf instructor, teaching and coaching is just one of the many topics showcased at Tee Talks Live. Conference organizers pride themselves on putting together a diverse group of speakers and breakout leaders to help educate all golf industry professionals. This includes speakers discussing teaching, operations, management, leadership, marketing and more. Whether you are a teaching pro, general manager, head pro assistant pro, or something in between, this conference is made to benefit you!
---
'Director of Vibe' 😎 Ben Lorenzen and University of Wisconsin School of Management professor Kris Schoonover also announced

Director of Vibe, Chief Memory Officer, Creative Director; Ben Lorenzen goes by all of these titles at a club in Nebraska called Champions Run. Championing innovation, Ben inspires people to be 'greater than they ever thought they could be'.
Kristine Schoonover is a Professor in the School of Management at the University of Wisconsin Stout and program director for the Golf Enterprise Management bachelor's degree, and is also the Erin Hills Golf Course Director of Operations/Assistant Competition Director, assisting with various events including the U.S. Open.
Kris has lead extensive research on the golfer experience and has recently presented at the USGA Innovation Symposium uncovering how PGA professionals can develop the WOW factor level of customer experience at their club.
Both of these speakers will offer tremendous insights that can help your facility inside and out!
---
50% off Room Rate at Chateau Laurier until June 1
We want to ensure that everyone planning on attending Tee Talks Live is able to take advantage of the incredible PGA member only rate that host hotel Chateau Fairmont Laurier is offering until June 1st.
Normally priced at $450, right now members can register for a rate of $229. The booking link can be found here.
Tee Talks Live Early Bird pricing will be available until October 1st at $429 for Class "A" professionals, $329 for Apprentices, and $499 for non members. To register, click here.
---
Stephen Yanitski has won a free ticket and $1000 travel bursary on behalf of TaylorMade!
Will you be next?
Each month TaylorMade is giving away a FREE TICKET and $1000 travel bursary to Tee Talks Live.
All you have to do this month is subscribe to our PGA of Canada podcast and send a screenshot of subscription to news@PGAofCanada.com and you are eligible for the draw!
$1000 CASH! With a group rate of $229 at Chateau Laurier, this bursary will at LEAST cover your accommodations, and may even cover the full cost of your travel.
All of that on top of a ticket, a potential $500 value for free. Thank you TaylorMade!