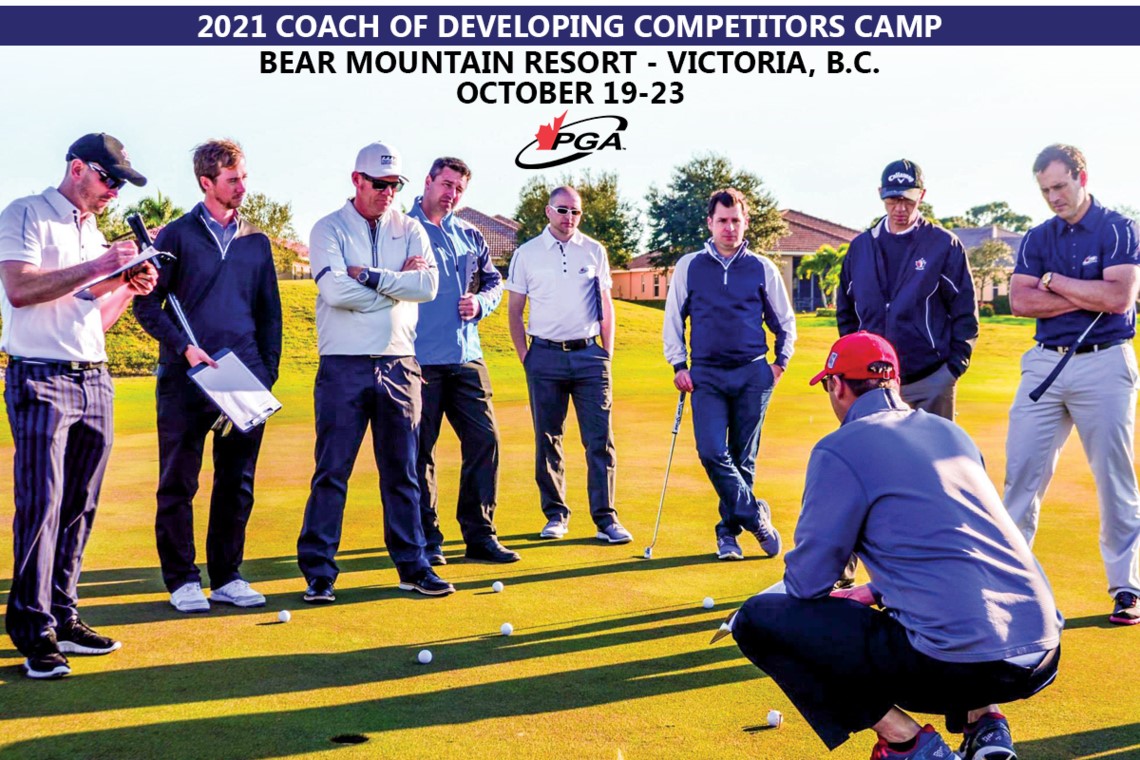 Coach of Developing Competitors Camp Registration Open, taking place October 19-23 in Victoria, BC
The PGA of Canada is excited to offer the 'Coach of Developing Competitors' camp to PGA of Canada members this fall. The five-day camp is set to take place in Canada for the first time and will be held at Bear Mountain Resort in Victoria, B.C. from October 19-23. Registration and more information can be seen here.
The cast of world-renowned coaches and experts includes Team Canada coaches Derek Ingram and Tristan Mullally, Golf Performance Project Co-Founder Jason Giesbrecht, University of Calgary's Dean of Kinesiology Dr. Penny Werthner, Greg Redmond, a Clinical Physiotherapy Specialist who has had success with 18 Olympic medalists and multiple PGA TOUR and LPGA Tour players, and the PGA of Canada's technical director Glenn Cundari.
The cost of the coaching camp is $1700. Each day will have hands-on outdoor components and will run from approximately 8:30 AM to 5:30 PM. The finalized timeline and agenda will be communicated closer to the event.
Why not see what it's all about for yourself? Visit the hashtag: #PGACDC on Twitter, as there is a lot of good content and photos from year's past.
"After attending CDC, I have a much better understanding of how to get my athletes playing their best," said Sean Joyce, Prince Edward Island's Provincial Golf Coach after experiencing the event in 2016. "I had access to some of the top coaches in the world for an entire week who all shared their experience of being part of an athletes coaching team."
"Of all the professional development seminars and courses I've attended over the years, this was by far the best," Joyce added.
The CDC workshop is designed for coaches supporting developing athletes. Any PGA of Canada member can attend this workshop, there are no pre-requisites or prior training required.
Expect days of action-packed interactive sessions with a real coach camp feel the entire workshop. Put theory into practicality as every module will have outdoor components included.
Space is limited to 20 professionals and the registration deadline is September 18, 2021. The PGA of Canada has secured a group room rate at the resort's Fairways Hotel. To take advantage of the rate, call 1 (778) 561-2022 and use reference code "PGA". If you have any other questions, email matt@pgaofcanada.com.

There are a few methods available to potentially help with the expense of the camp and other professional development opportunities.
The PGA of Canada Foundation Bursary Program was developed to assist, encourage, and promote the attainment of professional development and part-time education opportunities to enhance the skills and abilities of PGA of Canada Members and Apprentices. A bursary award is contingent upon a Member or Apprentice completing one or more professional development opportunities during 2021. For more information and to apply, click here.
Secondly, there may be funding opportunities through your province or territory's coaching representative. More information regarding the individual to contact in your region can be found here.
A few snippets of what past attendees have had to say on social media:
"Somehow Day 3 got even better at #pgacdc. Sport Psychology with Penny was eye opening, followed by Derek Ingram on Tactics, Strategy and Planning a Training Camp" – Colin Lavers (2019)
"What an amazing week with these awesome human beings! #PGACDC The learning never ends...thanks to PGA of Canada for all your energy and all of the attendees for their amazing energy and engagement!" – Kathy Stecyk (2019)
"Excited for another day of learning Psychology of Performance with Dr Penny Werther. Amazing week/colleagues/facilitators #PGACDC" – Wayne Allen (2015)
"Another great day at #PGACDC topped off with a great presentation and discussion with
Tristan Mullaly on planning practises" – Jeff MacDonald (2015)
In addition, a photo album from the 2019 event is available here.

For more information and to register, click here.