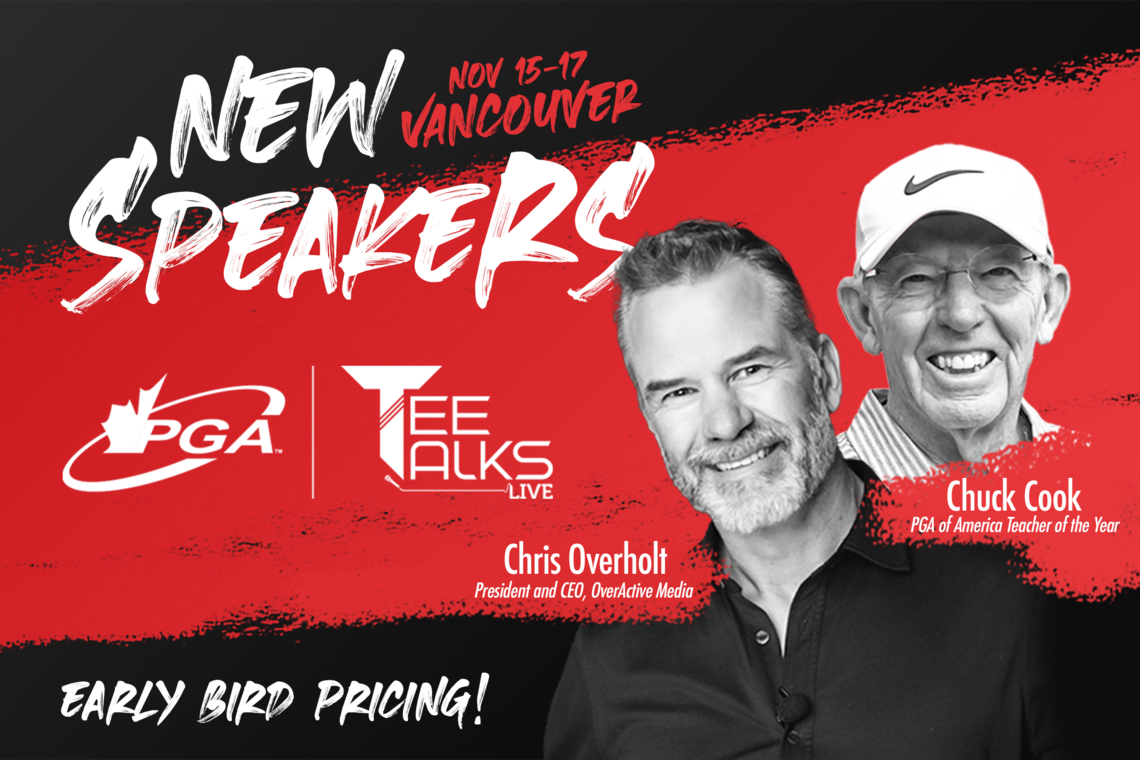 Top Talent added to Tee Talks Live National Conference
OverActive Media CEO Christopher Overholt and Top 50 PGA of America instructor Chuck Cook added to lineup
With 60 days remaining to take advantage of early bird pricing ($350 for Class "A" Professionals and $250 for Apprentice Professionals) for this year's Tee Talks Live National Conference scheduled for November 15-17 at the Sheraton Wall Center in Vancouver, BC, the PGA of Canada is pleased to announce the first two keynote speakers.

For more information and to register for the conference, click here.
Who are the speakers?
Chris Overholt

President and CEO, OverActive Media With more than 30 years of experience in the elite echelons of the sports and entertainment industry, Chris Overholt currently leads Toronto-based OverActive Media, one of the most diverse and influential sports, media and entertainment organizations in the world today with a focus on authentically connecting to today's generation of fans.The company has professional franchise holdings in the most notable esports leagues in the world including the Toronto Defiant competing in the Overwatch League; the Toronto Ultra in the Call of Duty League; and the MAD Lions, a Madrid-based organization competing in the League of Legends European Championship.

Overholt has established himself as a leading and trusted voice in the worlds of sport and business. He joined the Canadian Olympic Committee in 2010 in the dual roles of Chief Operating Officer and Chief Marketing Officer and in 2011 was named CEO. During his 30 years in business, he has played a key role in the marketing, branding and business strategies for some of North America's top sports franchises, including the Miami Dolphins, the Florida Panthers, the Toronto Maple Leafs and the Toronto Raptors.

Chuck Cook

Chuck Cook is a world-leading golf instructor who's coached his students, including the likes of Tom Kite, Corey Pavin, Payne Stewart, Keegan Bradley and Jason Dufner, to victories at four US Opens, three PGA Championships, a Women's US Open, three US Amateurs, four NCAA Individuals Championships and several other high-level amateur and professional events.

Cook's countless accolades include being named the South Texas PGA Teacher of the year twice, being named the 1996 PGA of America Teacher of Year and being listed in Golf Magazines Top 50 teachers in America. His knowledge and success has led to the authoring of two books: "Perfectly Balanced Golf" and "Tips From the Tour".

Born in El Paso, Texas, Cook learned from the likes of Davis Love Jr, Peter Kostis, Bob Toski and Jack Lumpkin to build his knowledge and has since had the opportunity to teach many clinics and workshops across America alongside fellow top coaches.

Cook, also a member of the PGA Teaching and Coaching Committee, has spent more than 40 years getting the most out of his student's games, whether it be through working through fundamentals or helping them get the most out of their "unique" way of swinging the club.
Wow that's pretty awesome. Is there anybody else confirmed at this time?
In addition to Christopher and Chuck, the Tee Talks Live conference will also welcome PhD professor Corliss Bean, an Assistant Professor in the Department of Recreation and Leisure Studies at Brock University and Kevin Blue, Golf Canada's Chief Sport Officer.

More speakers will continue to be added as we approach the early-bird pricing deadline.
Sounds like a conference I don't want to miss. What accommodations are offered?
The PGA of Canada has made arrangements for conference attendees to book rooms at a group rate at the Sheraton Wall Center for $219 CAD per night between Friday, November 11 and Monday November 21, 2022.

Last Day to Book: Monday, October 24, 2022

Securing Your Reservation: Hotel stays can be booked online using the link below or by calling 604-331-1000.

Booking link for PGA Canada - 2022 National Conference Group Rate
In addition to early-bird pricing, are there any other opportunities to save on costs?
At the end of each year, PGA members can apply for a PGA of Canada professional development bursary and may be re-compensated for the cost of this conference or other professional development endeavours.

In addition, through our partnership with TaylorMade, we are offering a FREE ticket and $1000 Bursary to attend the conference to one member per month.

Simply read or watch a piece of professional development material here , let us know here what it was, what you learned and any other feedback you have and you will be entered to win a ticket and travel bursary for this November. It's THAT easy!

You are still eligible for this contest even if you have already registered for the conference.

Stay tuned as there will be plenty more speakers and workshops announced in the coming weeks.

For any questions on Tee Talks Live, please contact Matt Allen, Chief Innovation Officer at matt@pgaofcanada.com.

For more information and to register for the conference, click here.