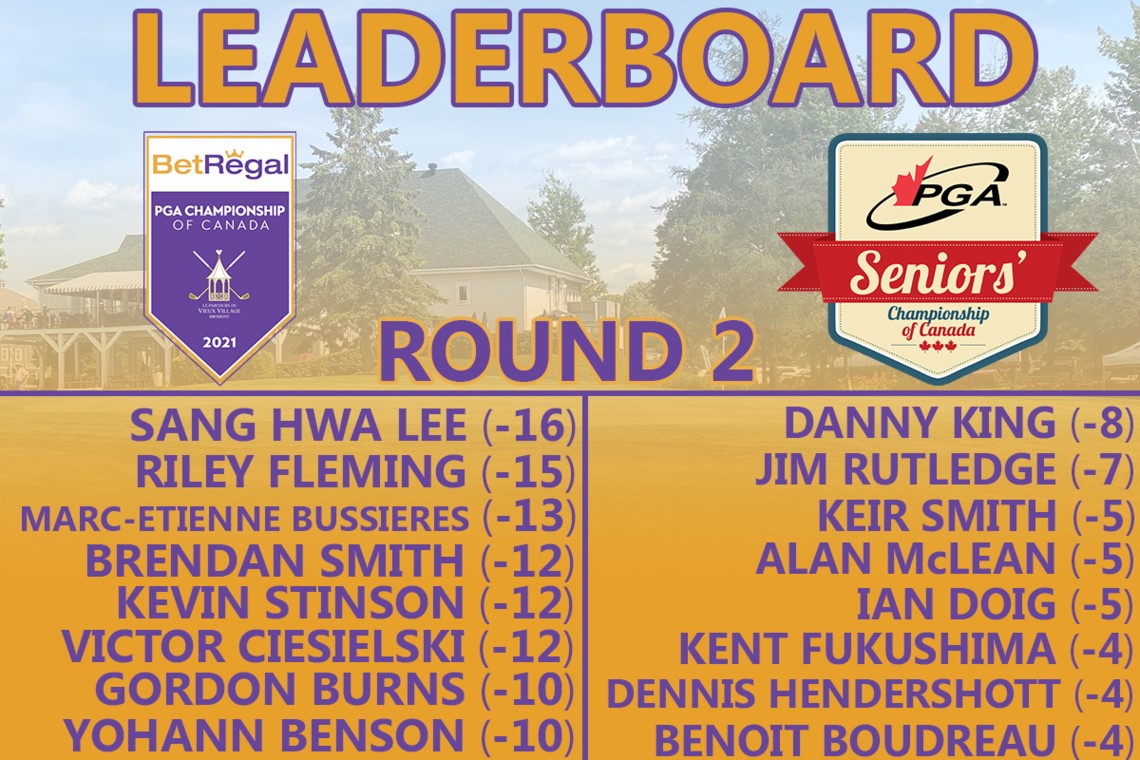 Sang Hwa Lee sets course record with 61 to take lead at BetRegal PGA Championship of Canada presented by TaylorMade Golf and adidas Golf
By: Brendan Stasiewich, PGA of Canada
(Bromont, QC) – The second round of the association's first National Championship of 2021 began with a moment of silence on Thursday following yesterday's news of the passing of Jocelyne Bourassa, an Honorary Director of the PGA of Canada.
Bourassa, who was inducted into the Canadian Sports Hall of Fame in 2015, is one of the great Canadian golfers in the history of the sport and one of Quebec's greatest ambassadors of the game.
With heavy hearts, the second round of the championship began at 8:01 A.M.
Four hours later, when Riley Fleming entered the scoring area after putting the finishing touches on his course-record tying 63 Thursday afternoon at Parcours du Vieux Village, it looked as though his mark of 15-under would be the number for competitors to chase.
That proved to be false, as one-hour later the course record was broken by Sang Hwa Lee, who managed a bogey-free 61 during the second round of the BetRegal PGA Championship of Canada presented by TaylorMade Golf and adidas Golf to take a one-stroke lead at the half-way point of the event.
The full leaderboard can be viewed here.
While Lee, who teaches out of the Markham Golf Dome in Markham, Ontario, was stellar throughout the day, he really caught fire late in the round, finishing with birdies on each of his last five holes, and six of his last seven.
"Honestly, everything was going well today," said Lee, who began his week with a 67 on Tuesday. "A few tee shots were crucial, and I didn't get too aggressive. I had a lot of downhill putts that I just wanted to lag down there and two-putt, but I got fortunate, and a few went in."
Thursday's 61 is Lee's lowest-career tournament round by three shots and couldn't have come at a better time, as eight PGA of Canada professionals find themselves 10-under or better heading into moving day.
"I didn't really know how low I was until around 16," said Lee, who mentioned how busy he's been the past year teaching lessons with the golf industry booming throughout the country. "I was a little nervous, but I managed to make a couple more birdies coming in. I'm going to have the same approach (tomorrow), just keep enjoying it, having some time off work, you can't complain."
Fleming, who won the Alberta Open by six strokes last month, will play alongside Lee in the final group on Friday as he attempts to win the P.D. Ross trophy for the first time.
"I was hitting it really well today. I found my swing on the range and have been putting really well all year, and that kept going," said the Lynx Ridge Golf Club pro. "I missed a couple putts on the front but made a nice one for eagle on my ninth and just played really solid on the back,
"You have to keep the pedal down, especially with five reachable par 5s. It's a race to a really low number this week so we'll see where it actually ends up," continued Fleming.
Meanwhile, Danny King managed his second-consecutive 68 to take a one-stroke lead over Jim Rutledge at the Seniors' Championship of Canada, which consists of players 50-years-of-age and older, and will conclude on Friday.
Though Rutledge will compete for his seventh Seniors' Championship title tomorrow (and continue to the final round of the BetRegal PGA Championship of Canada on Saturday, assuming he makes the cut), he claimed the 36-hole Super Senior division trophy (60-years and older) – which will be awarded to him following the third round - by two strokes over Ian Doig with a score of 7-under.
Heading into the final round of the Seniors' Championship, there are six players within four strokes of the lead, including Kent Fukushima who won $250 on Wednesday curtesy of PGA of Canada National Partner NoSweat for conquering the NoSweat Hardest Hole of the Day.
The NoSweat Hardest Hole of the Day on Thursday was the 386-yard 9th hole. In total, only six players made birdie on the challenging par-4. After a random draw between those players, Pierre-Alexandre Bedard is the second round's NoSweat Hardest Hole of the Day champion and will be awarded $250 for his feat.
Players continued to rave on Thursday about the LivRelief product they have been given throughout the week. For more information about LivRelief, click here.
This year's championship comes on the heels of a historic announcement, as it was announced on Tuesday that the PGA of Canada has inked a three-year agreement with Canadian sports betting company BetRegal which gives them title sponsorship over the championship through 2023.
For more information about the PGA of Canada and BetRegal's partnership, click here.
The third round of the BetRegal PGA Championship of Canada presented by TaylorMade Golf and adidas Golf and PGA Seniors' Championship of Canada will begin at 8 A.M. on Friday.