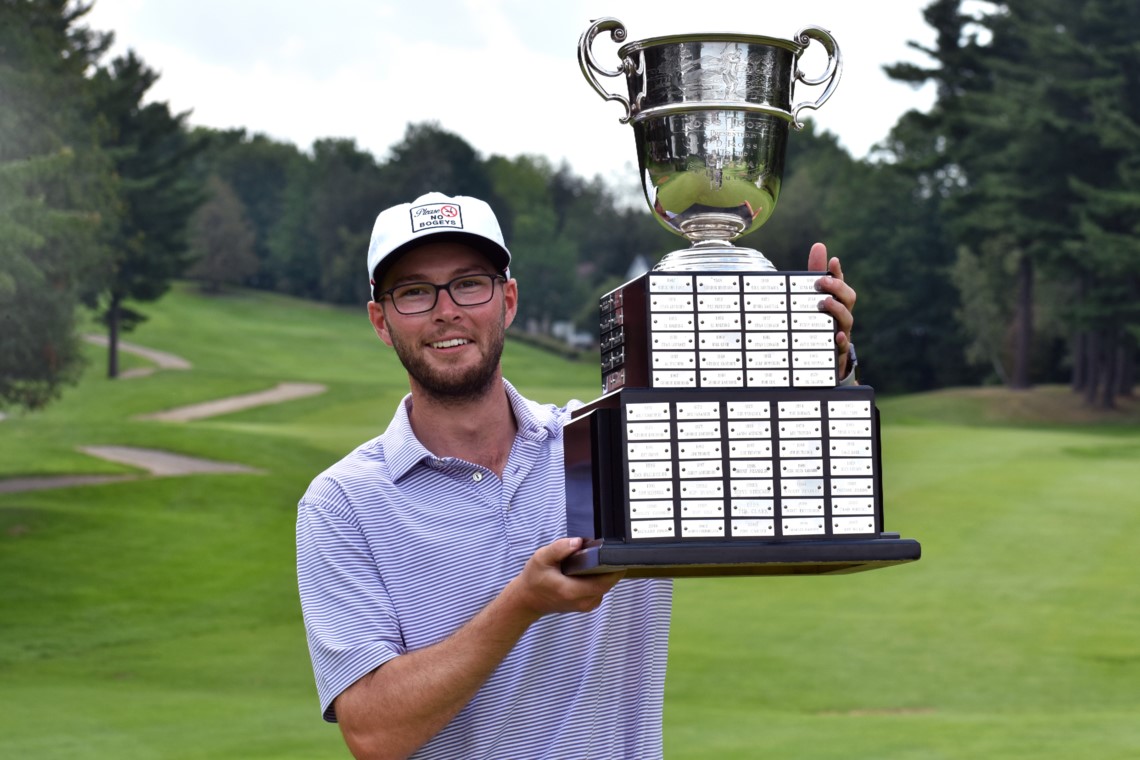 Riley Fleming stamps his name on P.D. Ross Trophy as winner of the 2021 BetRegal PGA Championship of Canada
By: Brendan Stasiewich, PGA of Canada
(Bromont, QC) – Saturday at Parcours du Vieux Village in Bromont, Quebec belonged to Riley Fleming.
From the time he made a 15-foot eagle putt on the fifth hole to break the deadlock between himself and Kevin Stinson to take the lead at the BetRegal PGA Championship of Canada presented by TaylorMade Golf and adidas Golf to the time he narrowly fought off water works on the 18th green with the P.D. Ross trophy in hand, the day was his, and the game is seldomly played as beautifully as Fleming played it this week.
The full leaderboard can be viewed here.
"This is the biggest win of my career by far," said Fleming, who pieced together rounds of 66-63-68-66 this week to win by three. "Kevin (Stinson) and I duked it out pretty good on the front, and even on the back, I was only one clear after 13, so it was pretty tight. I'm just so excited."
While the 63 the pro from Lynx Ridge Golf Club in Calgary, Alberta managed on Thursday may have been his lowest number, Saturday's 66 was arguably his most impressive.
With a one-stroke lead on the par-5 7th hole, Fleming made one of his only major mistakes of the week – hitting his tee shot right, where it landed out-of-bounds. After striking his provisional perfectly down the center, a long-way down the center, I may add, his demeanour was unflustered, and he only sacrificed a single shot.
The 8th hole at Parcours de Vieux Village presents an interesting option for players. At only 330-yards and slightly downhill, it is certainly drivable, but with a pond guarding the right side, Fleming, who "is almost always against laying up," as he told us after his round, took iron off the tee early in the week.
This was not the case on Saturday. Fleming, with thoughts of his wayward drive on seven nonexistent, made a winning decision and drove the green. Birdie for Fleming and bogey for Stinson, erasing the blemish from the seventh and adding even more cushion between himself and the PGA of BC pro. He never looked back and didn't relinquish his lead for the remainder of the tournament.
By the time Fleming strolled down the 18th fairway, he had given himself a three-shot cushion. The scene could have been from a movie, (and the scene of Fleming walking towards the green with the Bromont faithful encircling him was like a tamed-down version of Tiger Woods at the 2018 FedEx Cup Finals) as Fleming buried a 35-footer for birdie and put his hands in the air.
"The crowd was so friendly and supportive, even cheering on the Alberta guy," said Fleming, who takes home $10,000 with the win. "It was so much fun to see them there and our group hit some really good shots today so hopefully they enjoyed it as much as we did."
His caddie, Chad Thompson, who booked his own ticket to Montreal to be there for his friend (and, little did he know, a moment of Canadian golf history), gave him a big bear hug.
When asked how it felt to have his name alongside Lee Trevino, Moe Norman and Arnold Palmer on the P.D. Ross trophy, Fleming fought back tears.
"It's hard to believe… it's pretty cool to have my name on a trophy with Arnold," he said.
Kevin Stinson, who made only one bogey all tournament, finished in second place at 22-under, while Sang Hwa Lee rounded out the top three at 20-under. The full leaderboard can be viewed here.
The NoSweat Hardest Hole of the Day on Thursday was the 435-yard 16th hole. In total, 16 players made birdie on the par-4. After a random draw between those players, Phillip Jonas is the fourth round's NoSweat Hardest Hole of the Day champion and will be awarded $250 for his feat.
Players continued to rave on Thursday about the LivRelief product they have been given throughout the week. For more information about LivRelief, click here.
This year's championship comes on the heels of a historic announcement, as it was announced on Tuesday that the PGA of Canada has inked a three-year agreement with Canadian sports betting company BetRegal which gives them title sponsorship over the championship through 2023.
"We have a lot of great people that run events, but you can't do it without sponsors," said Fleming. "We're all really appreciative that they jumped on board and we can't say enough about how great it is to have the support."
For more information about the PGA of Canada and BetRegal's partnership, click here.