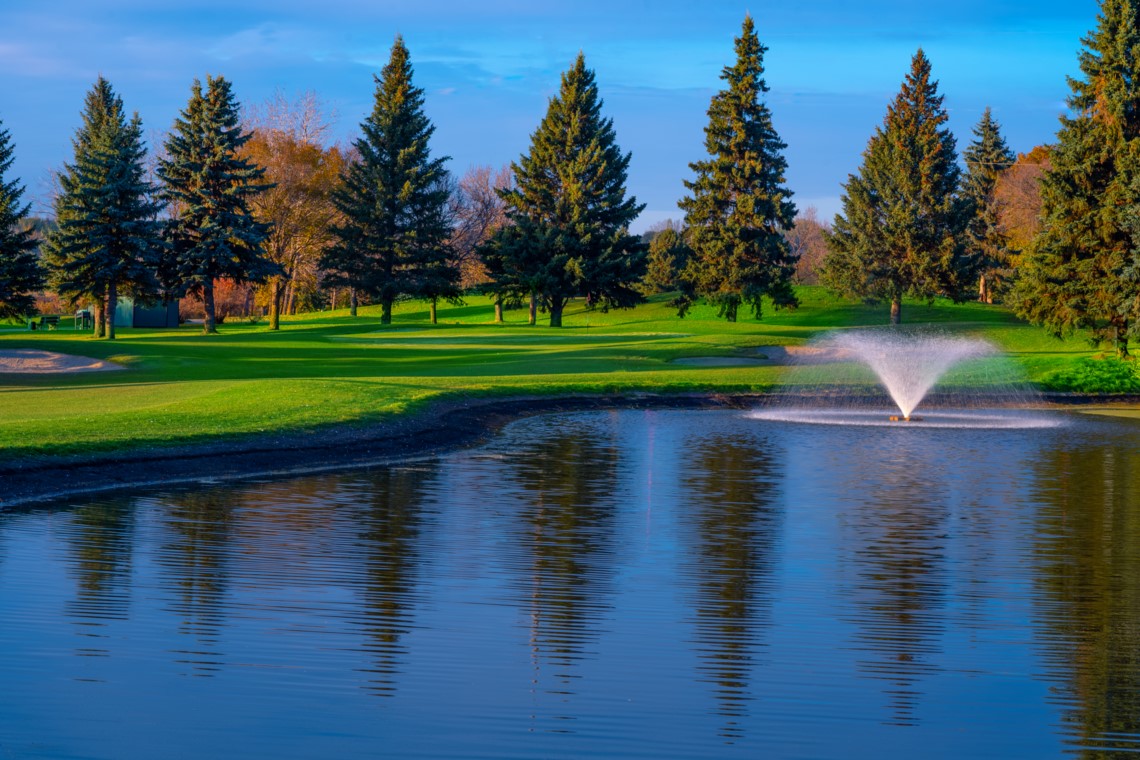 Head Professional : Sturgeon Valley Golf and Country Club
For more than 60 years the Sturgeon Valley Golf and Country Club (SVGCC) has built a reputation as a welcoming community host to members and guests alike. Located a few minutes north of St. Albert, Alberta, and a short drive from Edmonton City Centre, SVGCC has developed into a thoughtful, challenging golf course with amenities to satisfy the golfer, member, or business guest. The Club is surrounded by lush farmland and subdivisions that follow the Sturgeon River which forms the western boundary of the property. This idyllic setting provides the golfer with the sense of escape and solitude during their round. SVGCC is a dynamic community hub. Providing outstanding service and well-maintained facilities in a relaxed and casual atmosphere. As a semi-private club, the General Manager and Board balance the accessibility of the greater community with member access to the course and amenities. The social fabric of our Club community reflects the pride of place, belonging, diversity and inclusiveness found in our community at large.
At the heart of the SVGCC is the Clubhouse, offering a full range of dining services from the main dining room to the lounge, restaurant, and our redesigned patio. These facilities are complimented by various meeting rooms to accommodate business, community and club, meetings, or social entertaining. An active social calendar engages the Club community, bringing people together to create and build new relationships and some to reminisce of shots missed and laughs exchanged. This camaraderie forms the social fabric of our club and contributes significantly to our reputation and a sense of community and belonging.
Beyond the course, the Club offerings are complimented by a full-service Golf Shop, professional golf instruction, teaching areas, state-of-the-art simulator, club repair, driving range, and programs that cater to all levels of ability contributing to the full-service nature of the Club. Regardless of whether you are a golfer, guest, or business colleague, you are greeted to the SVGCC by people who can't wait to welcome you into our community and see that your needs are met.
OUR MISSION
We are a welcoming, inclusive, semi-private golf community dedicated to delivering a high value experience for all. Sturgeon Valley Golf and Country Club – Where friends meet, and friendships grow.
OUR VISION
To be the best semi-private golf and country club in Alberta by continuously exceeding expectations in golf, dining, and social experiences.
OUR VALUES
Sturgeon Valley Golf and Country Club is committed to fostering an exceptional golf experience by:
• Building and maintaining lasting relationships.
• Continuous growth and improvement.
• Embracing diversity and inclusiveness.
• Engaging our community
Location

Sturgeon Valley Golf & Country Club - Sturgeon County, AB

Posted

2023-11-08

Deadline

2023-11-24

Job Summary

We seek a candidate who understands success is achieved through the demonstration of personal attributes that garner the respect and recognition of their staff, our members, guests, and the communities we serve. The strength of the SVGCC Team is central to achieving the future performance of the Club and our Head Professional plays an important operational leadership role in the achievement of the Club's Strategic Pillars, operational and business objectives of the SVGCC.

Responsibilities

LEADERSHIP SKILLS

• You are a dynamic leader capable of building strong teams, you lead by example to model our Values, behaviours, and motivate staff.

• You provide direction and clarity of expectations, performance feedback and recognition leading to positive outcomes that enhance the experiences of those who use the services of the Club.

• You exhibit leadership by conducting yourself in a respectful and professional manner in all your dealings.

STANDARD OF EXCELLENCE

• You demonstrate a thorough understanding of the importance of establishing and ingraining superior member relations services to meet and wherever possible exceed the Club standards.

• Personally, you have the capacity to consistently achieve, deliver exceptional standards of service commensurate with a prominent semi-private golf and country club.

• You model and lead the Club's commitment to health and safety protocols and processes.

INTERPERSONAL AND FIT

• Throughout your career you are known to demonstrate integrity and ethical conduct in words and deeds.

• You strive to embody the characteristics of a successful Head Professional through honesty, straightforwardness, accountability, leadership, and dedication.

• You are known as a self-starter with a results-oriented work style.

• You combine and demonstrate excellent verbal/written communication and interpersonal skills in all your interactions.

• Your presence both on and off the course engages with the Team, Members, Shareholders and Guests providing you with unfiltered insight to our operations while, building recognition and camaraderie as a Club Ambassador.

MEMBER & GUEST RELATIONS

You maintain the outstanding quality of service and experience provided to members and guests by:

• Working with the General Manager to provide support and insight for prospective member sales, new member integration and orientation, and membership retention programs.

• Creating exceptional member and guest experiences by building strong relationships and establishing a positive Club culture.

• Interpreting and tactfully reinforcing "The Rules of Golf" including Club policies, rules, and regulations, with members and guests. • Handling customer inquiries or complaints in accordance with operating policies and procedures.

• Implementing regular communications to inform and engage members on Club activities, events, and relevant golf industry information, through Club newsletters, postings, emails, and social media.

GOLF SERVICES OPERATIONS:

You maintain the consistency and integrity of the SVGCC brand and reputation through Club operations by:

• Maintaining and promoting a respected and professional image that represents the SVGCC brand and reputation within the Club, community, and golf industry.

• Designing, promoting, and directing all golf activities including daily operations and staff management responsibilities.

• Ensuring proper utilization of Jonas so day-to-day check-in standards are met, and the most efficient use of tee-times is executed.

• Working with the General Manager to communicate specific objectives across functional departments to ensure that ancillary services meet customer needs.

• Communicating regularly with the Club leadership team on the club status including participating in regular meetings to ensure the needs of the Club are being met.

FINANCIAL MANAGEMENT

You demonstrate fiscal responsibility balancing the day-to-day and big picture financial duties in all areas of golf operations by:

• Overseeing all fiscal areas and performance of golf operations and the golf shop including planning, budgeting, reporting, monitoring, and correction.

• Overseeing inventory, audit procedures, and cash flow.

• Monitoring and approving all weekly golf staff time sheets/payroll, purchase orders, and invoices.

• Monitoring business volume forecast and planning accordingly in areas of labor, productivity, costs, and other expenses.

• Attending all Golf & Greens Committee meetings, other committee meetings as necessary, and providing a monthly report on all golf related activities and finances as needed.

TOURNAMENTS, EVENTS, AND INSTRUCTION PROGRAM GOVERNANCE

You ensure the smooth and efficient incorporation of events and instruction programs into the club's regular calendar of activities by:

• Developing and overseeing a full calendar of competitive events, social golf events and outings in conjunction with the Events Committee and the General Manager.

• Coordinating plans with the Food and Beverage Manager, Superintendent, Events Committee and General Manager for all events to ensure all tournaments and events run smoothly and all member and guest needs are exceeded.

• Preparing, updating, and maintaining tee sheets and tournament score systems for tournaments and events.

• Managing the day-to-day operations of practice facilities, including but not limited to set up and breakdown of practice areas, teaching on occasion and supervising instructional staff.

• Overseeing private and group lessons, including junior camps and adult learn-to-golf programs.

• Managing the entirety of the indoor Practice Bay and Simulator Bay. Including but not limited to bookings, lessons, and casual play, as well as all maintenance, staff training and user orientations.

PRO SHOP/BACK SHOP/ON COURSE AMBASSADOR/ CART & BARN OPERATIONS/RANGE

You maintain the consistency of merchandise and equipment, and the quality of the supplemental golf experiences by:

• Overseeing daily operating activities. This includes opening, closing, and securing the golf shop and storage buildings; managing daily cash flow to ensure cash/credit card charges balance with sales receipts, maintaining clean, presentable, and fully stocked merchandise displays.

• Overseeing merchandising operations. This includes a yearly buying plan to properly allocate dollars and inventory levels, handling purchase orders and invoice processing, and facilitating monthly inventory counts.

• Protecting the integrity of the rental equipment and assets (golf cart fleet, clubs, pull carts, range, simulator, practice bay and electronic equipment etc.) by ensuring proper maintenance, equipment rotation and upholding of asset policies.

• Maintaining a clean and organized golf shop, office area, storage area, and cart barn that adhere with current health and safety regulations and appearance standards.

• Developing and updating standard operating procedures for the cart barn, pro shop and back shop area.

• Managing a successful on course ambassador program to achieve our pace of play guidelines while delivering a high level of service to our members and guests.

• Overseeing the range operations including but not limited to: proper care and maintenance, scheduling, and overall revenues/expenses.

STAFF MANAGEMENT

You lead, build, and manage a strong team of committed golf professionals by:

• Interviewing, hiring, and training a team of knowledgeable personnel (golf instructors, pro shop, and back shop and course marshals).

• Evaluating and documenting performance, rewarding, and disciplining associates according to the SVGCC values and code of conduct. Conducting annual performance reviews and interim reviews as appropriate.

• Motivating and developing staff including cross training personnel, highlighting development opportunities, and guiding them through their certification processes as required.

• Preparing work schedules and assigning associates areas of responsibility, while monitoring hours to maximize productivity and minimize overtime.

• Conducting regular staff meetings to provide updates, address concerns, discuss member experience, and ensure staff are provided the resources necessary for the team to thrive in their roles.

Qualifications

WHAT YOU BRING TO SVGCC

Candidates for this key role has a blend of experience, education, and credentials that when considered, provide the SVGCC with a leader capable of achieving the outcomes the Club identifies. Such experience may come from:

• Minimum of five (5) years' progressively more responsible experience in a supervisory or management role, preferably as a Head Professional.

• Background in both private and public settings is an asset.

QUALIFICATIONS

• College or university degree in Hospitality Management, Business, or Sports/Golf.

• PGA of Canada Class "A" professional, and member in good standing.

• Knowledge of golf operations management, event management, retail operations, and staffing management is beneficial.

• Past and/or current participation in PGA of Alberta/PGA of Canada activities is a plus.

• Background in both private and public settings is an asset

Compensation

SVGCC offers a competitive Total Compensation program for the selected candidate including Group Health and Insurance Benefits, various Allowances, Variable Pay, RRSP contributions, and a salary range starting at $80,000 (negotiable given experience and qualifications).

Benefits/Perks

Health Benefits

Staff Meals

Start Date

2024-01-15

Course Website

https://www.sturgeonvalleygolfclub.com/

Employment Duration

Full Time, Year Round

Contact Information

Jordan Dekens, General Manager

Sturgeon Valley Golf & Country Club

(780) 973-2200