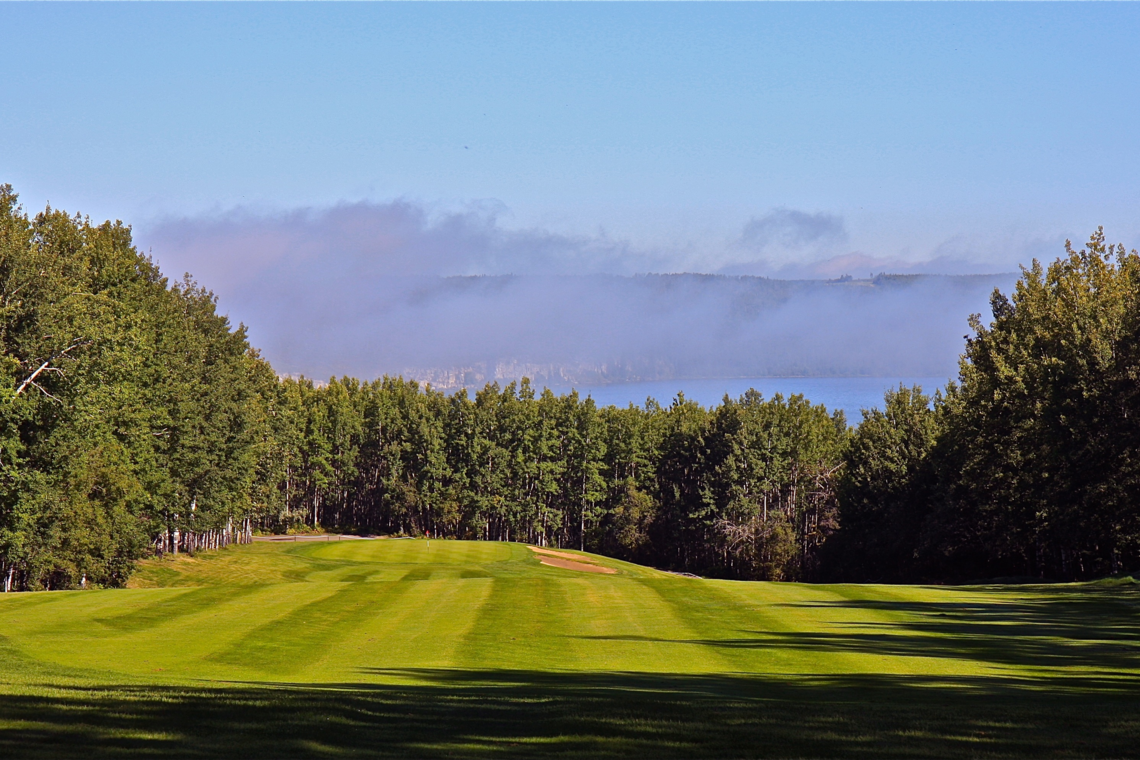 General Manager : Lake Point Golf & Country Club
For 65 years, Lake Point Golf & Country Club has been Northern BC's premiere golf facility. From its majestic location along the shores of Charlie Lake, rising up to overlook the lake and opposing cliff wall, to its immaculately manicured greens, and quintessential Stanley Thompson-esque design, Lake Point is unique amongst many courses, even in much larger centers.
Lake Point Golf and Country Club was established in 1958 as a 9-hole layout. In 1974 we hired Norman Woods, an apprentice of Stanley Thompson, to design our second nine, and redesign the existing one. He has left us a memorable and formidable challenge. With a tree lined layout, many holes frame the surrounding scenery leaving all that play an unforgettable impression. Lake Point also offers a driving range, practice green, full-service Clubhouse & Restaurant, and a fully stocked Pro Shop that carries all major golf lines, as well as our recent addition of lululemon.
Location

Lakepoint Golf & Country Club - Charlie Lake, BC

Posted

2023-11-10

Deadline

2024-01-15

Job Summary

First and foremost, Lake Point is looking for an individual that believes in building a team and growing a business. The successful candidate will benefit from professional growth and the ability to flex their creative muscle. Taking advantage of opportunity within our community and further, creating diversity in our offering and achieving all of this at a high standard are paramount to the role.

The position of General Manager includes managing all aspects of the club including its activities and the relationships between the club and its Board of Directors, members, guests, employees, community, government and industry. Coordinates and administers the club's policies as defined by its Board of Directors. Develops operating policies and procedures and directs the work of all Department Managers. Implements and monitors the budget, monitors the quality of the club's products and services and ensures maximum member and guest satisfaction. Secures and protects the club's assets, including facilities and equipment.

Responsibilities

Budget Management:

• Manage operations to approved Budget to maintain or improve Lake Point's Net Operation Profit (NOP) and that all activities are aligned with the Business Plan Goals

• Prepare a marketing plan to maintain Green Fee Rounds at or above 100% of the budget

• Coordinates development of operating and capital budgets according to the budget calendar

• Monitors financial statements & takes effective corrective action as required.

• Responsible for the development of the club's Long-Range and Annual Business plans.

Staff Management:

• Directly supervises the Food and Beverage Manager; Golf Professional (Head Professional); Golf Course Superintendent

• Responsible for the Recruitment and management of all direct reports including development and updating position descriptions, hiring and training, skills development, vacation scheduling, etc.

• Ensure that all managers and staff understand their roles and responsibilities and maintain acceptable performance.

• The General Manager and all direct reports appoint a staff member as a designate when absent from the workplace

Safety Management:

• Ensure that management and staff meet the safety requirements. Implement processes for the elimination of incidents and the reduction of risks to people, property and environment.

• In accordance with the Health and Safety Policy, ensure documentation of all incidents/accidents which includes processes changes required and implemented for the elimination of incidents.

• Ensure all losses are recorded, investigated and appropriate follow-up actions are implemented to eliminate recurrence in the future. Report all incidents to the President of the Golf Club within 24 hours.

• Handles emergencies such as incidents, accidents and breaches of security or house rules promptly and in person. Emphasizes prevention through training, inspection and preventive enforcement.

• Ensures proper cleanliness and sanitation of all club facilities and environments.

Facilities Management:

• Ensure all Lake Point facilities (Course and Clubhouse) are ready for spring startup.

• Ensure high quality maintenance of all Lake Point facilities during golfing season (Golf Course and Outlying Buildings, Club House, Maintenance Facilities, Parking lot, etc.)

• Ensure a timely and efficient shutdown of all Lake Point facilities for winter layup.

• Ensure proper maintenance and operation of all Lake Point facilities that remain open throughout off-season months.

Operations Management:

• Ensure Course Condition Improvements are determined and implemented;

• Aeration schedule shared with membership at spring AGM, posted on website and posted on the monthly activity board

• Planned projects communicated to membership and posted on the website

• Maintenance high level work scope communicated to membership monthly, scope should be aligned with course condition improvement plans.

• Develop Communications plan which must include; social media platforms such as Facebook, Instagram, etc; Emails to member and guest lists, regular updating of Lake Point website.

• Responsible for course improvements (beautification);

• Work with the Board of Directors Operations Committee to develop course and facility improvements for the upcoming golf season and ensure the approved initiatives are actioned and completed.

General:

• Maintains membership with the PGA of Canada and/or the British Columbia Superintendents of Golf and other professional associations. Attending conferences, workshops and meetings to keep abreast of current information and developments in the field.

• Implements general policies established by the Board of Directors; directs their administration and execution including but not limited to the Employee Handbook

• Plans, develops and approves specific operational policies, programs, procedures and methods in concert with general policies.

• Provides advice and recommendations to the President and Committees about construction, alterations, maintenance, materials, supplies, equipment and services not provided in approved plans and/or budgets.

• Attends meetings of the club's Executive Committee and Board of Directors.

• Reports member infractions to the board for necessary action.

• Serves as liaison between all management staff and the board.

• Prepares reports and other support material for Board of Directors and Board Committee(s) use

• Negotiates and recommends board approval for contracts.

• Consistently ensures that the club is operated in accordance with all applicable local, provincial and federal laws

• Properly manages all aspects of the club's activities to ensure and maintain the quality of products and services provided by the club.

• Participates in outside activities that are judged as appropriate and approved by the Board of Directors to enhance the prestige of the club; broadens the scope of the club's operation by fulfilling the public obligations of the club as a participating member of the community.

• Coordinates the marketing and membership relations programs to promote the club's services and facilities to potential and present members.

• Welcomes new club members; "meets and greets" all club members as practical during their visits to the club.

• Oversees the care and maintenance of all the club's physical assets and facilities.

• Ensures the highest standards for food, beverage, sports and recreation, entertainment and other club services.

• Establishes and monitors compliance with purchasing policies and procedures including direct purchasing, receiving, storage, issuing, preparation and control of all products, supplies and equipment

• Gives direction to and works closely with vendors, outside contractors, firms and individuals providing services to the club.

• Directs the writing and publishing of the club newsletter and plans for intra-club public relations.

• Performs other duties as directed by the President or Board of Directors.

Qualifications

• A post-secondary degree in business or a related discipline; or equivalent experience.

• Previous experience as a Senior Leader in a Golf Club or similar facility with the ability to lead people in a tight-knit environment

• Be a highly visible leader with a friendly and outgoing personality and a strong professional demeanor

• A clear commitment to Member Services through an open and transparent customer / member approach acting as Chief Host to all members and guests

• A strategic thinker with a strong business acumen with the ability to grow the business

• An entrepreneurial style combined with a background in all aspects of business management including business development, finance, information technology, human resources, risk management and performance management

• Ensures compliance with all regulatory and matters affecting the Club

• Experience reporting to a Board with an understanding of club governance

• A Certified Club Manager designation (CCM) is preferred

Compensation

Competitive salary to be discussed with performance-based incentives.

Benefits/Perks

Standard with executive level positions, health, dental, etc. Staff meal program, PGA dues, clothing allowance.

Start Date

2024-03-01

Course Website

https://www.lakepoint.ca

Social Media Page(s)

Facebook - @LakePointGCC

Instagram - @lakepoint_golf

Twitter - @LakePointGCC

Employment Duration

Full Time - Year Round

Contact Information

Should you feel that you have the qualifications for this exciting opportunity, please forward your resume and cover letter to Justin McKinnon, Lake Point Board of Directors, justin@petron.ca

We thank you in advance for your application!