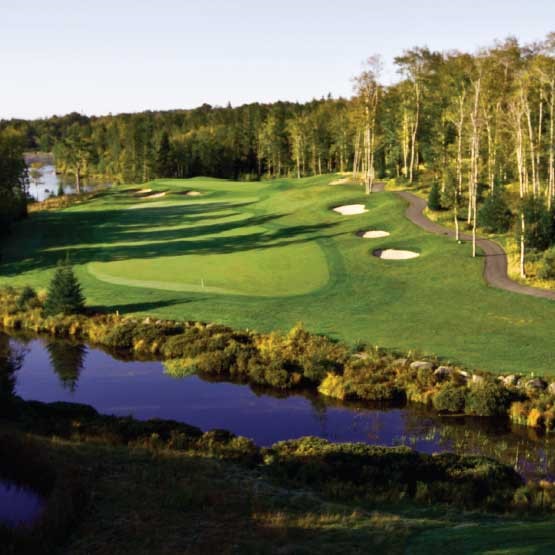 General Manager: : Glen Arbour Golf Course, Hammonds Plains, NS
Glen Arbour is an expertly designed and meticulously maintained private course for golfers of all abilities that offers challenging greens, beautiful scenery, and superior service. Our 18-hole champion course provides great diversity in hole design, challenging elevation changes, and a demanding layout. In addition to the 6,800 yard par 72 18-hole course, we also offer a 9-hole par 3 executive course as well as practice facilities on site. Contained within our stunning clubhouse,
The Deerfield Pub at Glen Arbour is a warm Scottish pub featuring great food and atmosphere year-round. The Deerfield Pub has live music on weekend evenings and is a perfect spot to enjoy local talent. Additional features of our clubhouse incorporate a Great Room that includes a full-length deck and gazebo and offers panoramic views of Sandy Lake. Our clubhouse is a perfect location for weddings, meetings, events, and private dinners. In anticipation of an exciting future we are actively recruiting a General Manager to lead our organization forward.
Location

Glen Arbour Golf Course, Hammonds Plains, NS

Posted

2022-10-25

Deadline

2022-12-01

Job Summary

The General Manager plans, leads, executes and manages Glen Arbour Golf Course and Deerfield Pub operations in accordance with good golf course management practices, all relevant government regulations and any Administrative or Owner-driven Policies and Procedures.

The General Manager is directly responsible to the Ownership Team for the effective management of the course and pub and the fulfillment of its core values and objectives. As an effective Leader, the GM will develop and implement company-wide initiatives and inspire their teams to work together and help each other. The General Manager is an expert in explaining complex ideas in a way that their team can understand, while actively listening to their team's ideas and feedback.

Excellent organization skills are key to being a successful GM, both to help manage the GM's own time and responsibilities but also to delegate tasks to team members and ensure the team is working on priorities effectively.

Responsibilities

Key duties of the General Manager role:

Strategic Direction and Planning:

• Develops, with the advice and counsel of the Ownership Team, the overall mission, strategic direction, goals, as well as the budgeting and operating principles of the organization.

• Responsible for 'Big Picture' thinking to ensure the team is strategic in approach to challenges and opportunities.

• Works collaboratively with the Ownership Team to ensure processes are followed to build consistency and trust.

• As employees are direct representations of Glen Arbour, the GM must be people-oriented and focused on making Glen Arbour's employees feel respected and treated fairly.

Financial:

• Assumes ultimate accountability for sound financial management and appropriate internal controls.

• Monitors the quality of products and services to maximize customer satisfaction.

• Secures and protects facility assets while maximizing revenues and minimizing expenses.

Communication:

• Communicates the values and operating principles of the organization to employees, members and guests.

• Provides reports and related information as required to the Ownership Team, other designated organizations and the regulatory agencies.

• Represents Glen Arbour Golf Course to the golf industry and to the general public.

• Ensures an adequate presence on social media to promote and inform the public on the status of operations and events of Glen Arbour Golf Course.

Operations and Services:

• Provides overall direction for the golf course and pub operations daily and in accordance with the objectives established by the Ownership Team.

• Participates in all Ownership Team approved decisions of strategic importance.

• Ensures that appropriate policies and procedures are in place and being followed.

Management:

• Directly supervises the Superintendent/Associate Superintendent, and Director level roles

• Develop, communicate, facilitate, and encourage an organizational culture conducive to the achievement of Glen Arbour's goals and operating principles.

• Develops and maintains relationships with the course's membership and the public.

• Supported by HR, oversee approved plans for the hiring, training, development and retention of Glen Arbour's staff.

Qualifications

If this role speaks to you and you have the experience to hit the ground running, we welcome you to apply.

Experience as a GM on a golf course would be an asset.

We are looking for an experienced GM to push forward our goals, and promote world class customer experience regardless of previous industry.

A positive attitude and excitement to help us continue making Glen Arbour a best-in-class golf and dining experience in Atlantic Canada is key!

Compensation

Competitive Wages

Benefits/Perks

We offer Group Benefits and a Group Retirement Savings Plan with a matching portion, staff discounts in the pub and golf shop, a fun and friendly culture with an absolutely stunning workplace!

Course Website

Social Media Page(s)

Employment Duration

Year Round.

Contact Information

Please apply right away, as we are hoping to have someone in place by the new year.

We're looking forward to meeting you!

Please apply directly: https://glenarbour.bamboohr.com/careers/36