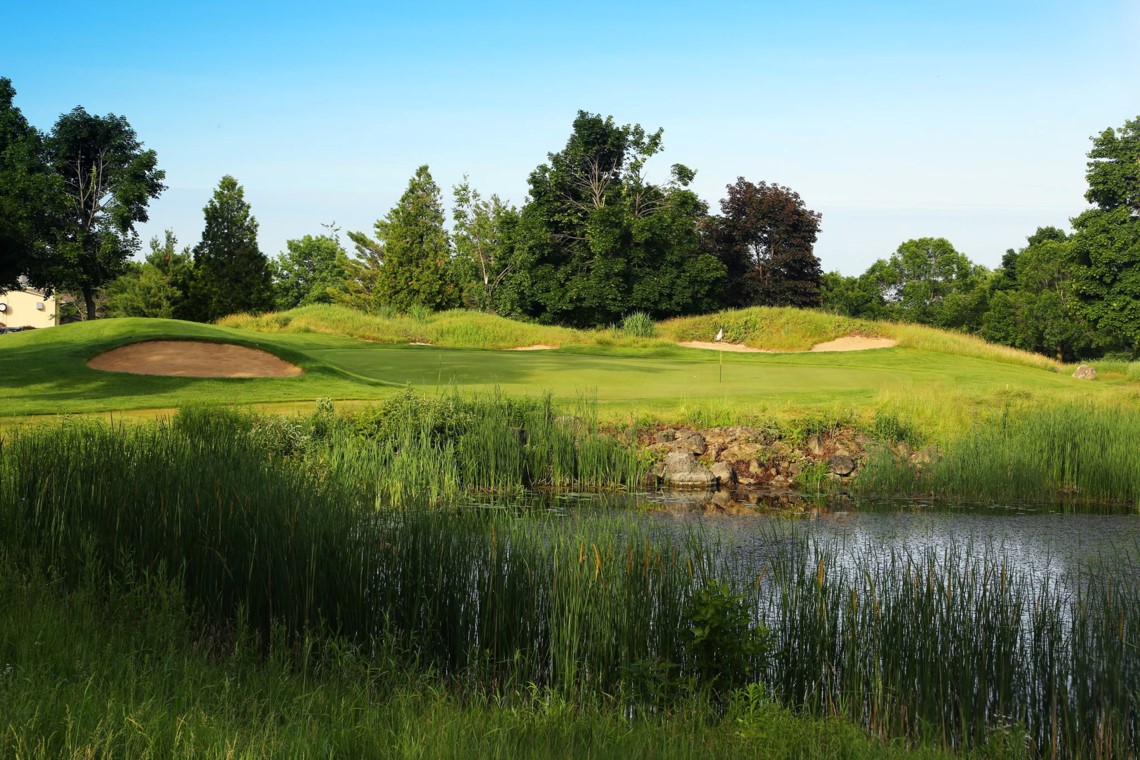 Director of Golf: Hidden Lake Golf Club - Burlington, ON
Hidden Lake Golf Club
Burlington Post Reader's Choice Award winner for 'Best Golf Course' and 'Best Golf Shop'.

Formerly known as the Lake Medad Golf and Country Club, Hidden Lake Golf Club opened its doors as a straightforward, albeit enjoyable, 18-hole layout in 1962. Purchased in 1979 by the current ownership, the course was more appropriately renamed after the lake that inconspicuously flows alongside the finishing holes of what is now referred to as the 'Old Course'.

Much has changed since 1962 as Hidden Lake Golf Club has expanded into two exceptional, but very distinct, championship courses that cover over 500 acres of picturesque Niagara Escarpment. The atmosphere inside the clubhouse is warm and friendly; the clubhouse caters to both individuals and groups alike.

Whatever course you choose, you won't be disappointed. If you appreciate a more traditional, tree-lined course then play the Old Course. The greens are small and flat and water is non-existent. Measuring 6,712 yards, the course is very mature and features lush, tree-lined fairways and extremely small greens.
If you prefer large and undulating greens, more generous fairways and plenty of water then the New Course is for you. Measuring 6,743 yards, water comes into play on four holes, but it's the well bunkered contoured greens that provide the real difference.
Location

Hidden Lake Golf Club - Burlington, ON

Posted

2023-03-06

Deadline

2023-04-14

Job Summary

Reporting to the Regional Executive Director of Operations, the Director of Operations is responsible for providing effective leadership at the club. Specifically, he/she will make certain that all club employees are aligned with both the club and ClubLink's business objectives and in so doing ensure that the club's financial, member service and employee engagement targets are met.

Responsibilities

Leadership

Identify, hire and develop key management employees, ensuring that they receive the proper training/instruction in order to maximize their effectiveness in their day-to-day activities.
Manage the performance of each of the department managers at the club, setting clear expectations, providing regular feedback and ongoing coaching in an appropriate manner.
Ensure professional development opportunities are made available to the management team and their staff.

Sales and Financial Management

Proactively manage club budget including the labour and expense budgets, ensuring that Member and guest service expectations and overall company goals are being met.
Actively seek incremental sources of revenue through banquets and events, increasing merchandise sales and maximizing the tee sheet.
Actively seek new Membership opportunities with guests and other potential prospects.
Assist in the development of club capital budgets, overseeing that all projects are carried out properly and within budget.
Accountable for all purchasing at the club.

Member Relations

Champion all Member and guest relations initiatives and act as the main point of contact at the club relative to Member or guest issues and concerns.
Develop and maintain positive relationships with individual Members and Member groups, proactively seeking ways to improve member and guest satisfaction.

Qualifications

7+ years of relevant management/leadership experience.
College/University Diploma in a related field. Experience/knowledge of golf club. operations including knowledge of turf, clubhouse and golf operations would be an asset.
Demonstrated time management, organization and oral and written communication skills within a multi-unit operation.
Proven track record of sales and sales leadership success, preferably within the golf industry, and a passion for sales and marketing.
Strong training & coaching skills.
Well-developed strategic planning skills and even stronger execution skills a must.
The ability to manage multiple and competing tasks/priorities.
Proven experience understanding and analyzing budgets.
Expert Member and guest service skills.
A history of innovation and a dedication to personal improvement.

Compensation

Based on experience.

Benefits/Perks

To be discussed

Course Website

<a href="https://hiddenlake.clublink.ca/">https://hiddenlake.clublink.ca/</a>

Employment Duration

This is a Full-Time, Permanent Position.

Contact Information

Contact Information – Applicants may click here to apply or submit their resume by email to cboudreau@clublink.ca

ClubLink is an equal opportunity employer committed to providing an inclusive workplace. Please contact jobs@clublink.ca if a workplace accommodation is needed throughout the selection process. Thank you for your interest in ClubLink.