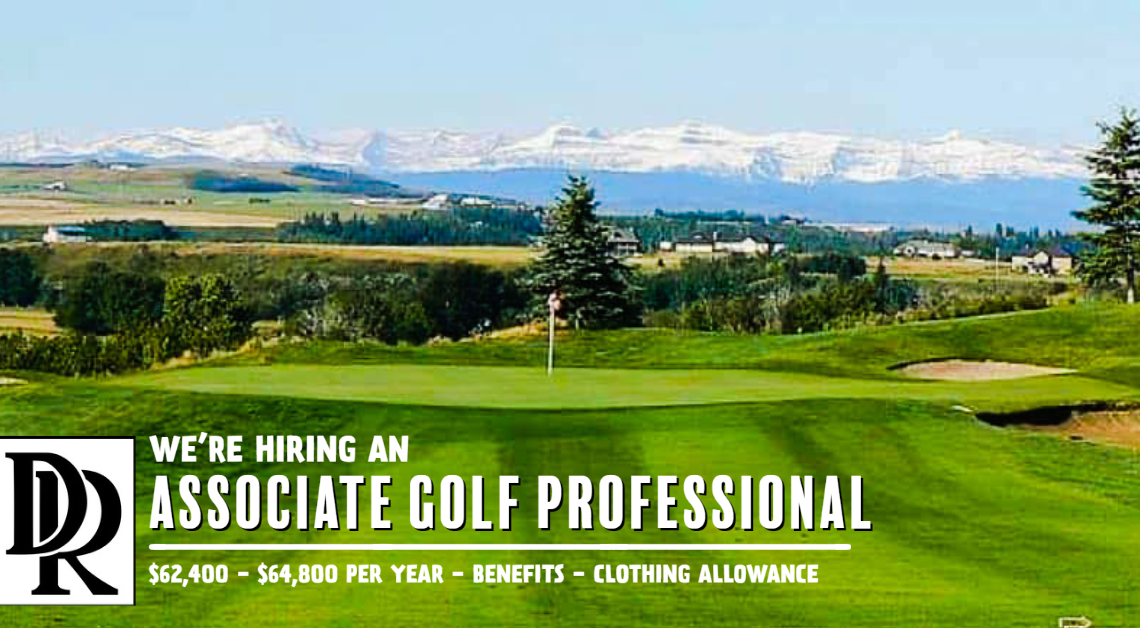 Associate Golf Professional: D'Arcy Ranch Golf Club - Okotoks, AB
D'Arcy Ranch Golf Club is now accepting applications for an Associate Golf Professional.
This full-time position works various shifts including evenings, weekends, and holidays. Applications will be accepted until December 19th, 2022.
Considered one of the premier Golf Clubs in Alberta, D'Arcy Ranch Golf Club opened in 1991 and is located within the D'Arcy Ranch community of Okotoks just 15 minutes south of Calgary. We are an 18-hole championship public facility where everyone can expect to experience a day of golf and be treated like members of a private club. The Club's facility is a 14,000-square-foot clubhouse which includes the golf pro shop, as well as our restaurant Jerry's which offers indoor and outdoor dining overlooking outstanding views of the rolling foothills and Rocky Mountains.
At D'Arcy Ranch Golf Club, our team members work together to preserve and protect natural resources and to provide outdoor recreation and education to enhance the quality of life for present and future generations. In January of 2013 D'Arcy Ranch achieved designation as a Certified Audubon Cooperative Sanctuary. D'Arcy Ranch Golf Club became the 17th golf course in Alberta and the 1006th golf course in the world to have achieved this designation.
Location

D'Arcy Ranch Golf Club - Okotoks, AB

Posted

2022-11-28

Deadline

2022-12-19

Job Summary

About You:

You are an outgoing and personable professional with a background in customer service and an interest in the hospitality industry. You are adept at effectively communicating with all types of people. You are an organized problem solver, and highly proactive. You understand that service is at the heart of your job. You understand and live by the concept of being a "team player," making sure that collaboration is essential to your success, as well as the success of those with whom you work. Most importantly, your values align with the values and culture of our guests and our Club. Those values are on display every day and displayed with every decision you make.

Responsibilities

• Conducts oneself in a professional manner and always maintains a professional image

• Scheduling staff

• Ability to lead by example and create positive work environment for all

• Assists in the management of our tee time system

• Provides golf lessons upon request

• Service and customer focused attitude

• Assists in implementing leagues, clinics, and other programs

• Self-motivated with desire to promote and market golf shop merchandise

• Assists in the inventory control of hard goods, soft goods, and special orders including ordering procedures, receiving procedures, point of sale transactions, pricing procedures, display and sales

• Assists in managing golf cart fleet operations, practice facility, and club storage service

• Greets all guests in a professional and friendly manner

• Experienced computer skills including Microsoft Word, Publisher, and Excel. Proficient in other applications, e.g., email, internet, tournament, database & POS. Tee-On experience would be considered an asset.

• Strong organizational, planning, and prioritization skills

• Assists with all opening / closing procedures and POS operation

• Assists with all golf shop merchandising and display creations

• Assists in managing club tournaments and group play operations in conjunction with our Tournament/Events Coordinator

• Assists with management of outside service staff to ensure the highest quality of customer service is achieved

• Maintains a credible golf game and remain current on teaching innovations

• Maintains and promotes a positive professional image within the community

Qualifications

Education/Experience

• PGA of Canada member in good standing

• Minimum 4 years' experience in Golf Services required

• Experience with Tee-On Software would be considered an asset

Additional Competencies

• Excellent verbal and written communication skills

• Ability to lift 50 lbs.

• Possesses class 5 driver's license

• Excellent interpersonal, negotiation, and conflict resolution skills

• Excellent time management skills with the proven ability to meet deadlines

• Strong analytical and problem-solving skills

• Ability to keep issues confidential.

Compensation

Salary range $62,400 - $64,800

Benefits/Perks

D'Arcy Ranch Golf Club has an attractive compensation and benefits plan along with a great work environment.

• Group benefits that include medical, dental and vision

• Performance based bonuses

• 90% of lesson revenue over and above salary

• Company paid staff meal daily when restaurant operational

• Tournament and clothing allowance

• Professional development is also strongly encouraged

• Equipment package where applicable

• Month of January Holidays D'Arcy Ranch Golf Club is an Equal Opportunity Employer.

Start Date

2023-02-01

Course Website

<a href="https://darcyranchgolf.ca/">https://darcyranchgolf.ca/</a>

Social Media Page(s)

https://www.instagram.com/darcyranchgolf/?next=%2F

https://www.facebook.com/profile.php?id=100083295064847

Employment Duration

12 Months

Contact Information

Please send your resume and cover letter to Tim Watt, Head Pro/General Manager TimW@DArcyRanchGolf.ca or call 403-938-4455 should you have any additional questions.