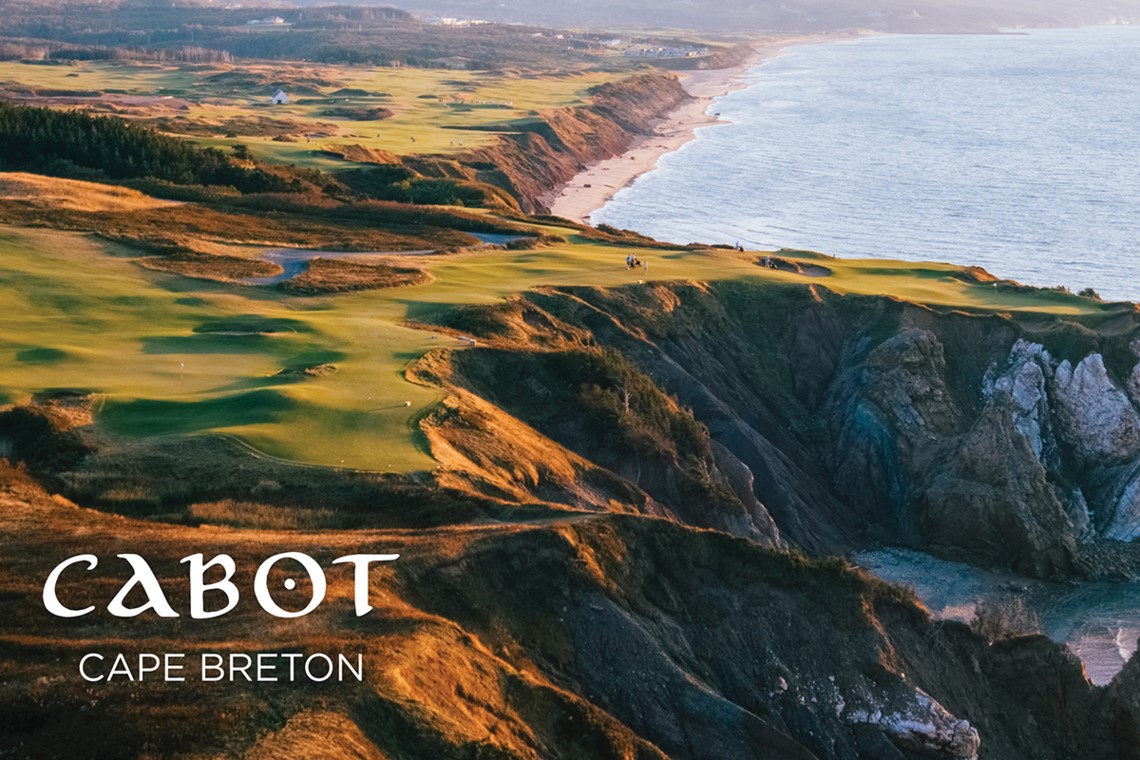 Assistant Golf Professional / Golf Services Supervisor : Cabot Cape Breton
Located on over three miles of sandy beach along the coast of Cape Breton, Nova Scotia—and nestled between the Atlantic Ocean and the picturesque town of Inverness—Cabot Cape Breton is Canada's first and only authentic links golf resort.
Featuring 46 holes of exhilarating golf, two acclaimed World Top 100 courses, 72 rooms of award-winning accommodation, 19 luxury Golf Villas, with 33 additional homes currently under construction, and exquisite dining in three on-site restaurants, Cabot Cape Breton is intended to excite and inspire at every turn.
Cabot as a whole has grown with great leaps and bounds in just a short time. With now having properties in not only Canada, but the U.S, St. Lucia and Scotland, the Cabot name is now being recognized globally. Cabot prides itself on being able to find and develop world class individuals, that really take the overall goal of being world-class to heart. A benefit to becoming part of the Cabot family is that the potential for career growth is outstanding. It allows our associates the chance to discover where their hard work and goals can truly take them, not only at Cabot Cape Breton, but our other Cabot Properties as well.
Location

Cabot Cape Breton

Posted

2023-11-13

Deadline

2023-12-22

Job Summary

The role of our Assistant Golf Professional is golf operations focused and slightly removed from the traditional pro shop position – they are the Golf Service Supervisor (GSS). With our robust caddie program of over 300 caddies and strong occupancy on all three golf courses, our GSS team members are very much engaged directly with serving our guests, the caddie program, and leading the golf operations team.

While Cabot Cliffs and Cabot Links are located on separate properties, our Golf Service Supervisors/Assistant Golf Professionals should be flexible and willing to work at either location when needed.

Responsibilities

• Strong coordinating and leadership skills

• Positive and proactive communication with resort guests and team members

• Maintain and uphold the policies, procedures, and reporting of the golf operations as required

• Implement any new processes, policies, and procedures as assigned by management

• Greet all guests in a warm and professional manner - make guests feel welcome and anticipate their needs

• Assist guests with their golf clubs, set them up on push carts, ensure that the bag is suitable for the caddie when caddies are requested, provide a medical cart when required, and provide club storage services as requested

• Provide information and direction to guests to ensure their needs are met and exceeded

• Provide assistance in helping grow the Cabot Academy with private lessons, our junior program, and leagues

• Streamline the check in process for resort guests by efficiently communicating with professional shop team members

• Set up, maintain, and clean-up the golf academy and practice areas

• Be aware of daily hotel activities, group, and VIP arrivals

• Preparation and distribution of all guest golf operational amenity items

• Offer assistance to all guests and provide them with requested information and directions, personally escorting the guest whenever possible

• Assist guests with information on resort amenities, community and surrounding areas, and directions

• Focus attention on guest needs, always remaining calm and courteous

• Comply with Cabot health and safety legislation

• Complete other duties as assigned by management

Qualifications

• Available for the entire season, May – October

• Member in Good Standing with PGA of Canada

• High school diploma

• Positive attitude and excellent organizational, communication, and interpersonal skills

• Ability to handle multiple duties under pressure

• Ability to focus attention on guest needs, remaining calm and courteous at all times

• Ability to work flexible hours – weekends and evenings as required

• Highly responsible & reliable

• Valid driver's license

• Commitment to delivering a high level of customer service

• Enthusiastic, positive, authentic, engaging, and high energy

• Excellent grooming standards

• Proficiency in Microsoft Office (Word, Powerpoint, Excel)

Compensation

• Base salary: $1600 - $1900 paid bi-weekly, commensurate with experience

• Monthly gratuity program

Benefits/Perks

• Potential for staff hard goods package

• Staff housing is available at special rates

• Discounts on food and retail around the Cabot property

• Instruction opportunities, helping grow the game of golf at Cabot with our growing Junior program

• Playing privileges on the #1 and #5 ranked courses in the country, with use of the Cabot Cape Breton practice facility

• Emphasis on a positive staff work/life balance through staff scheduling. We want to make sure you enjoy your time in Cape Breton!

PGA of Canada Specialization

Teaching

PGA of Canada Specialization

Golf Operations

PGA of Canada Specialization

Management & Leadership

Course Website

https://cabotcapebreton.com/careers

Social Media Page(s)

Employment Duration

Seasonal, May - October

Contact Information

Apply for the Golf Services Supervisor by sending a Cover Letter and Resume to: Head Golf Professional, Mike Johnston at mjohnston@cabotcapebreton.com

Alternatly, Click HERE to apply