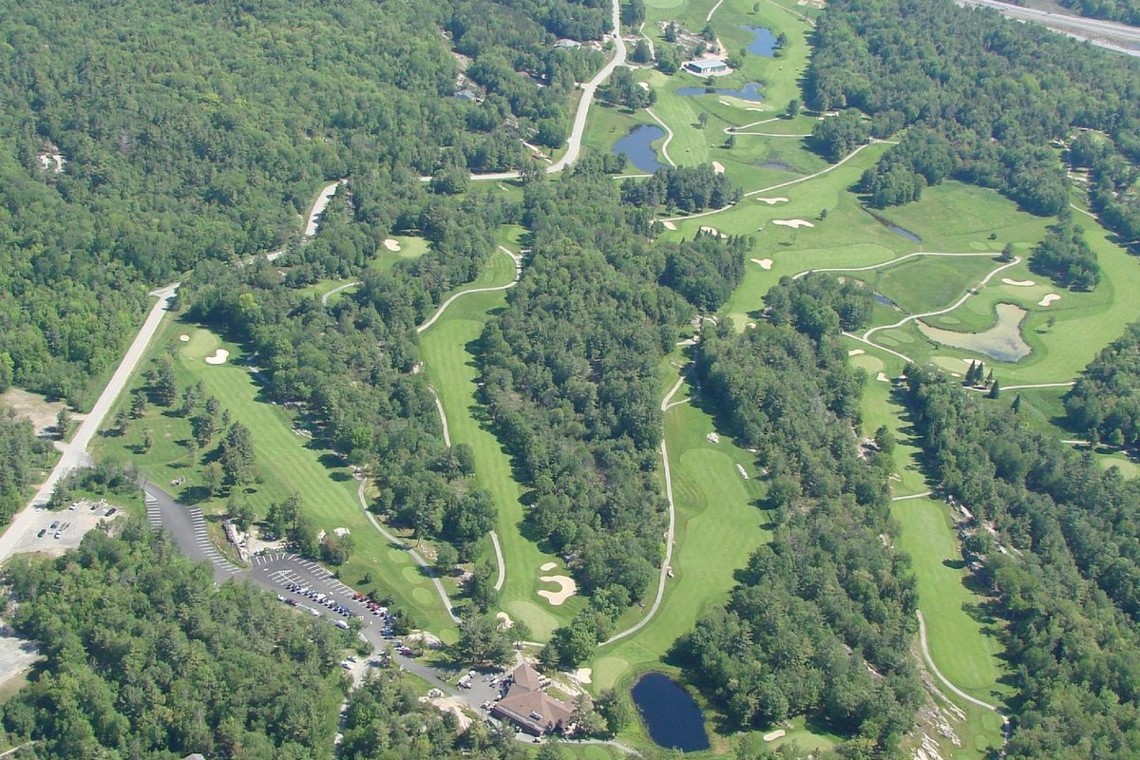 Apprentice Professional/Assistant Professional/Associate Professional : Parry Sound Golf & Country Club (Updated)
The Town of Parry Sound is the world-renowned jewel of the 30,000 Islands on Georgian Bay, Ontario. It is the birthplace of hockey legend Bobby Orr and home to several cultural festivals. During the summer it is home to many cottagers and a popular tourist spot where the population grows to nearly 100,000 people with seasonal residents, making for a very interesting dynamic! The area boasts several Provincial Parks and unlimited water for boating, canoeing/kayaking and fishing.
Parry Sound Golf & Country Club is a busy course based in the township of McDougall just a 10 minute drive from Parry Sound. The course consists of 18 Holes designed by Thomas McBroom completed in 1982, it also boasts one of the best practice facilities in the area with grass tee-decks, a chipping area with bunker and large putting green. The clubhouse is fully licensed and offers a menu to suit most palettes.
The town of Parry Sound is an ideal location where it is only approximately a one-hour drive from Barrie. Two and a half hours from Toronto. About an hour 45 mins from Sudbury and North Bay. Oh, and under an hour to get to the beautiful Muskokas.
Location

Parry Sound Golf & Country Club - 50 George Hunt Memorial Drive, McDougall, Ontario

Posted

2022-12-01

Deadline

2023-01-15

Job Summary

The successful candidate will assist the Head Professional with the day to day running of the club. He/She will be a member in good standing of the PGA of Canada or working towards membership of the PGA of Canada.

Responsibilities

You must demonstrate a positive attitude, be polite and a team player.

Duties include the following:

• Using Tee-On software to set Tee-Sheets, book tee-times and sell merchandise along with memberships and other game related packages. Be responsible for the input and update of Pro Shop inventory and to help with the merchandising of the Pro Shop.

• Assist with all League play and Tournaments from preparation, organization and execution.

• Provide lessons to members and guests either private or group based and to run our thriving junior camps. This position will take the majority of the lessons throughout the season!

• The ideal candidate will be competent with computers including MS Office and Social Media along with an aptitude for maintaining our Website and producing a monthly E-Newsletter.

• Previous knowledge of Golf Genius software is an asset but training will be provided.

• Create bi-weekly staff schedules for Pro Shop, Starters, Backshop and Range staff and supervise the aforementioned staff working closely with the Head Professional.

• Promote a positive working environment.

Qualifications

He/She will be:

Class A member or working towards Class A
Member in good standing of the PGA of Canada or working towards membership of the PGA of Canada.
You must demonstrate a positive attitude,
Be polite
A team player

Compensation

Compensation Package:

• This is a salaried position commensurate with experience. We are very competitive with our compensation package so let's discuss your aspirations and goals.

• 100% lesson revenue – The sky is the limit on potential earnings!! Our membership has grown over the last few seasons and we get a sizeable number of visitors to the Parry Sound area during the summer season. Our practice facility is the best in the area which will help you teach all aspects of the game. We are a busy course so plenty of lesson opportunities are available.

• Free use of the golf course, power cart and practice facility when not on duty – There will be plenty of opportunities each week for you to get out on the course to allow you some 'me' time.

• Meal package – All your meals will be free at the course when on duty. After all, how can we expect to get the best out of your abilities if you are working on an empty stomach!

• Discounted pro shop merchandise – You can expect to purchase most items at cost plus shipping.

• Pro shop merchandise sales bonus – Very achievable bonus based on the gross sales target at the end of the season.

• Educational allowance – Where applicable, you will be given $2,000.00 to put towards educational courses with the PGA of Canada including seminars and travel expense.

• Tournament and/or clothing expense allowance – Whether you like to play in the odd tournament or just want to keep looking sharp, we will help you with these expenses.

• RSP contribution – We will provide an RSP contribution to be paid at the end of the season.

• End of season Bonus – We like to take care of all our employees, and as such, you will receive an end of season bonus.

• Potential for a staff playing package – We will make sure there is a staff equipment package available to you and there are many opportunities for some freebies regarding clothing, shoes, gloves, balls etc.

• PGA of Canada dues paid in full – One less thing for you to worry about!

• A relocation allowance may be provided depending on circumstances – We will utilize every resource at our disposal to help you settle into life at Parry Sound. It is a beautiful area and we want you to enjoy it with us.

• This is an 8-month full-time seasonal position (March to October) – What about the other 4 months of the year you might be asking! We can discuss your needs at interview. We might not have all the answers but we will try our best to get you through the winter months.

Benefits/Perks

(please review entire compensation, benefits and perks package above)

Start Date

2023-03-01

Course Website

Social Media Page(s)

Employment Duration

• This is an 8 month full-time seasonal position (March to October)

What about the other 4 months of the year you might be asking! We can discuss your needs at interview. We might not have all the answers but we will try our best to get you through the winter months.

Contact Information

Interested applicants should please apply by January 15th, 2023.

All applicants will get a reply!

Please send a Resume and covering message to the following Email address or business address:

Alan Crocker (PGA of Canada Head Professional/Manager) at alan@parrysoundgolf.com

Or mail to Address: Parry Sound Golf & Country Club, 50 George Hunt Memorial Drive, McDougall, ON, P2A 2W9

Applicants may call Alan at (705)-342-5262 (then press 2).

If Alan is unable to answer the phone, please leave him a message and he will be sure to get back to you as soon as possible.

"The successful applicant will be working with friendly staff and made to feel welcome by the membership. This position is one of our more senior roles in the club and your input and creativity is always appreciated".

"We look forward to your interest/application for this position – We know you will enjoy working at Parry Sound Golf & Country Club where an extended family awaits!"