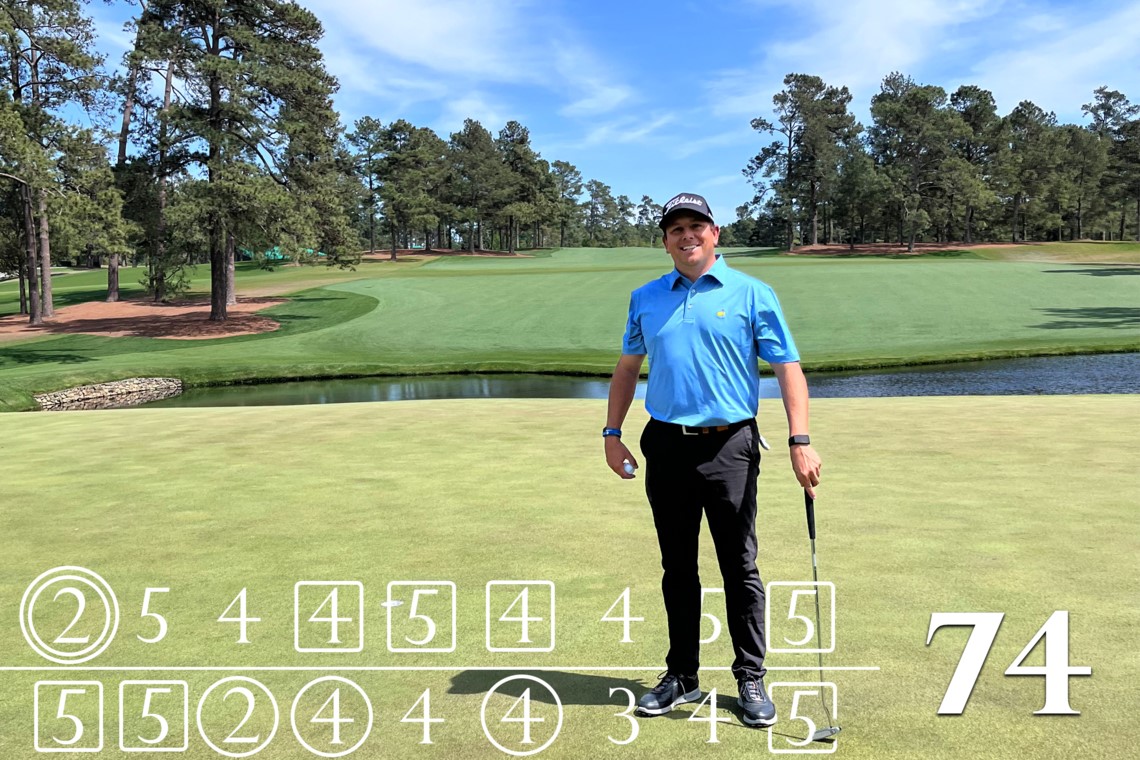 Yohann Benson's incredible Masters experience, winning the media draw and playing Augusta National
By: Adam Stanley
The first hole at Augusta National is historically ranked as the sixth-most difficult on the property, but PGA of Canada member Yohann Benson made it look pretty darn easy when he had the opportunity of a lifetime Monday after the Masters.
Benson is a proud PGA of Canada member and is also the French-language golf analyst with RDS. He had his named pulled at the annual media lottery at the Masters and won a tee time at the famed course.
He hit driver on the opening hole (which played 365 yards from the member tees) over the bunker on the right-hand side of the fairway. From 71 yards he hit a lob wedge to the iconic pin position (you know the one. It's the same as Sunday) and the ball found the bottom of the cup.
Of note: There has been five eagles recorded on the first hole of Augusta National during the Masters, the last coming from Retief Goosen in 2011.
"I knew I hit a good shot. I knew it was close, but I didn't think it would be in," said Benson. "When I got to the green and I saw no ball, I knew it was in the hole. That was pretty exciting."
Benson added three more birdies on the back nine, including on the par-3 12th after knocking his tee ball to just three feet, and came in with a 2-over 74.
Benson, however, is not a usual media hacker that usually gets this once-in-a-lifetime opportunity. He played the old Canadian Tour (now PGA Tour Canada) from 2008 until 2012, played the U.S. Open at Torrey Pines in 2008, and transitioned to being a full-time caddie on Tour after his playing days were over. When he was the head golf professional at Laval-Sur-Le-Lac Golf Club he was voted Player of the Year by his peers in the PGA of Quebec in 2019.
He now works out of the Club de Golf Mirage and teaches during the winter at Indian Springs Country Club in Florida.
Regardless of Benson's playing credentials, however, he still had a heck of a day. How could you not?
"I've played so many top, top private clubs but this was another big one off the bucket list. I was just extremely excited," he said.
Benson said the speed of the greens was one of the biggest things that stood out about Augusta National, and with a laugh he said you always have a perfectly teed-up lie when you're around the greens.
"You know when you're playing (with your friends) and you roll the ball around on the fairway to look for a perfect lie? You don't even need to do that at Augusta because every lie is perfect," he said.
This was Benson's third time covering the Masters for RDS, but the first time he entered the media lottery. At the pandemic-impacted Masters of 2020 and 2021 they did not have a media day the Monday after the tournament. There were two other Canadians who played this year – Jon McCarthy, the golf writer for Postmedia, and Francois-David Rouleau, a sports reporter with Le Journal de Montreal.
Benson played alongside a producer with the official Australian television network and a presenter from Sky Sports in England. Of course, Benson's instructor instincts kicked in as the day went on and he provided pointers when appropriate.
After his opening eagle Benson moved to the tournament tees for the balance of the round.
"We had a wonderful day and I tried to help them with their games as much as I could, but with the difference in tees, sometimes I had to walk 100 yards behind them!" said Benson. "It was a fun thrill, and the best part of the day was really the weather. It was a replica of Sunday. We had a really good time."
Benson said while walking in the footsteps of all the game's greats was a special moment, he said 2020 – the first time going there – is when he had a chance to soak in everything that's special about Augusta National.
There were no patrons that year due to the COVID-19 pandemic, so Benson arrived early one morning and walked the course and found all the special historical areas. He said it took nearly three hours that day for him to see another person. There were no ropes that year, he said, just some green paint to identify where you could and couldn't stand.
He said that experience helped prepare him to try to play half-decent on Monday, as many of his fellow Quebec-based media members had bets on what he would shoot – many of whom thought he couldn't break 80.
"It's a demanding golf course. Having played at a high level and caddying for six years on Tour, I still hit it in some (bad) spots," he said with a laugh. "But I was focusing on getting from Point A to Point B and I was focused on my game. I tried to help my playing partners with reads and club selection, and we really had a fantastic time."
Benson now must leave his bucket-list thrill in the rear-view mirror and get back to work. He spent over $4,000 in the gift shop last year, he said with a smile, but that's because he drove his car. This year he flew, and only had space for a couple of ball markers.
"I can't bring as much stuff as I did last year, and instead of flying out of Atlanta on Monday, I'm out of Augusta on Tuesday," said Benson with a knowing grin, "and then I'm back to work teaching at Indian Springs Country Club in Boyton, Florida."