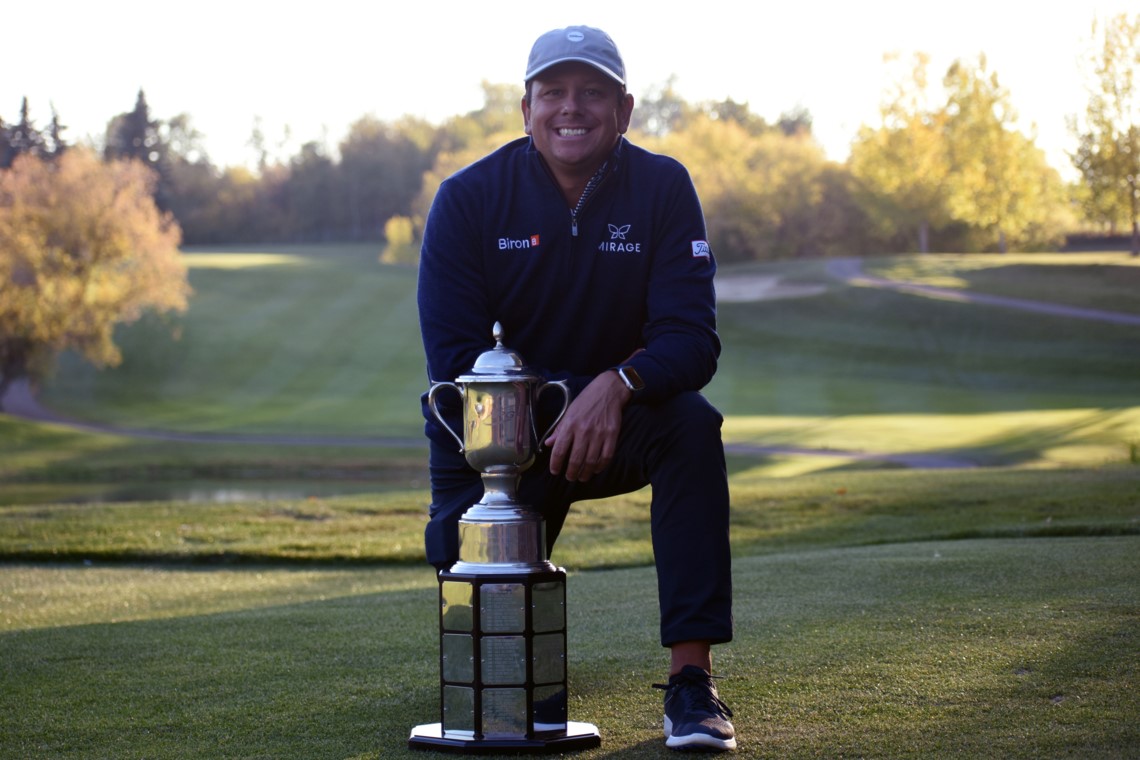 Yohann Benson wins PGA Assistants' Championship of Canada presented by Callaway Golf by one stroke
By: Brendan Stasiewich, PGA of Canada
To say Yohann Benson was trending in the right direction at PGA of Canada National Championships would be quite the understatement. Since 2019, he had finished 2nd, 11th, 3rd, 6th, 7th, and 3rd at BetRegal PGA of Canada Championships and PGA Assistants' Championships presented by Callaway Golf. He was due.
After opening with an even-par 71, he was going to need something special to keep up his positive streak at national events. That is just what he did, making 14 birdies over the final 36 holes (including a bogey-free final round) to shoot 65-65 to win by one.
One of the best things about Benson; on his final tee shot of the day on 18 at The Ranch Golf & Country Club – a daunting-but drivable par 4 with OB right and water short and left – his demeanor looked as if he was playing a Thursday afternoon round with his best pals. That's just who he is.
"I just like to have a good time when I golf," said Benson, who, in addition to his career as a professional golfer, also serves as a broadcaster for TSN and RDS. "It's not the end of the world and there are worse things than playing poorly or not winning. But I really played well the past two rounds and I am very pleased with this finish and to win our national championship is such a treat and I'm grateful and proud of myself."
Benson, in the third-last group of the day, had been near the lead for most of the round after making four birdies in his opening seven holes, and was one-stroke up heading to 18. Though he was unable to get up-and-down for birdie, his one-stroke lead ended up being enough to pick up his first PGA of Canada National Championship.
"I thought I needed birdie on 18, but I had a tough lie and got underneath it and then hit a good putt, but it is what it is and I'm fortunate to be the one who wins this week," said Benson, who teaches out of Le Mirage Club de Golf in Terrebonne, QC. "It means a lot. I just go about my business and if I win, I win and if I don't, I don't, that's how I approach every event, I do my best and have a good time and I guess this week I came out on top, so I'm grateful and lucky."
"My first real round out here was Tuesday, and it plays firm and fast, and the ball bounces a lot and I'm not used to that a lot in Quebec, we've had a wet summer," said Benson. "It took a full day to get used to it, but I found my bearings and I had a great pairing the first few days and a great pairing today."
Wes Heffernan, who was looking to win the event for the second time, needed birdie on his final hole to force a playoff, but his drive ended up in a tough position to a tucked pin and had to settle for par and a runner-up finish. Devon Schade was in a similar position, needing birdie to force a playoff, but he pulled his tee shot left and wound-up making bogey.
Each day, a hole was deemed the NoSweat Hardest Hole of the Day; the 15th hole was the NoSweat Hardest Hole of the Day for Thursday. Players who made birdie on the hole were put into a draw for $150. Thanks to his birdie, Jacques Plouffe earned the bonus courtesy of NoSweat.
Photos from the event can be found on our Flickr site here.