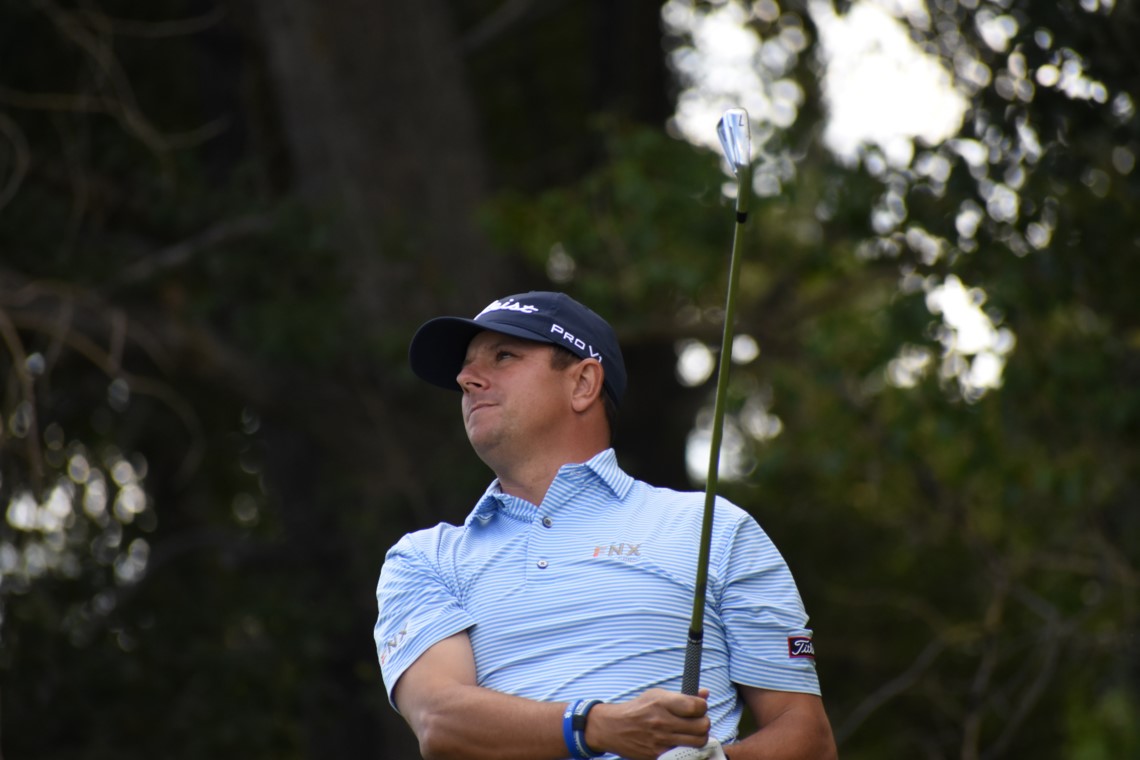 Yohann Benson shoots 29 on the back nine to take one stroke lead at PGA Assistants' Championship of Canada presented by Callaway Golf
By: Brendan Stasiewich
(CALGARY, AB) – While Yohann Benson may have left a few strokes out there on his opening nine holes at the Winston Golf Club, the same certainly can't be said for his closing nine.
After beginning his day shooting 37 on the front, he made five birdies in a row from holes 12 to 16 and added two more along the way to fire 29 and sign for a 6-under 66 to lead the PGA Assistants' Championship of Canada presented by Callaway Golf by one stroke over Wes Heffernan and Kevin Stinson heading into the second round.
For the full leaderboard from the first round of the PGA Assistants' Championship of Canada, click here.
"I got it going on the back, especially with the putter," said Benson, who was the runner up to Heffernan at this event in 2019. "It was a combination of hitting it close and making a couple twenty footers, but 29 on the back, that's a very good finish."
Arriving in Calgary on Saturday, Benson elected to play a round of golf with a few members at the club and forego Sunday's practice round, instead heading to a facility up the road to stay fresh ahead of the event.
Earlier this season, Benson found himself in contention at the BetRegal PGA Championship of Canada after a second-round 64, but an even par 72 in the third round set him back and paved the way for Riley Fleming's victory.
"Before Bromont, I took a lot of time off and went to the United States to visit my son. I hadn't touched a club in a month, and I came back to play the Mackenzie Tour event and I was very rusty," said the PGA of Quebec Apprentice Professional. "After the (BetRegal) PGA Championship, I was trending in the right direction, and then I played the Canada Cup and finished third. Since then, I've been teaching quite a bit but got to play quite a bit of golf the past few weeks, so I come in with some sort of form and so far, so good."
Benson raved about the conditions at The Winston on Monday – and he wasn't the only one.
"I played a practice round two days ago and I can't believe how good of shape the course is in," said Benson. "The last time I was in Calgary was the year of the floods (2013), and the turf team has done an incredible job, and they're a great follow on Twitter as well as I discovered this week."
It appeared that the first round of Heffernan's title defense was going about as well as possible – converting 8 birdies in his opening 14 holes – but a triple bogey after his tee shot found the water on 17 knocked him two strokes back before finishing his day with another birdie.
"I'm one of the guys out here who's played long enough to know it's just one hole," said Heffernan, who echoed Benson's comments about the course conditions. "Making a triple is never fun, but it was nice to come back on 18 with a birdie and I'm going to try to do more of that tomorrow."
Heffernan is no stranger to the top of the leaderboard as he has won the Alberta Open six times, most recently in 2018, to go alongside four Mackenzie Tour – PGA TOUR Canada titles.
"I putt really well today and the front nine was solid, every time I hit a bad shot I made up for it, and the back nine I kept it up for 14 holes and on 15 I hit it to 15 feet and three putt, so I just wasn't as comfortable," said Heffernan, who shot 66-67-64 when he won this event in 2019 at TPC Toronto. "I just hit one bad shot on 17 – otherwise it was a good round, and I was happy to birdie 18."
In addition to the individual competition, the InterZone Championship will also be decided this week, with a champion being crowed tomorrow. Thanks in part to Heffernan's performance, Alberta has a two-stroke lead over Ontario.
The NoSweat Hardest Hole of the Day on Monday was the 535-yard par-5 10th hole. Craig Gibson was the only player in the field to make eagle on the hole and claims the $125 prize courtesy of NoSweat.

In addition to NoSweat's presence at the championship, LivRelief, the Official Pain Relief Cream of the PGA of Canada, has given free full-sized product to all players and Focus Golf Target set up one of their professional targets on the 17th hole during the practice round.
Like at the BetRegal PGA Championship of Canada and DCM PGA Women's Championship, each player received three attempts to land as many balls inside the target as possible. Craig Titterington made two of his three shots and was awarded the $250 prize.
The second round of the PGA Assistant's Championship of Canada will begin at 8:30 A.M. on Tuesday morning and the field will be cut to the low 60 players and ties following play.