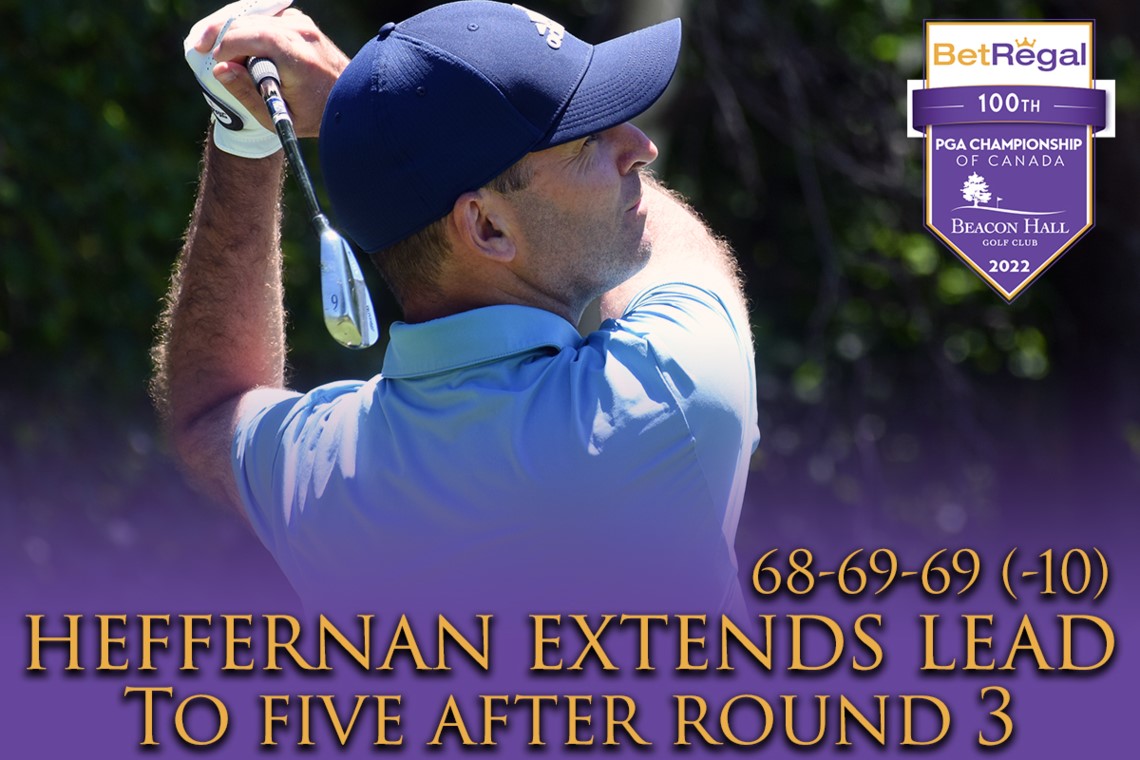 Wes Heffernan further extends lead at BetRegal PGA Championship of Canada, up five strokes on Jim Rutledge
By: Brendan Stasiewich, PGA of Canada
(Aurora – ON) – Wes Heffernan turned in another gem on Thursday at Beacon Hall Golf Club – making six birdies – his highest total of the week – to turn a two-stroke lead into a five-stroke lead over Jim Rutledge at the BetRegal PGA Championship of Canada.
The full leaderboard can be seen here.
"The reason they're cliches is because they're true," said Wes Heffernan calmy after his third-consecutive round in the 60s when asked about preparing to play (not defend, he will tell you) with the lead tomorrow.
He's right. We've heard it all before, often from winners.
"Just going to play my own game", "Not going to worry about the other players around me," "Going to try to make birdies", those are words uttered in countless interviews, but it's those who can achieve those things that become champions.
"As hard as it is, you can't get ahead of yourself," said Heffernan, who is looking to claim his first career P.D. Ross Trophy. "Any time you have the lead you can't start thinking about that lead or thinking about the results at the end of the tournament, it's about living in the moment."
Heffernan speaks from experience. On top of claiming the 2019 PGA Assistants' Championship of Canada, he has won the Alberta Open six times and made the cut at the 2011 U.S. Open.
Though the Calgary, Alberta native's third round began quite inauspiciously with a bogey, he quickly gained that stroke back with a 15-foot birdie putt on the second hole. From there, he cruised through his next nine holes, making three more birdies.
After making bogey on both the 13th and 14th holes, Heffernan quickly bounced back with a birdie on the par-5 15th and a deuce on 16, which he calls "the hardest hole on the golf course."
"I cut a 5-iron to six feet. I've hit three good 5-irons on that hole this week," said Heffernan. "As soon as I stepped up to that hole during the practice round, I thought it was one of the best par-3s I've ever played. It fits my eye and it's a tough shot, but I love stepping up there and trying to hit a good shot."
While it looked like it could turn into a three-man race with both Jim Rutledge and Gordon Burns on Heffernan's tail, Friday may have turned into a two-man race with Burns' third-round 75 dropping him to 8-strokes back, in third place.
Defending champion Riley Fleming moved himself back into the top five on Thursday, rebounding from Wednesday's 77 with his second 69 of the week to put himself into a tie for fourth with Brian McCann.
Fleming and McCann will play in the penultimate grouping on Friday alongside Ed Maunder, while Heffernan, Rutledge and Burns will play together in the final group for the second-consecutive day.
All tournament information, including Friday's pairings, can be seen here.
Photos from the event can be found on our Flickr page, here.