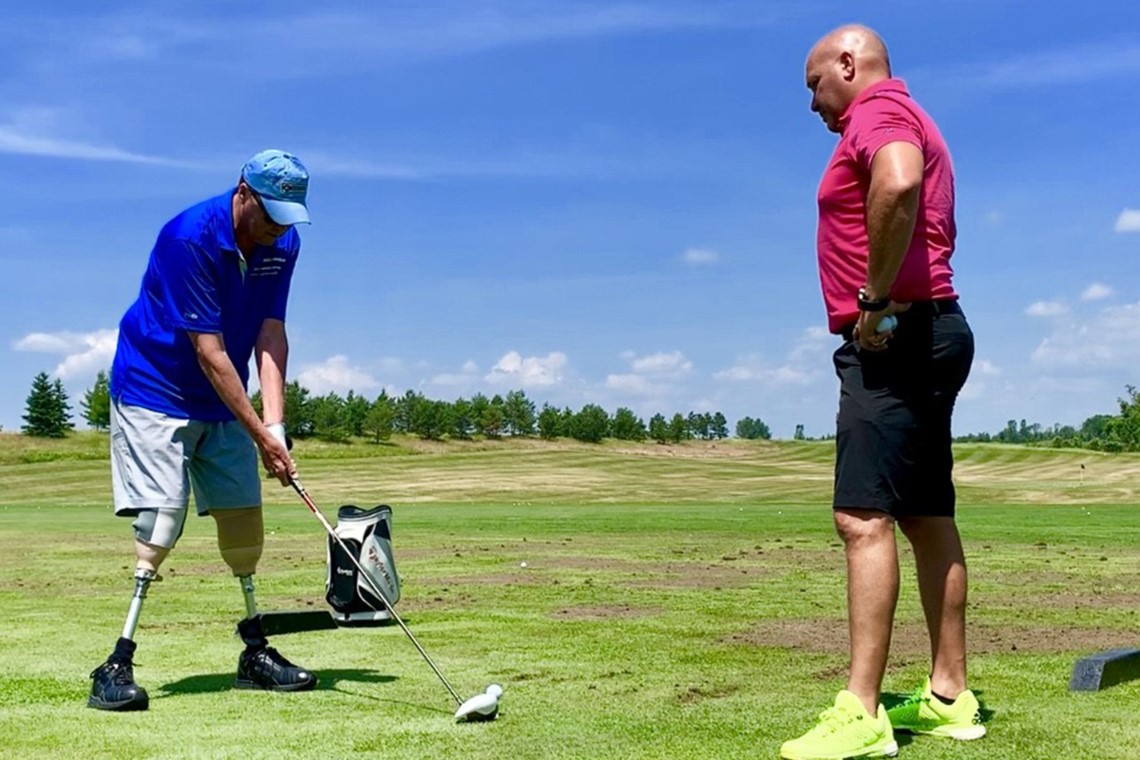 Todd Keirstead making a difference everyday with ParaGolf Canada
By: Adam Stanley
Todd Keirstead has been a member of the PGA of Canada for more than 25 years. He's done plenty in the game, made people laugh and cheer – trick-shot artists tend to do that – and now he's making a big-time difference.
The winner of the Warren Crosbie Community Leader of the Year for 2021, Keirstead's effort with ParaGolf Canada has helped bring disabled golfers to the sport and back to the sport.
He hopes this is just the beginning of something very special.
"I can't even describe the feeling. We're giving somebody an opportunity to have a sense of normalcy again," says Keirstead about what ParaGolf Canada has been able to do for those who aren't able-bodied golfers. "When someone thought they 'lost' (the sport) due to challenges that have been thrown their way… showing them that 'Yes, maybe they can't play golf the way they used to, but here is an adaptive way to play, it gives them an opportunity."
Keirstead's organization helps empower, inspire, and challenge individuals to live their lives to the fullest, regardless of their disability. He's worked with golfers who have sensory and physical disabilities – like those with spinal cord injuries, wounded veterans and first responders.
His ongoing work to make golf as inclusive as possible, regardless of one's physical or sensory ability, has made him a very worthy winner of the Community Leader of the Year Award. It's an award he says was "unexpected," but he couldn't be happier to continue to drive his message forward.
"It was a validation of what we're doing," he explains. "It gave validation to individuals that have been overlooked throughout the years. It's showing now with inclusion and diversity being such a hot-button topic that eyes are open, and we're going to grow the sport of paragolf across Canada."
Golf was played more often by Canadians than ever before the last two seasons, according to the data available from the sport's governing bodies in this country. There's a big spotlight on golf now, Keirstead says, and what ParaGolf Canada is doing is help bring people together. He's working with different associations across the country to try to find common ground amongst all the programs and campaigns that are meant to grow the game.
"Having people sit at the same table is a big thing and bringing people together and saying, 'Hey, there is a community out there and they're not alone' is a reason why ParaGolf Canada is succeeding the way that it is," says Keirstead.
The establishment of ParaGolf Canada came after Keirstead met a couple of players who had tried to play on an international stage. They had been knocking on doors and not getting any to open for their golfing pursuits. That showed him, he says, that putting together a collective group would allow for strength in numbers. People, he explains, started to listen.
There's been plenty more exposure of his efforts the last few years, and there has been more recognition of the world of adaptive golf. For example, Golf Canada hosted its first ever Canadian All Abilities Championship at Toronto's Humber Valley in September. From the grass roots to the elite golfer, Keirstead says, the organization's biggest goal is to make the game more accessible. He's been banging the drum to try to get more support from golf's stakeholders and companies, but it's started to gain traction.
Being recognized by the PGA of Canada is a great honour, says Keirstead, but it's just a little part of the overall success of ParaGolf Canada – an organization he's hoping will continue to provide great opportunities for all Canadians looking to enjoy the game.
"Whether it's hitting a golf ball with their grandson or granddaughter for the first time or just getting back out with their group of friends they once played with, I can't even describe the feeling," says Keirstead of the reaction he's had to the work he's done so far. "We need the support of everybody to keep this going."