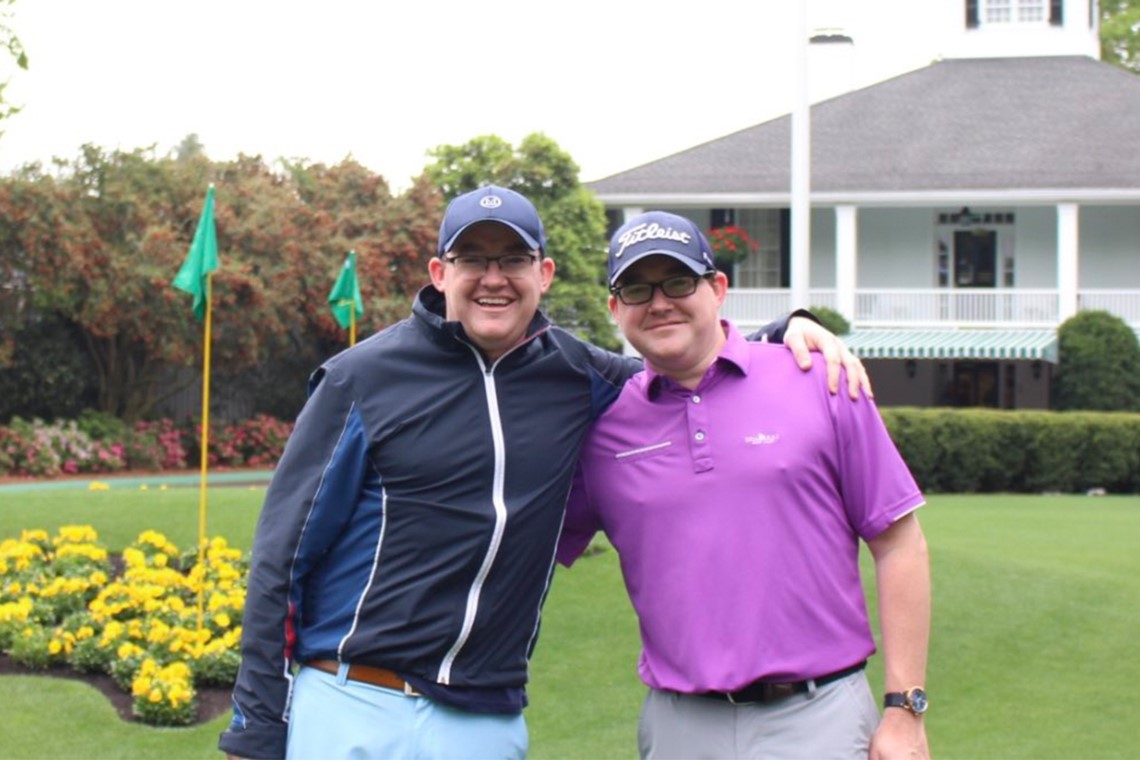 Tobin Twins Turn Passion for Golf into Mirrored Careers
By: Shelby Dechant
Twins often have a close bond; the Tobin Twins from Cape Breton are no different.
Eric and Adam Tobin mirror each other's looks and each other's careers. The twins both found a passion for golf at the age of 10 at their local pitch and putt, and each took that passion and turned it into a career.
At 5 AM on most summer days, the young boys would convince their mother to drop them off at the local par-3 course, not to be seen again until late in the evening.
The long days on the laid-back course eventually turned into long days at the Golf and Country Club. As fate would have it, Adam won a junior membership at Lingan Golf & Country Club- the perfect spot for the brothers to hone their skills. The idea of taking their hobby to the next level trickled into the twin's minds.
Eric Tobin says at this point, the brothers were neck and neck skill-wise. Adam Tobin says otherwise; we'll let the brothers battle that one out on their own.
Word began to spread about the twins who had a deep passion for golf. The Cape Breton Post ran a contest giving away a VIP experience at the Wayne Gretzky and Friends Golf Classic, which was set to be hosted at Bell Bay Golf Club (which, funny enough, Eric would someday go on to manage). It appears young Eric was just as good with a pen as he was with a golf club, and his article about the brother's passion for golf won.
After playing the game throughout high school, the twins weren't quite ready to separate. They went on to attend Cape Breton University where they both studied business. When summer rolled around, the twins would pack up their Hyundai Accent and head to St. Andrews by the Sea in New Brunswick.
They spent three summers working at the course, constantly confusing members and guests who met one twin upon arrival and then were greeted by the same face when they entered the pro shop.
It wasn't until after graduation that the twins decided to venture out on their own. The men traveled around the country working at several golf courses. They spent their 20's learning more about the industry and found unique paths to their current positions.
Adam Tobin was the first of the pair to turn professional in 2008, while Eric following suit five years later.
"We started to venture off to different sides of the country. But you know, we've taken some different roads in the golf business," says Adam. "[Eric] is more focused on the general manager side of things and I am more of the golf professional route. So, even to this day, we lean on one another for advice.
"Whenever he has questions about golf operations, he always calls me and when I've got questions on a more macro club operation item, he's only a phone call away," continued Adam.
Currently, Adam Tobin is the Director of Golf at Whistle Bear Golf Club in Cambridge, Ont. Adam says he knew from a young age that he wanted to be a PGA of Canada member and focused heavily on the game of golf in his career.
Eric Tobin is currently the General Manager at Oakfield Golf & Country Club in Enfield, NS. Eric is still an avid golfer, but structured his career around the management and business side of the industry.
Even though the brothers are no longer living or working in the same part of the country, their relationship is strong both personally and professionally.
"I still talk to my brother pretty much every other day. So, we're still close. And he always comes up and visits and we try to travel together a couple of times a year. We always go to the PGA show in Orlando together, so that's turned into kind of a brotherly tradition. It's a week that we schedule off work, and we meet up in Orlando together. We go to the PGA Show, we do some networking, we do some seminars, and then after that, we spend some time together and play some golf," says Adam Tobin.
The brothers' close bond has translated well into their professional careers. They have maintained a mutually beneficial relationship over many years and many clubs.
"We've developed a close bond with each other's clubs. [Adam] plans a lot of member trips down to see my club, and we have some inter-club challenges. And I've become close friends with his members. We've played together annually, I want to say maybe a dozen times, and most of those are with members on member trips," says Eric Tobin.
The relationship has not only benefited their members by giving them access to a new club but has also helped during burdensome times.
In the summer of 2016, the Bell Bay Golf Club in Baddeck, NS was devastated by a fire that destroyed their clubhouse. Eric Tobin was working at the club at the time of the fire. Adam Tobin hosted an event with his members to raise money for his brother's club. Eric Tobin says this supportive relationship has moved with them to every new club that they have gone to.
When asked if the brothers felt any competition against each other, both came back with a resounding 'no'. Competition on the pitch and putt and their annual golf trips, yes, but in their careers, it has always been a supportive relationship.
"We would lean on one another and try our best to serve people the best we can, and we want to obviously see each other be successful and any type of help that he needs in the business I'm always there for him and vice versa," says Adam Tobin.
Eric Tobin agrees with his brother and says their close bond has been crucial to their success.
"Even in our early teens, the first job that we had we worked at a festival together. We both stocked shelves at a grocery store together, and then it morphed into hanging out at the golf course all summer. And then we made goals together. It was our goals to be running a club by the time we were 30. Adam achieved that a few years before I did, but, you know, we set goals together and kept each other accountable for it too. It's been the biggest reward for us. We have made something that we've loved even more enjoyable just by having a sibling and you know, your best friend standing next to you doing it together," says Eric Tobin.