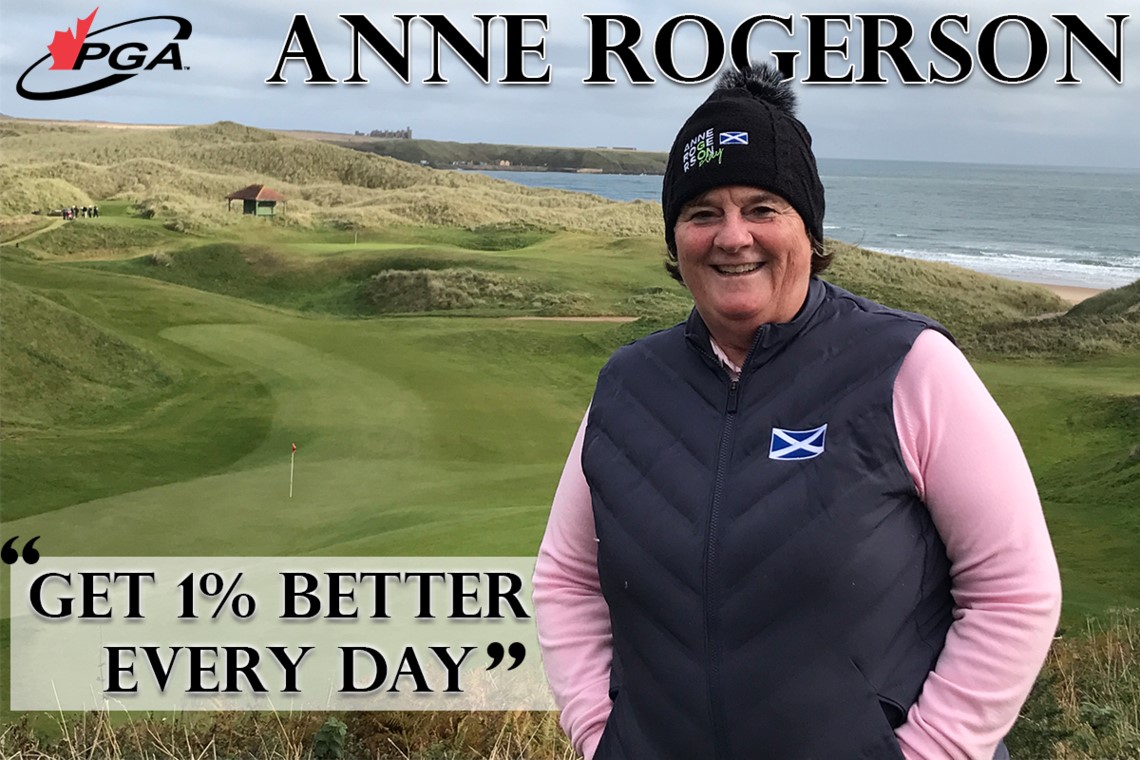 To Get 1% Better Every Day is the Goal for Tex Noble Award Winner Anne Rogerson
By: Shelby Dechant
To know Anne Rogerson is to love her, according to her members at Hillsdale Golf Club. The course, located just outside Montreal, welcomed Rogerson to their staff only a year ago. In that time, Rogerson has made her mark on the members and community just as she has done in every previous position she held.
Rogerson was awarded for her dedication to the sport and community by receiving the Tex Noble Award for Professional Development at the 2021 PGA of Canada National Awards.
Rogerson lives by the mantra "get 1% better every single day and never stop learning". The self-proclaimed lifelong learner said this mindset started b when she was on a golf scholarship at Florida International University.
"Back in college, with my coaches and teammates, I asked so many questions, and, you know, I still have all my journals, every single practice golf lesson, swing tip, I still have it all written down," said Rogerson, "that's where my interest in teaching started."
It was also at this time in her life that she met some of the individuals who would help her develop into the golf professional that she is today. One of those mentors was Wild Bill Mehlhorn. Wild Bill was a legendary American professional golfer and early member of the PGA TOUR in the 1920s.
"When I got to school, Bill was in his 80s, but he'd be out every afternoon in his cart parked in the shade underneath a tree. He and I had grand conversations and observations. And I think that's where my love of teaching, of learning and the passion, that's where it kind of started and just kept going," said Rogerson.
Rogerson said her talks with Wild Bill were like hearing history live, and she spiritedly asked questions to soak up as much knowledge as possible. These conversations became a part of her DNA as a golf professional. Asking questions, being inquisitive, figuring out how people learn, and always improving her knowledge became part of how Rogerson operates
After Rogerson finished school in 1989, she made the move to Europe to play the European Tour for a summer. That European summer ended up lasting 11 years. She spent four years playing professionally, and the remainder of her time there growing as an instructor.
As a competitor, Rogerson participated in three Canadian PGA Championships, as well as various LPGA, Canadian Tour and PGA of Quebec tournaments. In 2007, she won the PGA of Quebec's Dumoulin Championship.
Rogerson said when she met Swedish Hall of Famer Annika Sörenstam, in 1993, at a tournament in Brussels, she knew she was now playing out of her league. Rogerson went on to teach in Europe for several years and eventually moved back to North America, and she has since landed at Hillsdale Golf Club.
Entrusted with the development of a beginner program, Rogerson thrived and the renewal rate for this season is 95%. She said her team did this by making the game fun for the beginners. They utilized the Operation 36 app that 'provides beginners with the most effective developmental programs and technology to learn to play golf," according to the app's website.
Rogerson said by utilizing the techniques from Operation 36, the beginners had fun, grew their confidence, and had the desire to continue with their development for another season.
Throughout Rogerson's professional career, she has won a laundry list of awards and served on boards like the National Advisory Board of Nike Golf Canada from 2007 to 2009. In 2020, she was elected to the PGA of Quebec's Board of Directors, where she currently sits.
When asked what advice she would give to any young professionals in the golf community, Rogerson said, "stay passionate, stay curious. Try to improve every day, find role models, ask questions, and find somebody who's going to help you out."