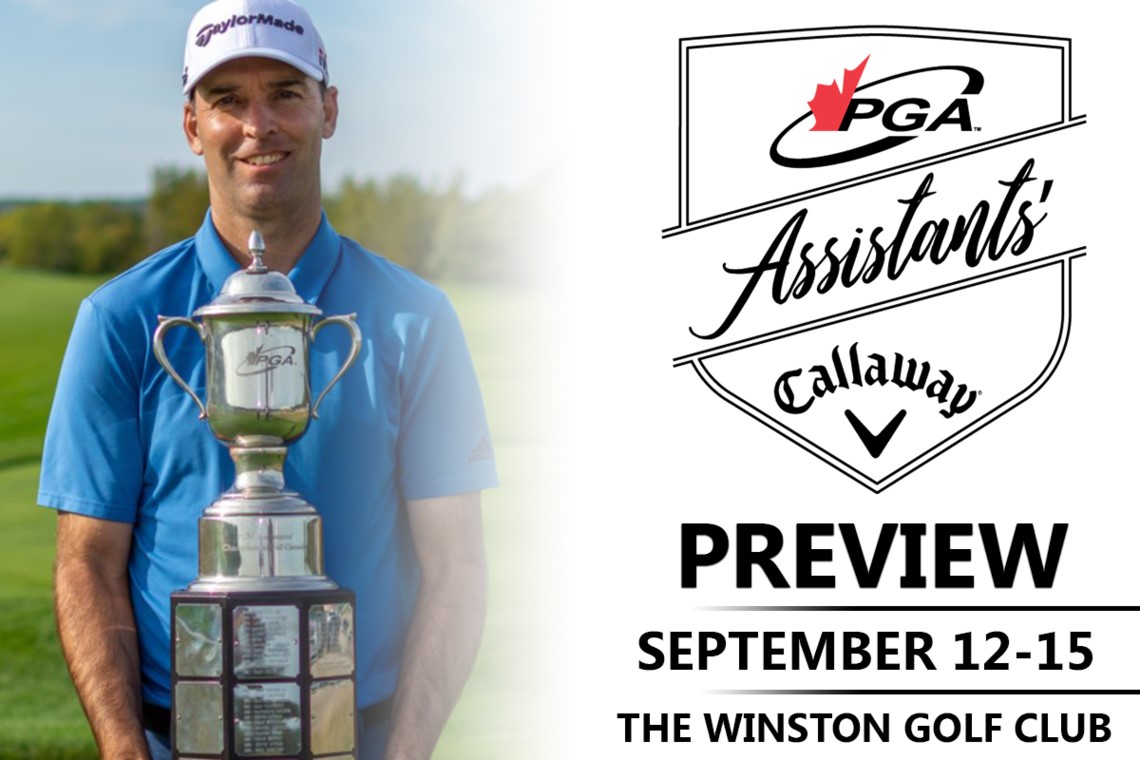 The Winston Golf Club set to host PGA Assistants' Championship of Canada presented by Callaway Golf
Quick Facts
Event Dates: September 13-15 (Practice Round on September 12)
54-hole individual stroke play (cut to low 60 and ties after 36 holes)
First-Place: $9,000
Field Size: 100
Course Details: Par 72/7037 yards
Previous Champion: Wes Heffernan
100 of the country's best professional golfers are set to play the fourth PGA of Canada National Championship of the season next week at The Winston Golf Club.
Anticipation is at an all-time high as two years have passed since Wes Heffernan's incredible final-round 64 at the 2019 Assistants' Championship of Canada presented by Callaway Golf at TPC Toronto gave him a three-stroke win over Yohann Benson – both of whom are in the field in Calgary.
The Winston Golf Club lacks neither brawn nor beauty – and the championship may be decided on the difficult 225-yard island-green 17th hole. The course, which went through a massive re-design in 1992 at the hands of renowned architect Les Furber, proved to be a phenomenal test of golf when it previously hosted the Assistants' Championship presented by Callaway Golf in 2018, when Marc-Etienne Bussieres posted a three-day mark of 15-under to claim a two-stroke win over our 2021 BetRegal PGA Championship of Canada winner Riley Fleming.

The event has a list of champions that includes some of the most well-respected golf professionals in the country. The full list of past champions can be found here.
Without further ado, here are just a few players to keep your eyes on heading into the event:
Six To Watch
Riley Fleming – Calgary, AB
How can Fleming not top our list after one of the greatest performances in BetRegal PGA Championship of Canada history last month in Bromont, QC? Fleming put together rounds of 66-63-68-66 to win the tournament by three strokes. Not only did he lift the P.D. Ross trophy, but he also won a two-day PGA of Alberta event at Highwood Golf Course earlier this year and the Alberta Open for the third time of his career. Whether or not he continues his torrent pace in his hometown, the Lynx Ridge Apprentice Professional is the most compelling storyline of the week.
Christine Wong – Richmond, BC
The apprentice professional from University Golf Club in Vancouver, British Columbia comes into the event as the most recent PGA of Canada National Champion after capturing the DCM PGA Women's Championship of Canada a matter of weeks ago in Oshawa, ON. Wong competed on the Canadian Women's Golf Team in 2009 and represented San Diego State University from 2009-2013, winning four individual titles. In addition, Wong is a two-time BC Women's Amateur Champion and was the second-lowest amateur at the U.S. Women's Open held at Oakmont Country Club in 2010. What a story it would be if Wong (the only female in the field) is in one of the final groups in the final round looking to become the first woman to win the Assistants' Championship of Canada presented by Callaway Golf.
Wes Heffernan - Calgary, AB
Heffernan is as consistent as they come, which he proved when he won this event at TPC Toronto by three strokes in 2019 with scores of 66-67-64. Heffernan, who has 11 career professional victories, is a threat to win in every event he plays. In 2011 he made the cut at the U.S. Open (yes, that U.S. Open) and seems to perennially be in contention at the ATB Financial Classic on the Mackenzie Tour, placing within the top 20 in both 2019 and 2018 and finishing in a tie for second in 2017.
Pierre-Alexandre Bedard - Chibougamau, QC
Bedard always seems to bring his A-game to PGA of Canada events. Bedard placed alone in fourth place earlier this season at the BetRegal PGA Championship of Canada, an event he previously won in 2018. In the most recent playing of this event in 2019 he stormed out with an opening-round 64 before eventually placing in fifth.
Dustin Risdon – Calgary, AB
Risdon is yet another Calgarian that should deservedly have high expectations coming into the week. Risdon lapped the field at the Assistants' Championship presented by Callaway Golf in 2016, posting -18 to win by 11 strokes at Lora Bay Golf Club. In addition, Risdon claimed the P.D. Ross Trophy as the BetRegal PGA Champion of Canada in 2019. In total, Risdon has six professional victories – including a win in 2010 at the ATB Financial Classic when Adam Hadwin (heard of him?) was the runner up by four strokes.
Victor Ciesielski – Cambridge, ON
After matching the course record earlier this year at the BetRegal PGA Championship of Canada, there was no way we were leaving the Galt Country Club Apprentice Professional off this list. In addition to his fine play in Bromont, which led to a T13 finish, Ciesielski also claimed the PGA of Ontario Zone Championship earlier this year.
"This has been an incredible year for our tournaments as we've crowned four worthy champions in Dennis Hendershott, Jim Rutledge, Riley Fleming and Christine Wong," said PGA of Canada Championship Manager Rob Watson. "I expect much of the same next week at the Assistants' Championship of Canada presented by Callaway Golf, which seems to bring the best out of some of our associations top professionals each year.
"We are so grateful to The Winston Golf Club for hosting this event for the second time in the past four years, players raved about the conditions and layout in 2018 and we are happy to be back, and Callaway Golf – this event couldn't take place without their support," continued Watson.
During each rounds next week, a hole will be deemed the NoSweat Hardest Hole of the Day. The players who record the lowest score on the hole will be entered into a draw for a $125 cash prize.
LivRelief, the official pain relief cream of the PGA of Canada, will be hooking players up with product to keep everybody feeling fresh between rounds as they compete to be named the 2021 Assistants' Champion of Canada.
For more details and to follow the leaderboard throughout the week, click here.