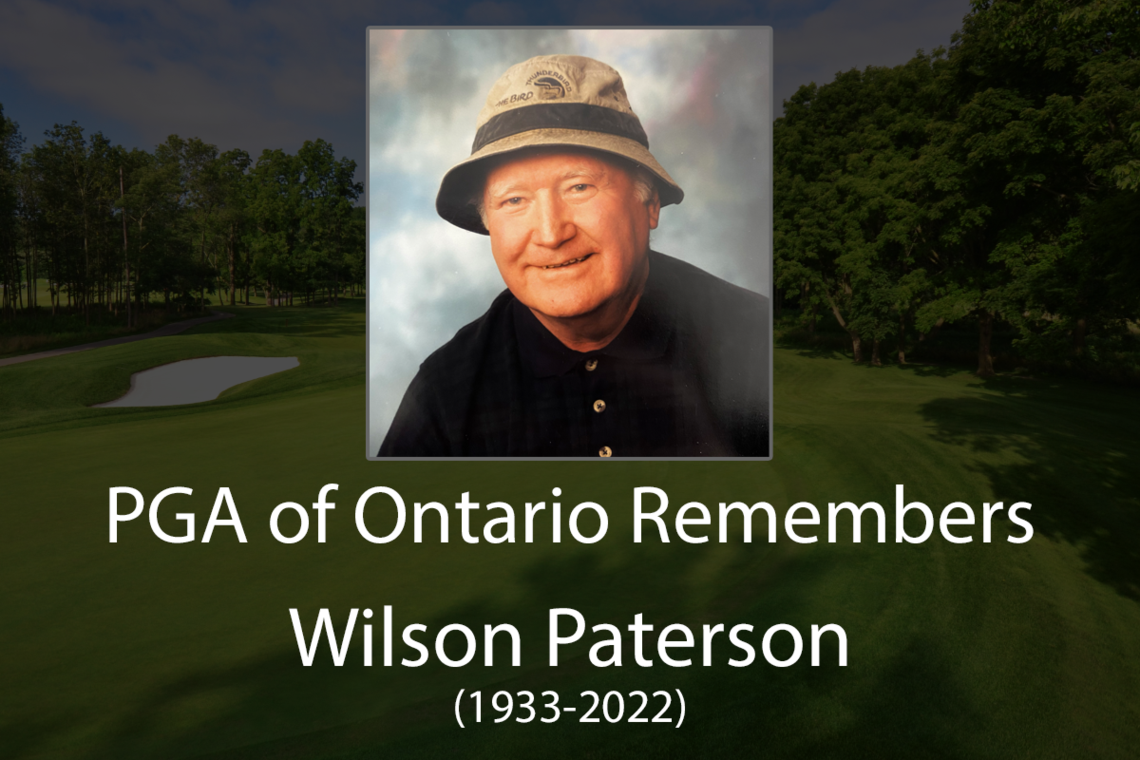 The PGA of Canada Remembers Class "A" Life Professional - Wilson Paterson (1933-2022)
We are saddened to hear of the passing of PGA of Ontario, Class "A" Life Professional - Mr. Wilson Paterson.
On Tuesday, August 2, 2022, at the age of 89, Wilson Hasting Paterson the founder and visionary of Royal Ashburn Golf Club passed away peacefully in his sleep. Wilson will be remembered for the lasting contributions he made to the growth of golf in Canada, starting with the purchase of the Compton farmlands in 1959 and with the golf course ready for play in 1962, Royal Ashburn Golf Club was a labour of love and a dream realized many years later.
Wilson played an integral part in organizing PGA qualifying schools by donating his course at Royal Ashburn Golf Club so these events could take place for 35 years, helping grow the game of golf and continue to inspire young athletes. On a local level, he was recognized by Lake Ontario Secondary School Athletics (LOSSA) for his tireless support of junior golf at both the elementary and high school levels. Wilson Paterson will be remembered by many for the support he offered to fulfill the dreams and aspirations of every young golfer he had the opportunity to engage with.
Wilson's influence did not stop with golf, he had a talent for connecting and supporting the community that will be remembered by everyone who knew him. His reputation in the community was that of a respected, charismatic business leader who gave back through financial support, donations and volunteerism. In 2009 Wilson was recognized as the Peter Perry Award Winner by the Whitby Chamber of Commerce, a prestigious award saved for those who have made a significant impact to the community. In 2000 Wilson was inducted into the Whitby Sports Hall of Fame as a builder recognizing his contributions to his support of junior golf development. In 2012 Wilson was awarded the Diamond Jubilee Medal from her Majesty Queen Elizabeth II honouring Canadians who made a significant contribution to the country.
For those that knew him best, Wilson will be remembered for his generosity and caring demeanour. He was always available for a chat and would take the personal time to make everyone around him feel important and valued. He believed in treating others the way you would want to be treated and lived his life by this philosophy.
In addition to golf, Wilson loved being outdoors. He loved fishing and hunting and being away from the noise of the world. He supported Ducks Unlimited and was a conservationist by nature. His love for both would ultimately help lead to the creation of a working wetlands on the property of Royal Ashburn, built with the support of Ducks Unlimited, The Ontario Federation of Anglers & Hunters (OFAH) and Central Lake Ontario Conservation Authority (CLOCA).
To his family, Wilson will proudly be remembered as a loving husband to wife Sandy, "Pops" to sons Allan, Scott and David and "Poppa" to grandkids Emma and Devin. Wilson was proud of his family and always supportive, he could be quiet in a "you need to figure it out for yourself way" while still providing direction and coaching to ensure positive results. He was an avid outdoorsman who shared his passion, he was supportive, he was encouraging, and he was selfless. He knew a successful life was built by hard-work and determination and would often say "Reach for the stars you might hit the moon." We love you and you will be missed, but you will live on in each of us.
A celebration of life will be held at Royal Ashburn Golf Club, 995 Myrtle Road West, Ashburn, Ontario on Sunday, October 16th, 2022 between 1:00 pm – 6:00 pm.
In lieu of donations or flowers, the family has asked that you comment with a story or memory that you have with Wilson.