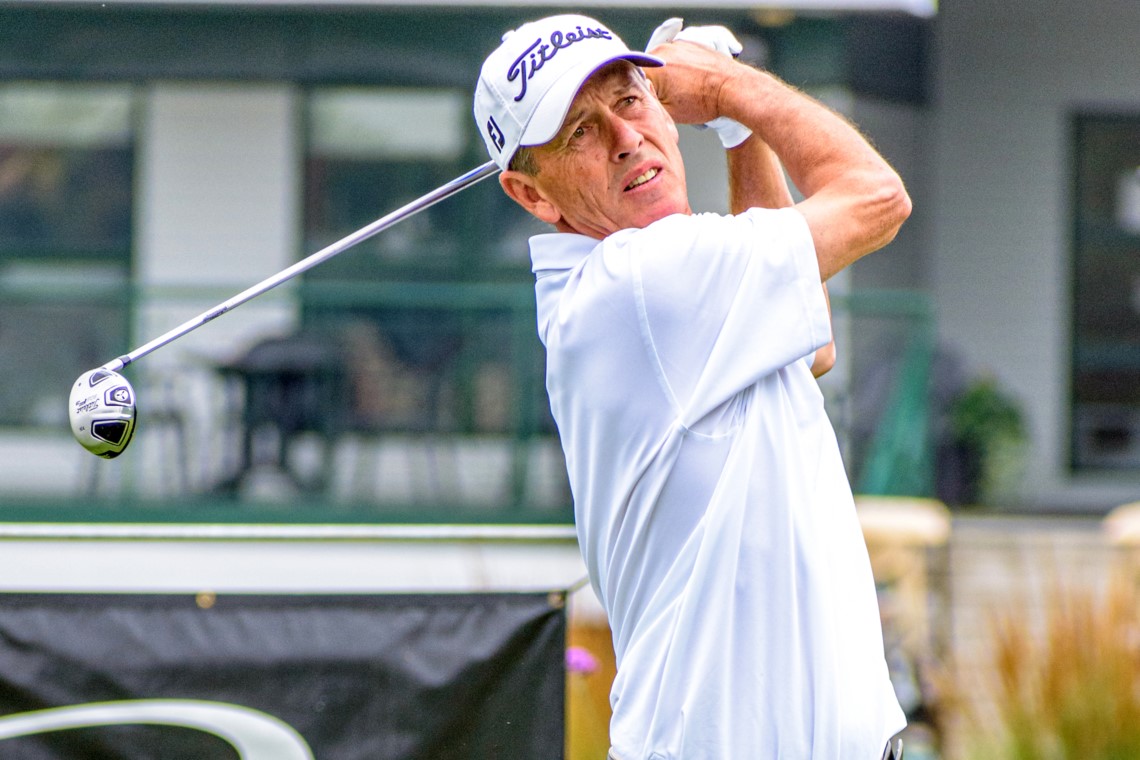 The Certainty of Jim Rutledge
Benjamin Franklin once wrote that in this world nothing can be said to be certain, except death and taxes.
He obviously never saw a sunrise or witnessed Jim Rutledge play golf.
As certain as the sun rising in the east, the 59-year-old from Victoria began his campaign for a sixth PGA Seniors' Championship of Canada title with a bogey-free opening-round 6-under-par 65 at Carleton Golf and Yacht Club in Ottawa.
"With as little as I've been playing, I'm really happy with my score," Rutledge modestly said about his effort in round one. "I hit some shots fairly close and made a couple putts, so that usually works out to a decent number."
In pursuit of his sixth PGA Seniors' Championship of Canada, Rutledge's past PGA Seniors' Championship of Canada wins came in 2017 at Burlington Golf and Country Club; 2015 at Credit Valley Golf & Country Club; 2013 at Lookout Point Country Club; 2012 at Emerald Hills Golf Club; and 2010 at Rattlesnake Point Golf Club. The 59-year-old is also a former winner on the Korn Ferry Tour; has six Mackenzie-PGA TOUR Canada titles and is a former PGA Championship of Canada winner.
A bevy of accomplished players are chasing Rutledge, looking to dash his dreams of another PGA Seniors' Championship of Canada win. Two-time PGA Assistants' Championship of Canada winner and recent BC Golf Hall of Fame inductee Phil Jonas is one-back of his long-time friend Rutledge after a first-round 66. Perennial favourites Scott Allred of Alberta and Ontario's Danny King lurk two-back of the lead after opening with 67 at Carleton Golf and Yacht Club. Past PGA Seniors' Championship of Canada winner Ken Tarling and Martin Plante of Quebec round out the top five at 3-under-par.
For the full leaderboard and second-round tee times, CLICK HERE.
"Jim (Rutledge) is such a good player and he's been playing well for a long time," Jonas admitted Wednesday afternoon. "We've played together more than 100 times and I've never seen him play badly, he's that good."
The PGA Seniors' Championship of Canada was first played in 1938 as a division of the Canadian PGA Championship and features the historic Albert H. Murray Trophy. In 1973, the championship became an independent event and has stayed that way since.

The host of both the 1998 and 2002 PGA Seniors' Championship of Canada, Carleton is considered a true shot-maker's venue, requiring timely strategy and rewarding accuracy.
"This is the first time I've been here and I'm impressed at how good this golf course is," King said. "It's pretty tricky and you've got to navigate yourself around those quick, small greens."
Among the Canadian golf legends to win the PGA Seniors' Championship of Canada are Stan Leonard, Moe Norman—who won a record seven straight years from 1979-1985—Bob Panasik, Al Balding, Rutledge, Ray Stewart, Dave Barr, Bob Panasik, Murray Tucker, Bill Kozak, Gar Hamilton and Remi Bouchard.
Admittance to the PGA Seniors' Championship of Canada is free and spectators are encouraged to attend the 54-hole championship.

To follow the PGA Seniors' Championship of Canada online, visit pgaofcanada.com, twitter.com/pgaofcanada, instagram.com/pgaofcanada and facebook.com/pgaofcanada