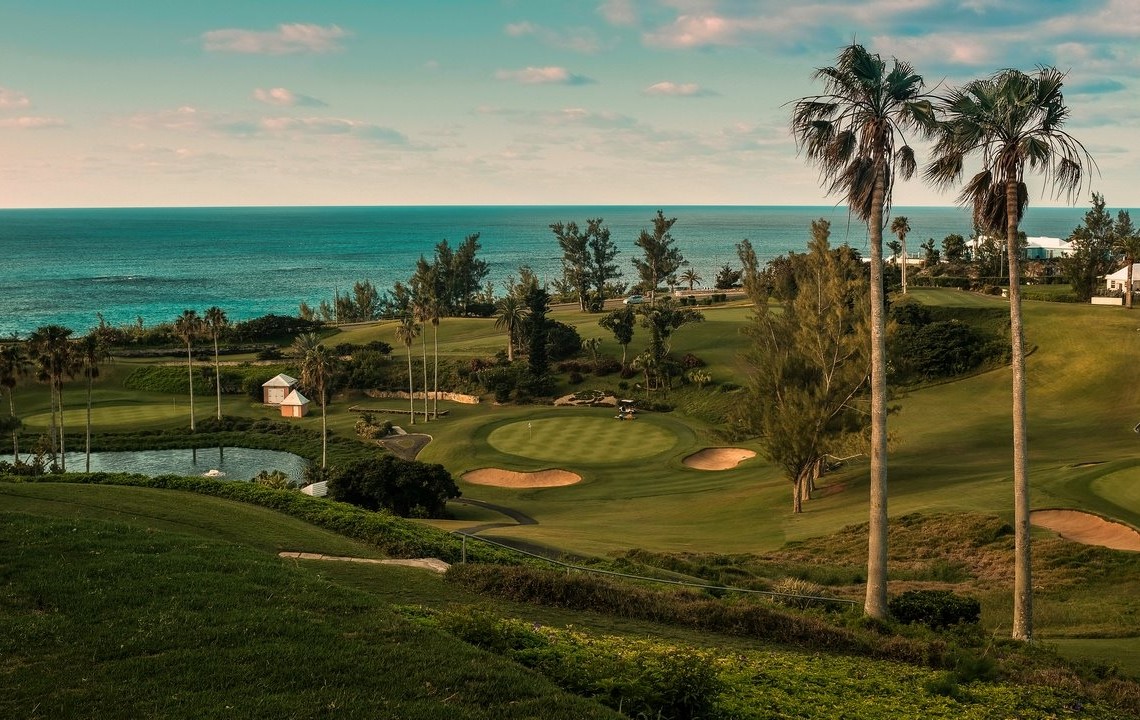 Tenth Anniversary of GREY GOOSE WORLD PAR 3 CHAMPIONSHIP
Fairmont Southampton is proud to announce the return of the 2019 GREY GOOSE® World Par 3 Championship to Turtle Hill Golf Club for the 10th consecutive year, taking place March 7-10.
As in previous years, the Bermuda Tourism Authority and PGA Canada will continue as partners for this signature golf event in Bermuda. Golf personality Charlie Rymer and four-time PGA TOUR winner Chip Beck will also be back as the hosts of the 2019 GREY GOOSE® World Par 3 Championship, along with five-time European Tour winner Barry Lane and 19-time Ladies European Tour winner Trish Johnson.
As the world's premier par 3 championship with a total purse of $50,000, the event is expected to attract 150 participants from more than 10 countries, including a number of noted professionals and celebrities. The field will be rounded out by an impressive list of amateur golfers—from Bermuda, the United States, Canada and Europe—vying for titles in the men's, women's and senior amateur divisions.
"We are absolutely thrilled to host everyone from professionals, celebrities and amateur golfers this year at the Fairmont Southampton and Turtle Hill Golf Club." said Shelley Meszoly, Regional Director of Sales & Marketing, Fairmont Southampton. "The long term partnership with Bacardi and its GREY GOOSE vodka brand has been absolutely instrumental in growing this massively successful event," she said, adding, "the Bermuda Tourism Authority continues to support the event and directly fulfills its goal of growing sports tourism in Bermuda as well, and the relationship we have with PGA of Canada remains extremely important to the success and growth of the event."
As part of the 10th anniversary festivities, the Fairmont Southampton is offering a special, discounted GREY GOOSE World Par 3 Championship package. The limited-edition experience package includes:
GREY GOOSE World Par 3 Championship entry

Three nights luxury accommodations at Fairmont Southampton

Daily full breakfast and lunch on tournament days

Exclusive activation event at the iconic Bacardi Limited headquarters in Hamilton, Bermuda

Exclusive opening night event at Boundary Sports Bar & Grille at the Fairmont Southampton

Prizing Giving Reception after play on final round at tenth tee

Premium GREY GOOSE World Par 3 Championship tee gifts

Opportunity to take part in the $1-million (USD) hole-in-one contest
This once-in-lifetime GREY GOOSE World Par 3 Championship package comes in at an astounding $897* (plus taxes, gratuities and resort levy)
"As part of the Bacardi portfolio of premium spirits, GREY GOOSE has a long-standing commitment to, and leadership position within, the sport of golf," said Clara Fay, Director of Corporate Affairs – Bermuda, for Bacardi Limited. "Golf is a sport that truly reflects the brand value of the passionate pursuit of the extraordinary. The sponsorship of this premier golf event in our Bermuda backyard will enable us to have an even deeper level of engagement with GREY GOOSE enthusiasts and golf fans."
Engaging golf enthusiasts for more than a decade, GREY GOOSE has maintained a strong presence via tournament sponsorships, experiential events, and signature golf cocktails. This involvement has made GREY GOOSE the most preferred spirit among golfers in the United States. In addition, GREY GOOSE is the Official Spirit of the PGA TOUR, and has long-established ties with professional golfers.
The GREY GOOSE® World Par 3 Championship is integral to Fairmont Southampton's strategic golf plan, which aims to drive golfers to Bermuda's shores. This golf tournament will benefit the Bermuda Sea Turtle Project, the official charity partner of the Turtle Hill Golf Club. The Turtle Hill Golf Club has been recognized by Golf Magazine as one of the "Top 5 Par 3 Courses in the World" and is a recipient of Golf Digest's "Best Places to Play Golf Award."
For information on the GREY GOOSE® World Par 3 Championship, please contact the PGA of Canada's Adam LeBrun at adam@pgaofcanada.com or visit https://pgaofcanada.com/events/grey-goose-world-par-3-championshipand www.facebook.com/GreyGooseWorldPar3/