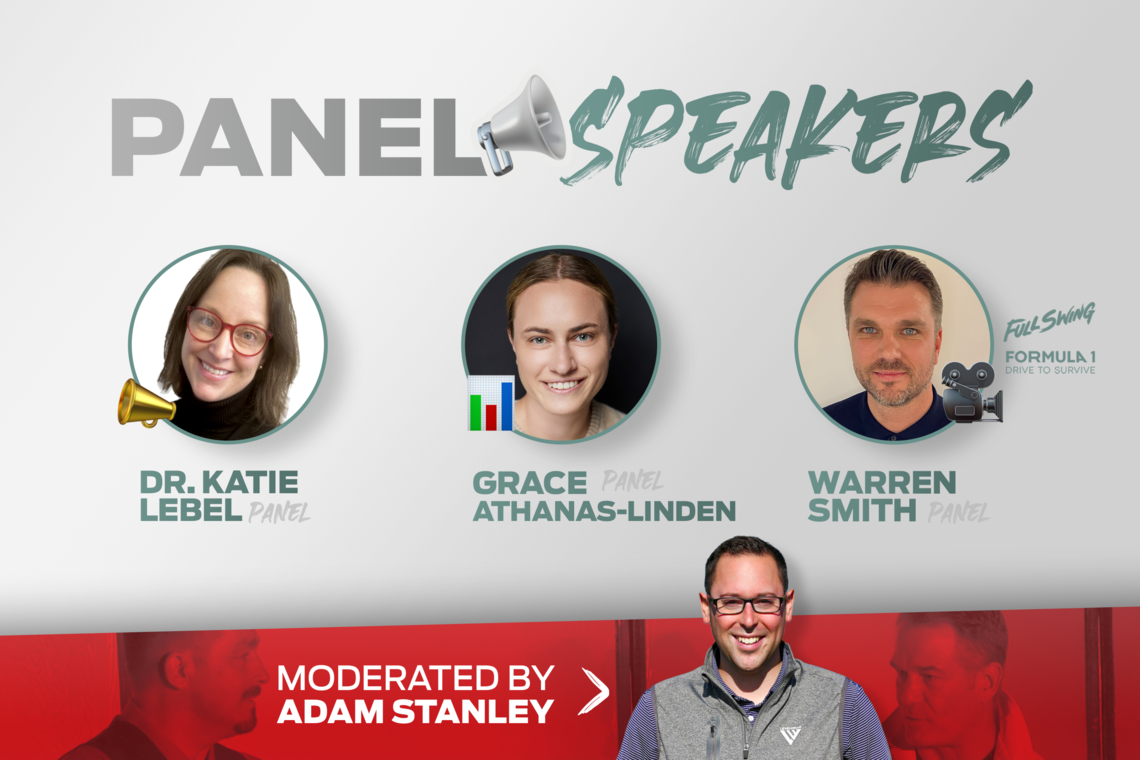 Tee Talks Live Announces Star-Studded Panel, including one of Netflix's Full Swing Producers Warren Smith
With Early-Bird Pricing for Tee Talks Live closing on Sunday, we are incredibly excited to announce the final addition to our flagship national conference; one of Full Swing's Executive Producers and Head of Sport and Factual at Box To Box Films, Warren Smith, will headline a panel at Tee Talks Live moderated by Ottawa's very own, Adam Stanley.

Joining Warren and Adam are University of Guelph Sport Business Professor Dr. Katie Lebel and Strategist for Sports Innovation Lab Grace Athanas-Linden.

We are almost certain that everybody reading this has at least heard of the PGA TOUR focused series Full Swing; and many of you have likely watched and witnessed the creativity and innovation displayed from series' writers and producers.

Our focus every year with Tee Talks Live is ensuring there is content for everyone, no matter your role in the golf industry. This panel will focus on fan and consumer behaviour, innovative disruption in sport, how media entities like Drive to Survive and Full Swing have become phenomenons in the sport entertainment space and innovative disruption in sport. More than anything, this panel will focus on what YOU, operators and professionals on the ground, can do to capitalize on consumer behaviour and adapt your practices and business decisions to align with the growing changes in how generations are consuming sport and recreation.

To this point, we have NEVER had this many members already registered for Tee Talks Live; you do NOT want to miss out on Tee Talks Live's biggest and best conference ever.

This weekend is your final chance to take advantage of the cheapest possible rate for conference registration. (Regular pricing will then be in effect until registration closes on November 15).

Early Bird pricing is $429 for Class "A" professionals, $329 for Apprentices, and $499 for non members. To register, click here.

In addition, Tee Talk exclusive room rates are still available at the iconic Chateau Laurier. Normally priced at $450, right now members can book a room for $259.

The booking link can be found here.

Tee Talks Live, heading to the Nation's capital December 1-3, is NOT your run-of-the-mill conference. In addition to daily keynotes, there are several breakout sessions running concurrently so that you can pick the topic and speakers that make the most sense to you. In addition, daily networking and social events (not to mention complimentary breakfast and lunch at the conference venue) are organized to ensure you are learning from other PGA of Canada professionals.

As far as speakers go, this year's cast will cover topics from the future of work and attracting top talent, thinking outside the box in the golf industry, retail, teaching & coaching, junior golf, and so much more.
This means that if you are a GM looking to learn from experts in work-force challenges and building a talented team and culture, a head professional looking to gain leadership skills from industry leaders, a teaching professional seeking tricks of the trade from PGA TOUR and LPGA Tour coaches, an apprentice professional wanting to network and put yourself in a position to advance your career, or anything in-between, this conference is perfect for you.

We work with PGA of Canada professionals every day and have asked what you would like from this conference. We have learned from what our members have said in surveys about past conferences and we are delivering based on that feedback. You will not be disappointed in Tee Talks Live 2023!

To learn more about our conference speakers, click here.
---
*NEW THIS YEAR*
One-of-a-Kind VIP Experience with Mark Blackburn on December 2

Space Limited to 15 professionals, book your place now.
Mark Blackburn, who coaches Max Homa, Justin Rose, Adam Hadwin, Davis Riley, and plenty of other PGA TOUR professionals is joining us this year at Tee Talks Live.

Given his acumen and immense knowledge and experience coaching high-level athletes, we thought this was the perfect opportunity to offer even more than just a keynote speech to conference attendees.

On December 2, we have planned for a small, intimate group to join Mark at Royal Ottawa for a hands on experience where those registered can pick Mark's brain as he shows some of his 'tricks of the trade'.

We will be welcoming 15 PGA members to Royal Ottawa (transportation will be provided) who will join Mark as he works with high performance athletes. This is a truly unique experience, only available at Tee Talks Live, to get this close to one of the top coaches in the world.

Registration is now open for this VIP experience at a rate of $200+GST. For more information and to register, click here.
---
Added networking opportunity - Seattle Kracken vs Ottawa Senators on December 2

If you decide not to join us with Mark at Royal Ottawa, we have another opportunity for attendees to take advantage of at the Canadian Tire Center on Saturday night.

We have worked with the Ottawa Senators to offer Tee Talks Live attendees tickets to the game, ranging from $38 for third level seats to $162 for lower bowl seats.

For more information and to purchase tickets, click here.