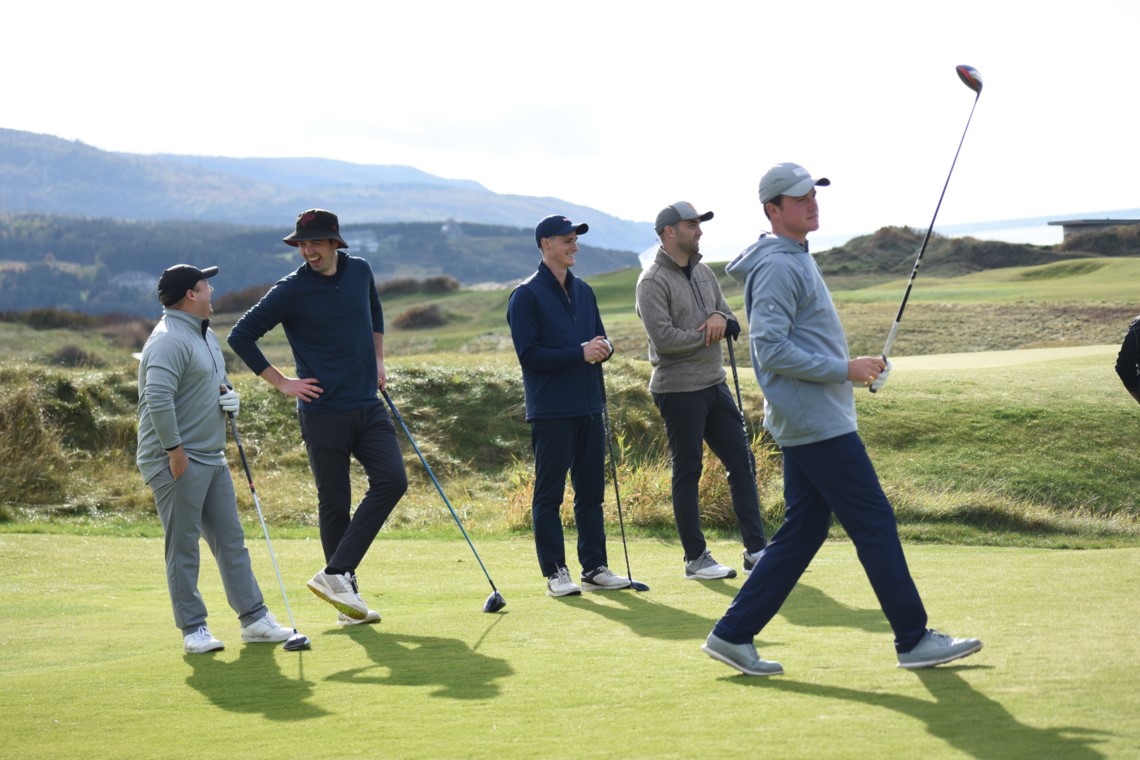 Team from Links at Brunello goes wire-to-wire to win 2023 RBC PGA Scramble
By: Jason Logan, SCOREGolf
Original story in SCOREGolf here
INVERNESS, N.S. – Like probably every team competing at the RBC PGA Scramble, the squad representing The Links at Brunello in Halifax had a group chat going throughout their journey to the National Finals at Cabot Cape Breton.
On Monday night, before the final round at Cabot Links, the chat was renamed to "Pressure is a Privilege."
"I've been telling the guys that all week," said the team's pro, Justin Caron, whose grandmother came from Sydney, NS to watch him play. "Soak it all in. That's what we're here for. We did a lot of good stuff to get ourselves in this position so let's keep on trucking."
Keep on trucking they did. The fivesome — comprised of weekend golf pals Gregg Bandy (a physiotherapist), Jordan Bastarache (an associate investment advisor), Jeremy Leblanc (an accountant) and Jordan Thorne (a resident physician) — ultimately scored a wire-to-wire victory, with a third-round adjusted score of 19.1 under par to total 58.9 under for the three days. They edged the team from Manitoba's Carman Golf and Curling Club by 2.5 shots, with New Brunswick's Petitcodiac Valley G&CC finishing third.
"I can't even describe this. I'm feeling on top of the world," said Bandy. "The only thing that makes it better is doing it with these guys, for sure. We were trying not to look at the leaderboard too much but once the drives were out there (on 18) and the green was hit, the pit in the stomach went away."
The boys from Brunello, who reached the regional finals last year with Caron, had shots to play with on the final hole thanks to a net eagle on the par-4 16th and a key par save on the par-3 17th, where every team member missed the green and they were forced to play an escape shot from the fescue.
"That's absolutely what you don't want to do," laughed Bandy of the pickle on the penultimate hole. "I'm just happy it worked out. It was kind of close your eyes and hope."
While Brunello, guided by longtime Cabot caddie Archie MacDonnell, who helped P.E.I.'s Belvedere Golf Club to the title last year, was the team holding the trophy in the end, all 100 participants had already won just by getting here.
"This is a dream come true," said Petitcodiac Valley pro Kristi Roach, walking to the 16th tee Tuesday. "Today might be the best day of our golfing life. We're having so much fun. I said, 'Is there a prize for this?' Like, this is the prize. Look around. Unbelievable."
"I'd heard nothing but good things about this experience and I think being here tops it," said Craig Gibson, Sirocco Golf Club's Head Professional . "It's probably been the best four days of my golf life. I'm with four guys I grew up with from a small town in Brooks, Alberta. It's been incredible and I don't think you could have another trip that tops this."
While Gibson was playing with childhood pals, the championship served as a family affair for the team representing Kelowna, B.C.'s Black Mountain Golf Club, with brothers Darren and Ryan Leffers playing alongside their father Andrew and uncle Brian Groot.
"Thinking about coming here, it was, how far does the forecast go out so we can start watching it?" smiled Darren Leffers, walking to the 17th green. "I had another golf trip to Phoenix before this and I wasn't really looking forward to it anymore knowing that we were coming here. Nothing compares to this; it's the pinnacle of golf in Canada."
Standing on the 18th green of Cabot Links in the dark after the trophy presentation, the winners from Brunello offered their thoughts on the most memorable moments of the four-day trip.
Thorne said the "golf shot I will never forget," referencing Caron's 3-wood from 250 yards to three feet on the eighth hole Tuesday, which turned around a sluggish start. Leblanc pointed to Caron's eagle bomb on the 18th hole at Cabot Cliffs on Monday while Caron said it was Bastarache's birdie conversion on the 16th, which essentially sealed the deal. And Bandy said surviving and thriving in the wicked weather of the opening round on Cabot Links, when the team jumped out to a big lead with some great play.
But it was Bastarache, who served as the team captain, who perhaps summed up the spirit of the RBC PGA Scramble best.
"My best part was just time with these guys," he said. "It was a blast the whole way through. The drive up was a blast. We had some of the best laughs we've ever had."
Laughs that will sure be topped by those enjoyed during the drive home.