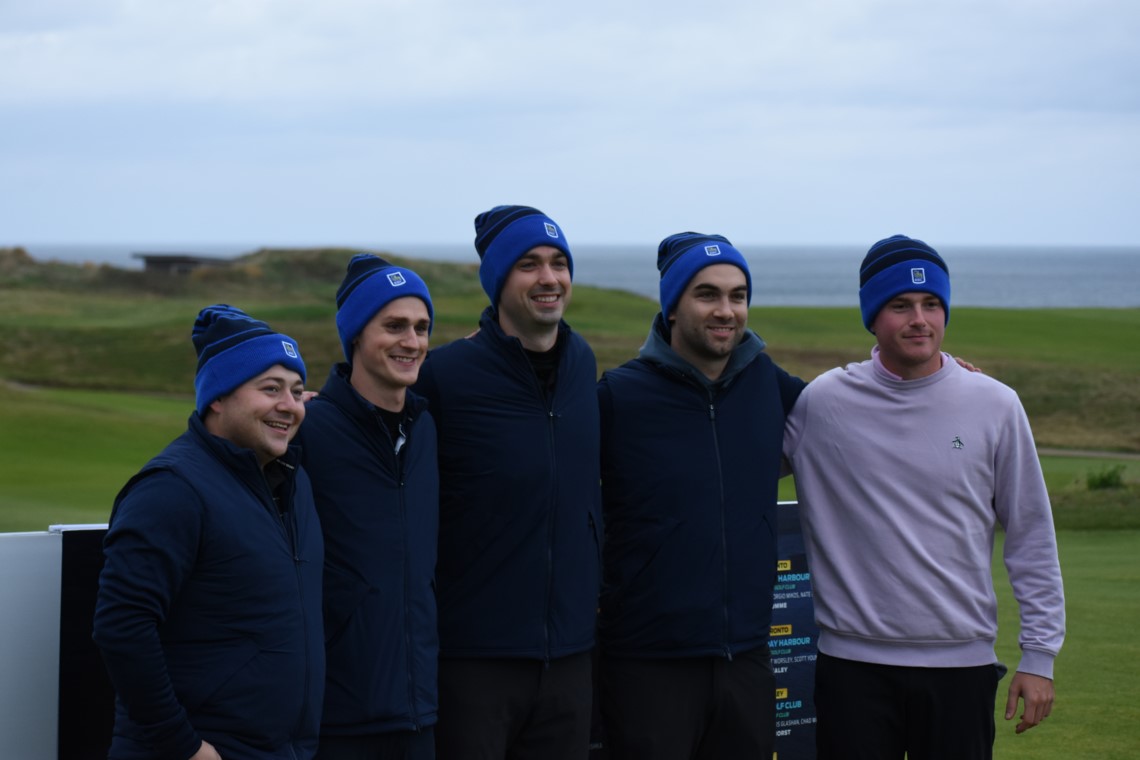 Team from Links at Brunello takes day-one lead at RBC PGA Scramble National Final
Team from Links at Brunello takes day-one lead at RBC PGA Scramble National Final
By: Jason Logan, ScoreGolf
Original Story: https://scoregolf.com/opinion/jason-logan/neither-rain-nor-wind-nor-delay-gets-in-the-way-of-day-one-fun-at-rbc-pga-scramble/
INVERNESS, N.S. -- The beauty of a golf scramble is that the world's hardest and most fickle solo sport becomes a team effort, meaning poor play won't — or shouldn't — matter with multiple chances for success on every shot.
One hundred golfers at the RBC PGA Scramble national finals at Cabot Cape Breton sure were thankful for that format today, with Mother Nature at her nastiest as play unfolded on Cabot Links.
Yes folks, there was some scrambling to be done on Day One.
"It was a grind. Windy, rainy. Course was in beautiful condition, there was nothing wrong with it, that's for sure, but that was one of the hardest rounds of golf I've ever played," said Travis Coughlin of Team Prescott Golf Club, which, impressively, did not make a bogey en route to an adjusted score of 8.3 under par to sit in 14th place. "I am going to take a hot shower and then I am going to the patio for a beverage."
While the day began under rather benign conditions, high winds and rain moved in at lunchtime, putting teams to the test until play was suspended for an hour. One longtime Cabot caddie estimated the gusts to be upwards of 60 km/h, though he added he's seen it blow harder many times through the years.
With the benefit of an early tee time, the team from Nova Scotia's The Links at Brunello handled the exam best, firing an adjusted 18.1 under par (and gross score of 59) to take the lead.
"It was phenomenal. The conditions were a little crazy but lucky enough we were out there early and got the better side of the draw so it was a blast," said Team Brunello member Jordan Bastarache. "You hit the ball and you think you hit it incredibly well and it's going 210 yards … Everyone is going to struggle out there coming in, but luckily we're warm now."
In second place at 15 under is Manitoba's Team Carman Golf & Curling Club, led by PGA of Canada pro Dean North. Behind Carman is the squad from New Brunswick's Petitcodiac Valley G&CC at 12.7 under. The RBC PGA Scramble sees foursomes that advance through the local qualifying stage joined by a pro from the host club to form fivesomes for the regional and national finals. North is vying to become the first multiple-time champion of the event as he helped four different golfers from Carman G&CC to the title in 2019.
"My guys, the positivity they showed through those conditions was incredible," said North. "Not one moment did they get down about the rain, did they get down about the wind, we just made the best of it," said North.
In the top 10 thus far are both all-female wildcard teams. The quintent representing Ontario's Kenora Golf and Country Club, comprised of four women from Manitoba and Kenora pro Blair Young, sits at 11.7 under par while the team from Innisfil Creek Golf Club south of Barrie, Ont., is at 9.9 under. This is the first year for an all-female team pathway to the national finals.
"The challenge was first-hand experience at links golf," said Cassandra Phillip of Team Innisfil Creek. "The (Greater Toronto Area) has its links courses but they are nothing compared to what we played today. We weathered it well. It was a mental challenge but we got through it and scramble golf makes this more enjoyable Couldn't imagine playing this stroke golf."
Because of the delay, not all teams completed their first round as play was suspended due to darkness. Those squads will finish up on Cabot Links Monday morning before the second round begins on Cabot Cliffs. The 54-hole event concludes Tuesday.