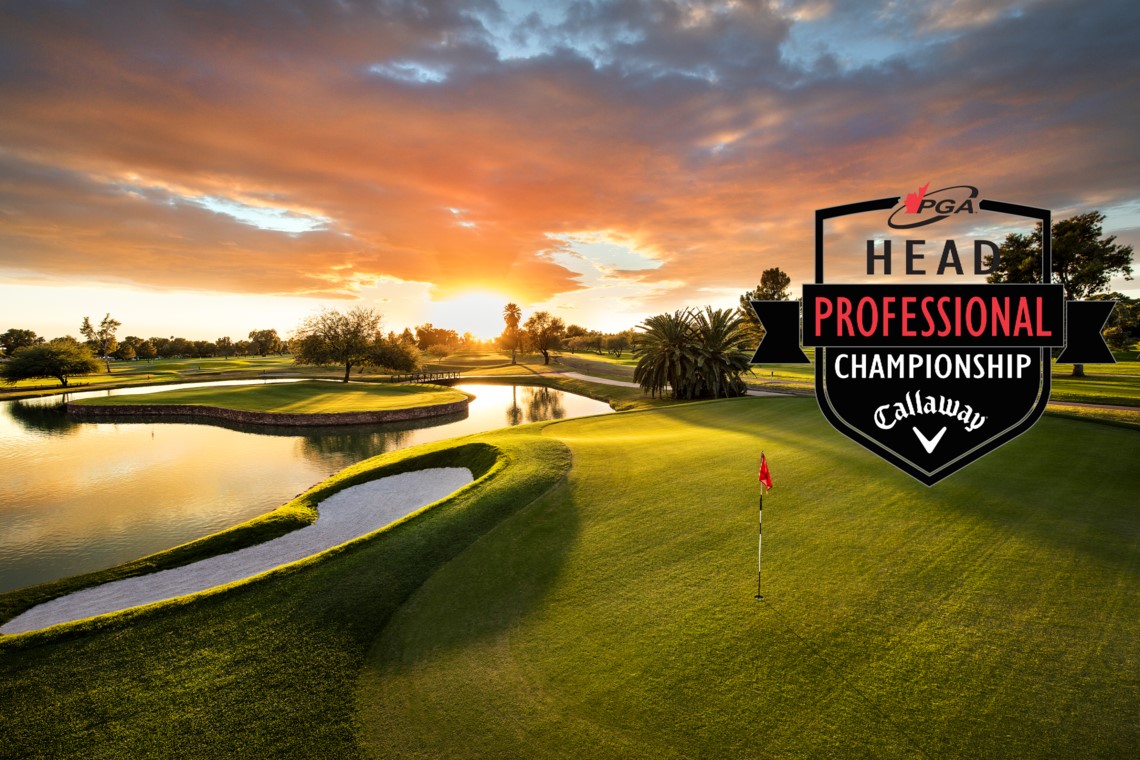 Stage Set for the Final National Championship of '19
The PGA Head Professional Championship of Canada presented by Callaway Golf and supported by G&G Golf returns to the picturesque Wigwam Golf Club (Gold Course) in Litchfield Park, Ariz., Dec. 2-5.
The 54-hole national championship features a sold-out field of 90 of the associations' head professionals, executive professionals and head teaching professionals, promising for an exciting week of camaraderie and competition ahead.
The field boasts a number of PGA National Champions and a former PGA TOUR winner, including:
• Past PGA Head Professional Championship of Canada winners John Cochrane, Adam Chamberlain, Benoit Boudreau and last year's champion, Brian McDonald
• Past PGA Championship of Canada winners Dave Levesque and Eric Laporte
• Past PGA Assistants' Championship of Canada winners Brian McCann, Philip Jonas and Matt Palsenbarg
• PGA TOUR winner Ian Leggatt
See the full field here.
"We are impressed with the overwhelming turnout for this year's championship," noted PGA of Canada president Mark Patterson, adding, "we are delighted to see a sold-out field with a great mix of returning players and new faces, including sole female competitor, Ashley Zibrik."
The PGA Head Professional Championship of Canada presented by Callaway Golf and supported by G&G Golf will feature numerous activities and functions throughout the week, including an optional Cardinals vs. Rams NFL game, two receptions at the historic Wigwam Resort and a special appearance from Callaway staffer, PGA TOUR winner and 2019 President's Cup international team member, Adam Hadwin.
Hadwin will play in the practice round with Gregg Cuthill, the Patronize Your Pro contest winner from Whitlock Golf & Country Club, and later attend the opening reception to share stories alongside SCOREGolf's managing editor, Jason Logan, before heading to Australia for the President's Cup.
Callaway Golf, who came on board as lead sponsor of this event in addition to their presenting sponsorship of the PGA Assistants' Championship of Canada, will be joined by supporting sponsors G&G Golf and reception sponsor Golf Away Tours on property all week.
"We jumped at the opportunity to add another national championship to our portfolio of events," said Bruce Carroll, General Manager of Callaway Canada. "The Head Professional Championship brings together a fantastic group of leaders within the industry and we look forward to showcasing our brand to this elite field."
Within the 54-hole championship exists the 36-hole Inter-Zone competition, where designated teams of four from each participating Zone count three of their lowest scores per round over 36-holes. In addition to the Inter-Zone competition, a monetary bonus will be awarded to the low club professional after three rounds of play.
Last year's champion, Brian McDonald, finished 11-under through 54-holes, 5 shots ahead of second-place finisher Matt Palsenbarg, claiming both overall champion and low club professional titles.
In addition to competing for the overall championship trophy, players will also be vying for points toward the PGA of Canada Player Rankings presented by RBC, as those ranked within the top-64 at the end of 2019 earn an exemption into next year's PGA Championship of Canada.
For tee times, live scoring and more, click here.