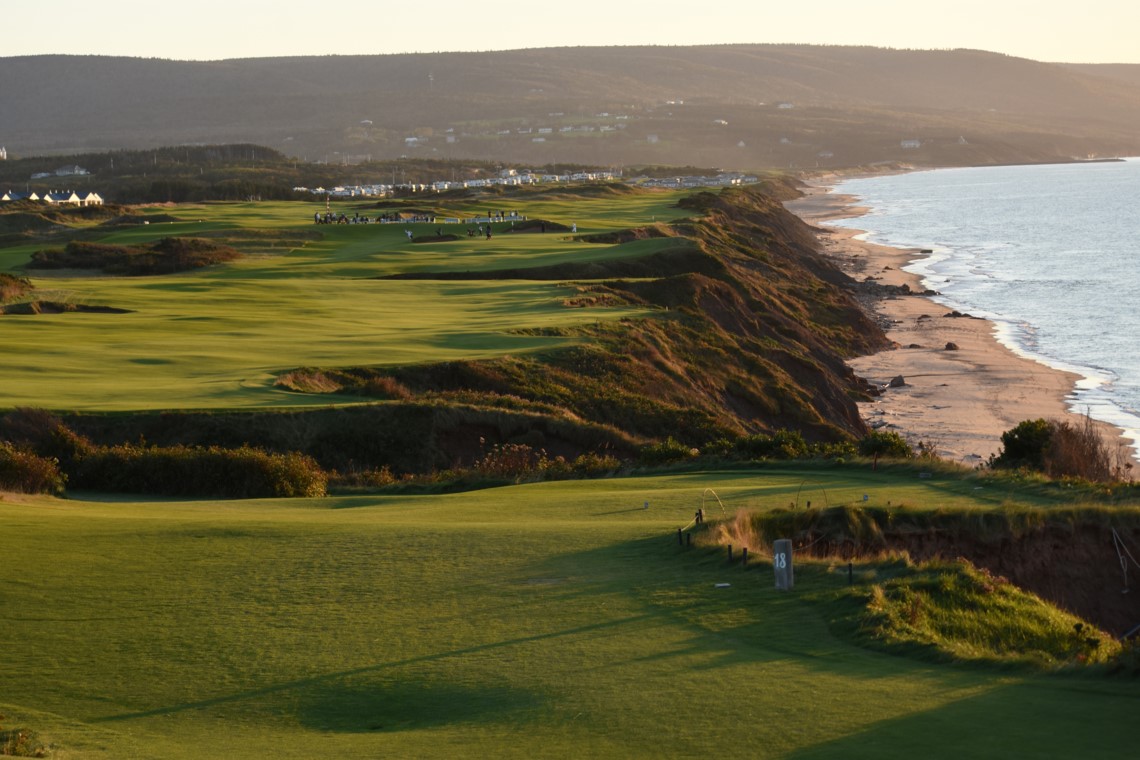 Squad from The Links at Brunello look to go Wire-to-Wire at RBC PGA Scramble National Final
By: Jason Logan, SCOREGOLF
See the original story posted on SCOREGOLF here
INVERNESS, N.S. – There are few, if any, golf course hangs that rival the white couches behind the 18th green at Cabot Cliffs.
On a cloudless afternoon like today, it is a spot to sit and wish time could stand still. To soak in the surroundings high above the dark blue waters of the Gulf of St. Lawrence as you watch group after group come home on the bucket-list course's beautiful par-5 finishing hole. Hoping the sun will never set so you'll never have to leave.
Such scenes play out all summer long here in Inverness, N.S., and did so again during the second round of the RBC PGA Scramble. Golfers who had finished their rounds sat on the sofas to swap stories, share laughs and pinch themselves over the journey they are on.
"Oh my god. This is so fun. To have this view, to see the golfers, to be out here today and just enjoy the camaraderie," said Kaisa Manttari from the Sault Ste. Marie Golf Club, whose team is in ninth place through 36 holes.
"I've said this a couple of times to people who have asked, they say it's an experience of a lifetime, well, until you are actually sitting here and experiencing it, those are just words," said Mantarri's teammate, Mary Hart. "This is reality. Looking out with a couple of nice Cabot beers, this is an incredible adventure that we, together, have taken that words can't express until you're actually here looking at it."
Pushed for those words, Hart mulled and said "picturesque," but no, she stated, that doesn't do it justice. She thought longer until a third member of the Soo group chimed in.
"Magical," stated Mary Jean Chartrand.
"That's a good one," replied Hart, smiling.
While the women from the Soo and others were aglow looking back down the closing hole, Oliver Mongeau will have the fondest memories of the par-3 ninth where he made a hole-in-one in the first group out.
"It's unbelievable," said Mongeau. "First one every, too, so to do with my friends, my teammates, is a fantastic feeling."
Yes, it is. As much as there is a national championship at stake, all the finals participants feel like winners because of where they are playing. Thankful, even away from their families on Thanksgiving weekend, for the opportunity to take on Canada's No.-1 ranked course.
"Standing on the 18th tee, looking down the fairway at the hole, that is the best view in the world," said Craig Gibson, the head professional at Sirocco Golf Club outside Calgary, who captured last year's PGA Head Professional Championship of Canada.
"This is the nicest golf course I'll ever play and I've been smiling the whole time," said Matt Glowa, representing Manitoba's Carman Golf and Curling Club. "This is a dream come true."
Glowa and his teammates Matt Scharer, Jeff Kowalchuk and Chris Plishka, along with Carman GC head pro Dean North, have the chance to smile for months as they currently sit in second place. An adjusted score of 22.4 under par on Cabot Cliffs, which played much easier than Cabot Links in the wind and rain Sunday, has them at 37.4 under for the tournament and within striking distance of the leaders from The Links at Brunello.
"You don't come here to lose. You come here to play as good as you can on every shot," added Glowa. "We're just going to take it one shot at a time, really. We're not winning, we're chasing, so we have to play good tomorrow."
Chasing because the Brunello team capped its day with an eagle on the 18th hole courtesy of a long bomb by professional Justin Caron. They'll start Tuesday's final round with a 2.4-shot advantage over Team Carman. In third place is the squad from New Brunswick's Petitcodiac Valley Golf and Country Club while fourth place belongs to Ontario's Royal Ashburn Golf Club.
"That kid is the best golfer I've ever played with and we've been watching him read putts and do stuff like that all day," said Team Brunello's Jeremy Leblanc of Caron. "Definitely special with the sunset in the background and he's absolutely unbelievable. He earned it."
Leblanc added that his squad likely has an advantage this week given they hail from Halifax and have made a few trips to Cabot over the years. Nonetheless, starting with the lead in tomorrow's final round will be a big challenge.
"There will definitely be nerves," Leblanc said. "Most of us haven't really played competitive golf so it's a bit of a different thing but we're really excited and definitely want to hold on for the rest of the tournament."