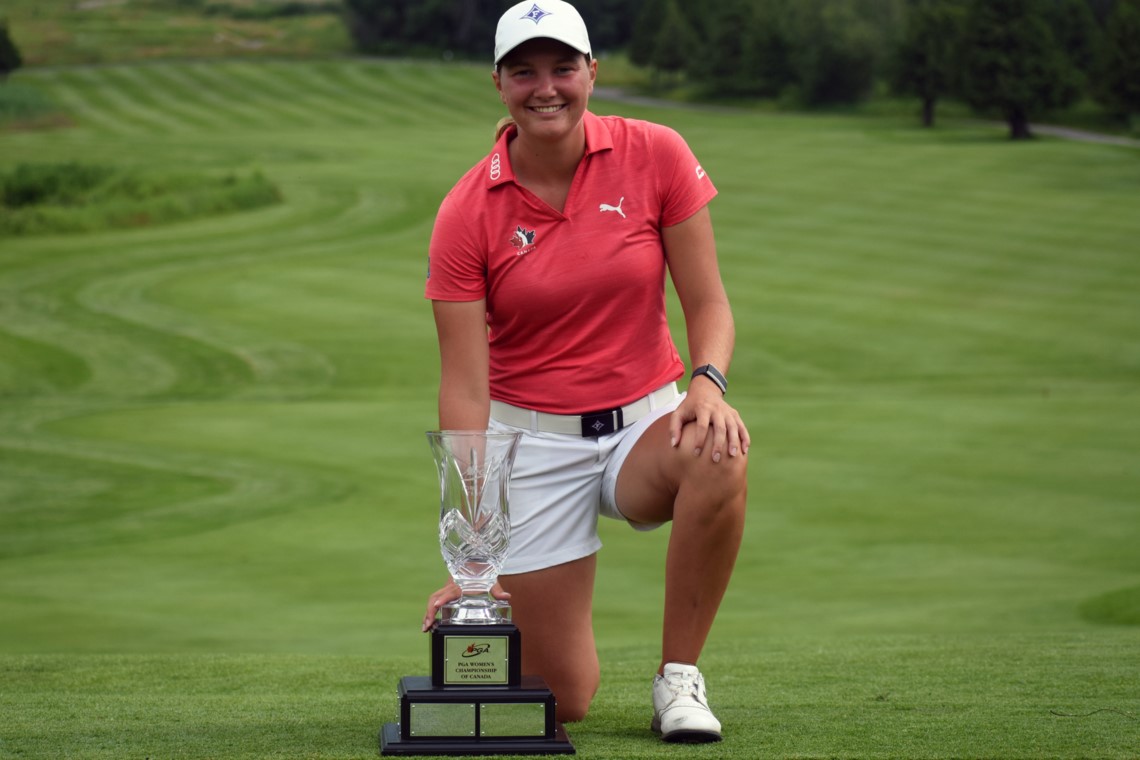 Sarah-Eve Rhéaume's incredible final-round 66 leads to 3-stroke win at ORORO PGA Women's Championship of Canada at Bromont
By: Brendan Stasiewich, PGA of Canada
For Full Tournament Results, Click Here
(BROMONT, QC) – On Friday morning, ORORO PGA Women's Championship of Canada at Bromont co-leaders Sarah-Eve Rhéaume, a 22-year-old amateur from Quebec City, and Min-G Kim, an Epson Tour veteran with nearly $120,000 in career earnings, battled back-and-forth with hopes of lifting the Lorie Kane trophy and assuring themselves a spot in August's CP Women's Open.
By late Friday afternoon, Rhéaume pulled away – making nine birdies over the course of her final 14 holes, including four in her last five holes – to win by three strokes with a tournament-best final-round 66. The winning margin would have been higher had Kim not dropped a 60-footer on the last hole for her second eagle of the day.
Shortly after Kim got the large Golf Chateau Bromont crowd warmed up, Rhéaume tapped in a short birdie look to set the crowd ablaze, with her mom waiting greenside to be the first one to give her daughter a bear hug.
"It feels great, I had a great day, and it feels good to get the win," said Rhéaume. "I had a good birdie putt on 5 and had a good look at eagle on 6 but just tapped in for birdie. Then I birdied three in and row and back nine shot 31, that was solid."
"My mom coming down was nice and fun, my friend Matt caddied for me this week, this was the second time we've worked together and both times we've won, so we have a pretty good thing going," said Rhéaume.
The first event they won together was the Glencoe Invitational – also comprised of both amateurs and professionals. Today she bested Kim, who ended up going home with the low professional cheque, while the first time it was Caroline Ciot, who ended this week in a tie for fifth and earned low PGA of Canada member honours.
Somebody else holding the big cheque at Chateau Bromont didn't bother Rhéaume, likely because she will make her LPGA debut in August in Ottawa alongside Brooke Henderson – the last amateur prior to Rhéaume to win the ORORO PGA Women's Championship.
"Any time you can be compared to Brooke it's a good thing," said Rhéaume. "She has accomplished so many great things. I'm just lucky to have my name along with hers on this trophy."
Members of the Golf Canada Amateur Squad, including Rhéaume, put on quite the show on Friday. In addition to Rhéaume's 7-under par 66, Brooke Rivers shot 69 and Celeste Doa shot 68 – which would have been the low-round of the tournament if not for her teammate's spectacular day.
Following Rhéaume's LPGA debut in Ottawa, she says the plan is to return to Furman University for her fifth and final season.
The next PGA of Canada National Championship is the GOLFTEC Senior Men's Championship of Canada, set for August 23-26 at Connaught Golf Club in Medicine Hat, AB.
About ORORO Heated Apparel
Hailing from the Midwest, we understand that the cold can interfere with your full enjoyment of life! That's the reason why, in 2015, we created ORORO Heated Apparel. ORORO's current product line includes heated jackets, vests, hoodies, gloves, mittens and socks. With over 500,000 happy customers, ORORO is on the cutting edge of technology, helping you enjoy life in cold climates. For more information, please visit www.ororowear.com.
About PGA of Canada—THE LIFEBLOOD OF THE GAME OF GOLF
Established in 1911, the PGA of Canada is the second oldest and third largest professional golf association in the world. The PGA of Canada is a non-profit association comprised of nearly 3,600 golf professionals across the country. The association's mandate is to develop, promote and support its members in living a better life and earning a better living while growing participation, excellence and passion for the sport of golf. The association consists of the national office located in Acton, Ont., and nine Zone Offices across the country. For more information, please visit https://www.pgaofcanada.com/.
About Golf Québec – Initiate passions, build dreams
Founded in 1920, Golf Québec is the provincial sport federation whose mission is to increase participation in golf and develop excellence. Some of Golf Québec's core services include the Golf in Schools Program, First Tee as well as Get Linked initiatives, the Introduction Tour, Junior Golf Development Centres (JGDC), Rules of Golf, World Handicap System, course rating services, Golf Fore the Cure, as well as the Québec Golf Hall of Fame. In addition, Golf Québec conducts regional and provincial championships to bring the local golf enthusiasts to surpass themselves and eventually reach the upper spheres of professional tours. For more information, please visit https://www.golfquebec.org/en/.
About Golf Château-Bromont
Founded in 1964 and located at the foot of Mount Brome in Bromont, over the years Golf Château-Bromont has been renovated with the participation of renowned architects Howard Watson and Graham Cooke. The Château-Bromont course is now considered one of the most prestigious public courses in Québec with its immaculate greens and panoramic setting. Host to many prestigious Canadian, provincial and regional championships, there is no doubt that Golf Château-Bromont is the perfect place to host the most prestigious amateur and professional championships. For more information, please visit https://chateaubromont.com/golf-chateau-bromont/.