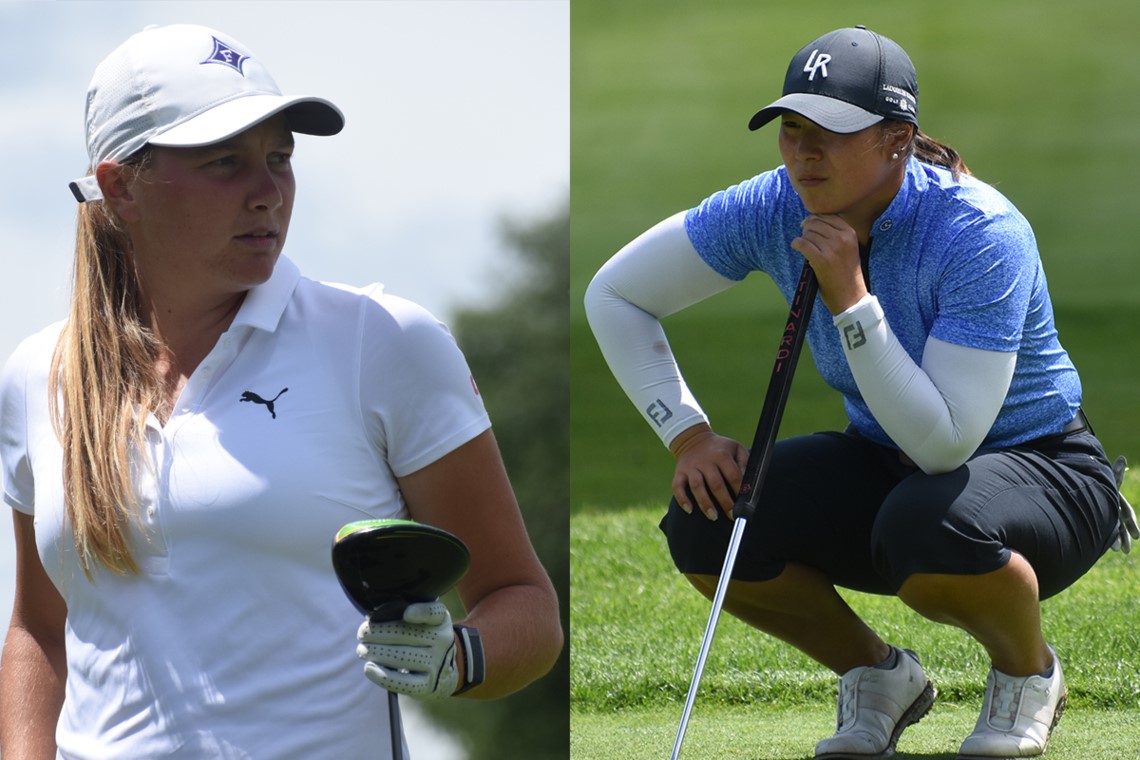 Sarah-Eve Rhéaume and Min-G Kim tied atop leaderboard heading into final round of ORORO PGA Women's Championship of Canada
By: Brendan Stasiewich, PGA of Canada
(BROMONT, QC) – The players in the final group on Thursday morning at Chateau Bromont demonstrated why they deserved to be there during the second round of the ORORO PGA Women's Championship of Canada. Golf Canada National Amateur Squad member Sarah-Eve Rhéaume sustained her lead with a 1-under 72, while Epson Tour player Min-G Kim played her final two holes 3-under par to match Rhéaume atop the board.
Rhéaume and Kim fold into the final group on Friday with 2019 ORORO PGA Women's Champion of Canada Rebecca-Lee Bentham, who is two-strokes back after matching the round of the tournament with a 69. Chateau Bromont Apprentice Professional Caroline Ciot is also two-strokes back and will tee off in the penultimate group.
For the full leaderboard from the second round of the ORORO PGA Women's Championship of Canada at Chateau Bromont, click here.
Kim, who had to battle back from a double bogey on the 9th hole, did so eloquently, making birdie on the 12th before entering the clubhouse on a tear with a chip-in eagle on 17 and a two-putt birdie on 18.
"My playing was pretty solid overall, some mistakes along the way, but I've managed to bounce back really well," said Kim, who travelled to the event from Michigan following her latest Epson Tour stop. "(Rhéaume) is a great player, and I honestly couldn't tell how much we were battling because I was focusing on my ball, and I had a rough start, so I had no idea what was really going on around me."
"In my rookie year (in 2016) I played the Manulife Open and the CP Women's Open in Canada, I've always had great experiences playing in Canada," said Kim, who made her debut on the Epson Tour in 2016 and has racked up 11 career top-10s and nearly $120,000 in career earnings.
"Before this event, one of my friends mentioned to me about this ORORO event that has a really good purse and a good field," said Kim about her decision to play in this event. "The prize money is substantial and the exemption into the CP Woman's Open really stood out to me. The potential to play the Ottawa Hunt Club was huge for me because I played there in 2017 and loved it."
Meanwhile, Rheume played steady golf on Thursday, making four birdies and three bogeys en-route to her second-straight under par round.
"Tomorrow is going to be good, im looking forward to it, I'm going to keep my head down and try to put another good one on the board," said Rhéaume, who placed T5 at the 2021 Canadian Women's Amateur. "I didn't know where (Kim) and I were standing until we signed our scorecards, but she chipped in for eagle on 17, but I tried to stay focus on my game and I managed to hit some good putts and good chips."
The winner of the event is set to earn $15,000, as well as an exemption into the aforementioned CP Women's Open, slated for this August. In addition, PGA of Canada professionals are also earning points towards the PGA Women's Cup team.
The points from this year's event are combined with last year's, and the top five players will represent the PGA of Canada this October in New Mexico. Current rankings can be found here.
In addition, there is also $15,000 reserved exclusively for PGA of Canada members this week. Ciot, who is the winner of the past two Bromont Invitationals, is tied for the top PGA of Canada spot alongside Bentham.
Emma De Groot had an exciting moment on the 12th, holing out from 94 yards to follow up an 11th hole birdie with her first eagle of the week. Though she faltered down the stretch with three bogeys, she is just five-strokes back and currently in a tie for fifth with Sweden's Anna Appert Lund.
The final round of ORORO PGA Women's Championship of Canada will begin at 7:30 A.M. on Friday morning.