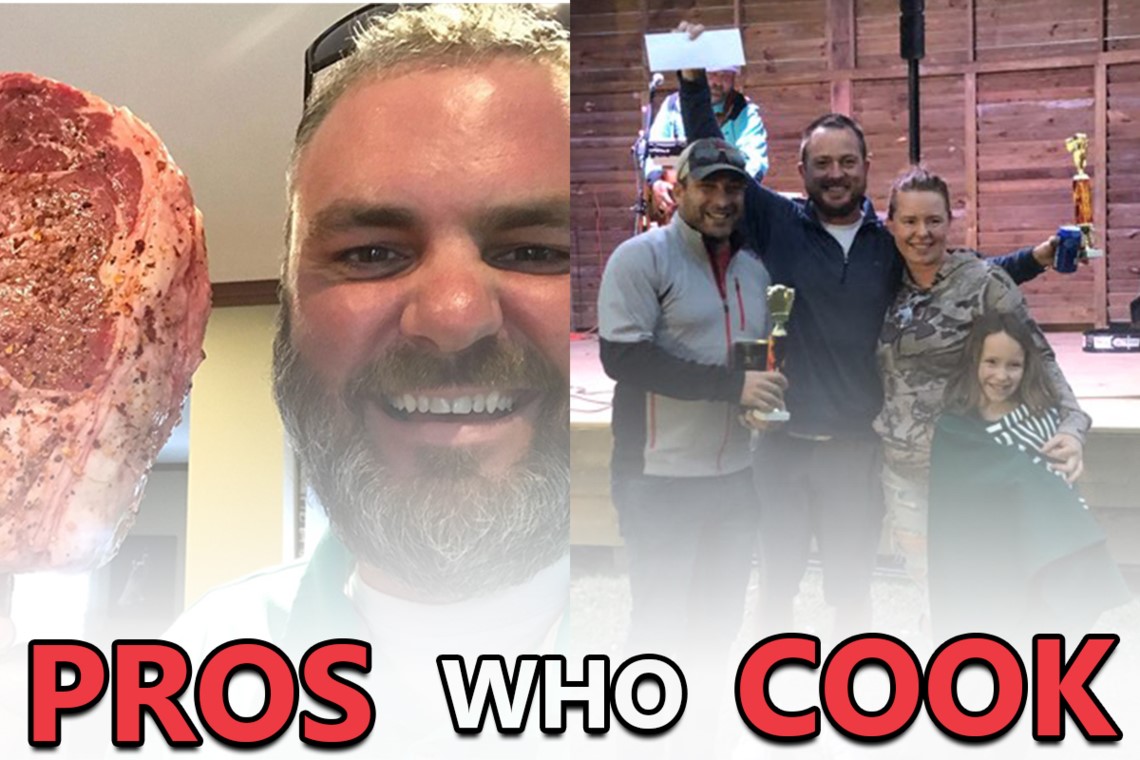 Pros Who Cook - Brenden Parsons and Trevor West are men of many talents
By Adam Stanley
Brenden Parsons thought it was coleslaw.
"I was in Japan and my brother started laughing," the Director of Operations at Listowel Golf Club recalls, "turns out it was raw jellyfish."
Parsons – who perhaps is more well-known as the person who has spearheaded the Corey Conners Fan Club from Listowel, a small town about two hours from Toronto and the home of the PGA TOUR star – is one of many PGA of Canada professionals who take to cooking as a passion, a hobby, and a relaxing way to put a bow on a long day at the golf course.
The meal he ate in Japan – "the wildest" he said – was certainly one to remember. He lived in France for three months out of high school, though, and those were some of the best meals he had.
Now you can find Parsons manning his three backyard 'toys' five nights per week – either a Big Green Egg, a Little Green Egg (both smokers) or a wood-burning pizza oven – cooking for his family.
Bacon-wrapped rabbit on a rotisserie? Of course.
A reverse-seared tomahawk steak? Absolutely.
What about paella, a Spanish rice-and-seafood dish? Well sure, but Parsons does it on the pizza oven because "it's unbelievable."
"I've always enjoyed food and drink, and when my wife and I got together… she has a love for good food, too, and it became our hobby," says Parsons. "It was a nice way to get away from the golf course and cook something in our backyard we can enjoy. And now we can feed our family really well."
Parsons, who learned to cook as a youngster with his parents working long hours in the education system, got his first 'toy' about a decade ago. He started smoking pork shoulder and that sparked his passion – so to speak.
"That was when it became a bit of an obsession," Parsons explains with a laugh. He says his neighbour, who is Sikh, makes the "world's greatest" curry, so between the two of them, the neighbourhood smells pretty good most nights.
Parsons, who has not one, but two, full Instagram "stories" dedicated to his backyard beauties (appropriately named 'Meat' and 'More Meat') says he works with a local butcher to get educated on the best cuts.
Given Listowel's proximity to much of Ontario's big farming communities like Perth County (lamb) and Huron County (beef), it's not just a hobby for Parsons as much as it is another opportunity to support the community.
"We've got so many super important rural areas," says Parsons, "so we can support the local farmers this way."
A quick flick through Instagram – once you've wiped the drool off your lip looking through Parsons' creations – and you'll see plenty of PGA of Canada pros who take to the kitchen or their backyard, like Parsons.
But what about actually competing with some of the world's best – and not in golf?
Trevor West, who is the Head Professional at B.C.'s Sandpiper Resort, spent the good part of a decade living and working in Texas. While there, he and a small crew took some of their big-time dishes to local cooking competitions.
And they weren't there just to show up.
West, who just moved back to Canada in December 2020, says things got started for him in the kitchen after he and a few friends (one of whom works for NASA in Houston) won the 'Big Ass Crawfish Bash.'
The bash saw thousands of teams enter and 250,000 people attend. It holds the Guinness World Record for the largest outdoor crawfish boil. The NASA employee worked up the level of science in their dish, West says, and combined that with the cooking process.
"We won the Big Ass Crawfish Bash," West says, "and that was the first cooking competition we ever did."
That early success saw the group go into more competitions and a circuit of BBQ and seafood cook-offs after raising some money through sponsors. A trailer was bought to bring their BBQ pit from place-to-place, but there was one problem.
"Most of the guys on the team couldn't cook," says West, laughing. "They liked food. They liked meat. They liked the social aspect. But I was the only guy who had any cooking skill."
That didn't deter West, however. Where he lived in Texas was only five hours from New Orleans, so it wasn't just big slabs of Texas beef that needed cooking – there was a lot of seafood competitions, too. The Chilliwack, B.C.-native felt right at home, or as close to home as he could.
West talks about a crab cake dish that finally got he and his team some big-time notoriety.
West, who enjoys his crab cakes with a remoulade (a spicy mayonnaise, basically), decided to use a homemade remoulade as a binder for his crab cake, and so he wouldn't have to sauce it – the sauce was already inside.
"You fry them in half-butter, half-vegetable oil and we came 5th out of 280 crab cakes. Two kids from Chilliwack, B.C. down in Houston and we started killing this cook-off scene," says West.
When West returned to B.C. last December he brought some of his cooking acumen to the club, which had 'Oyster Day' earlier in 2021. The chef at Sandpiper had no idea West had such skills in the kitchen. But one of the dishes that won him plenty of awards was an oyster that he topped with crab cake/remoulade mixture plus garlic, butter, and parsley.
"He said 'we had to put that on our Oyster Day menu,'" says West with a laugh.
So no matter the menu – for a competition, a club's guests, or just one's family – one thing is for sure: PGA of Canada pros are killing it in the kitchen.