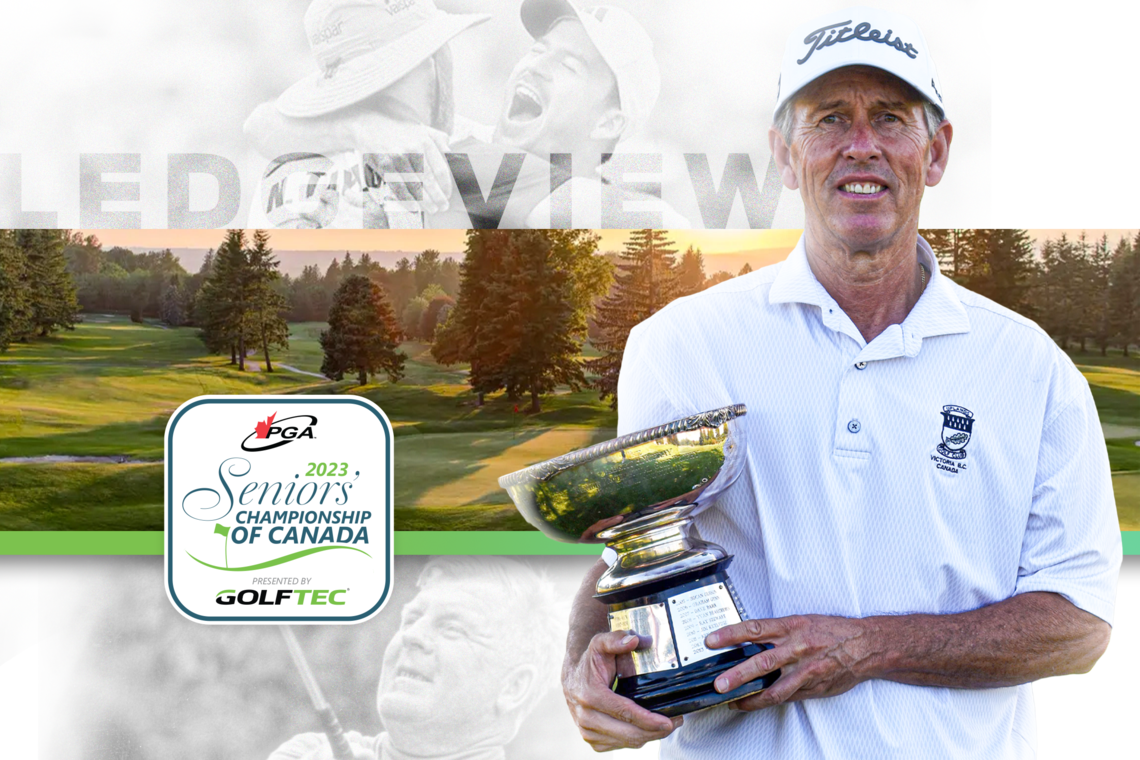 PGA Seniors' Championship of Canada presented by GOLFTEC Begins August 9 at Ledgeview Golf Club
BC's Jim Rutledge looks to match Moe Norman's mark of 8 Seniors' Championship victories
To see pairings and results throughout the week, click here.
Quick Facts:

Field Size: 58 Players (25 players in Super Seniors Division)
(Super Seniors Division includes players 60-years of age and older. Super Seniors competition concludes after 36-holes, but players will continue to compete for Seniors' title on Friday).

Course Details: Par 70/6219 yards

2022 Seniors' PGA Champion presented by GOLFTEC: Jim Rutledge
2022 Super Seniors' PGA Champion presented by GOLFTEC: Jim Rutledge

Purse: $26,500 ($7,000 first place)
Super Seniors Purse: $3,500 ($1,000 first place)

Format: 54-hole individual stroke play

Tee Times: 7:30AM - 10:50 AM PST

Schedule of Events, Pairings and Full Purse Breakdown

The PGA of Canada's National Championship circuit heads to Abbotsford, British Columbia this week for the PGA Seniors' Championship of Canada presented by GOLFTEC, where 58 of the top 50+ aged PGA of Canada members in the country will compete over 54-holes for the national crown and $7,000 first-place prize.
Ledgeview Golf Club, the course PGA TOUR winners Nick Taylor and Adam Hadwin grew up playing, will be a formidable test for competitors. While not necessarily a long track, the layout presents many challenges with tight tee shots and a unique back nine par of 34 following the front nine's 36.

Last year's event, held in Medicine Hat, Alberta, saw Jim Rutledge pick up his 7th career PGA of Canada Seniors' Championship title – putting him one shy of Canadian legend Moe Norman. Here is that story and more that we will be following as the action unfolds at Ledgeview.
Storylines
Will Jim Rutledge match Moe Norman's mark of 8 PGA Seniors' Championship Titles?
At 63 years old, Jim Rutledge is continuously proving that age is merely a number. Inducted earlier this year into the Canadian Golf Hall of Fame, in the past 13 years Rutledge has been eligible for this event (and 12 total events due to the 2020 COVID cancellation), the pride of Victoria, BC has lifted the trophy seven times.
"Oh yeah, I am anxious to try and get there," Rutledge recently said about chasing Norman's record in an article about the event published by BC Golf. "And Moe would be, too. I know Moe would say, 'go for it, son, try and pass me.'"
Rutledge has played Ledgeview once. "A long, long, long time ago," he says. He recently checked out some drone footage of the course. "Thirty or 40 years later the trees are a little higher than they were back then," he says. "It's quite narrow and then it was not. The trees were smaller and you went over everything. Not anymore. I do remember a few of the holes, but I think there have been a few adjustments."
Rutledge knows that Ledgeview is not a long course, so his strategy will be quite simple. "Just keep the ball in play," he says. "Distance is not a priority. It's just fairways and greens and some of those greens are a challenge as I remember, so it's about positioning on the greens and giving yourself as many chances as possible."
Though Rutledge can match Moe's record this week, one record that will be difficult to ever see broken is Norman's mark of 6-championship wins in a row from 1979-1985; but that is just one of the many reasons why Norman is one of the legends of the sport.
Alan McLean heads to Ledgeview after memorable US Seniors' Open
Against the best-of-the-best in the world, Echo Valley Golf Club's Alan McLean battled back from an opening-round 79 with rounds of 72-72-73 to finish tied for 42nd in the US Senior Open held at SentryWorld Golf Course in Wisconsin earlier this summer.
The event was won by Bernhard Langer, with Steve Stricker finishing as the runner-up - talk about household names - while McLean finished second among all Scottish-born players to Colin Montgomery (T23) and would have been the second low Canadian Player after Mike Weir (T35).
Last month, Alan McLean won the PGA of Ontario Zone Championship presented by GOLFTEC, demonstrating the form the 52-year-old is in heading into this week's national championship. Currently 18th on the PGA of Canada Player Rankings presented by ECCO, a big week could lead to a Lightspeed Summer Surge up the player rankings into the top 10.
A Presidential Pairing
Having spent many hours together in PGA of Canada Board of Directors' meetings, President Gord Percy and Vice President Scott Kolb have become well acquainted over the years through PGA of Canada business. They will spend the better part of 4 hours together tomorrow, teeing off together at 8:40.
NoSweat Hardest Hole
Each day, a hole will be deemed the "NoSweat Hardest Hole of the Day". The player who conquers the hole and records the lowest score will earn a $150 bonus thanks to our friends at NoSweat.

Past Champions:

2022: Jim Rutledge, BC
2021 Dennis Hendershott, ON
2020 No Championship
2019 Jim Rutledge, BC
2018 Serge Thivierge, QC
2017 Jim Rutledge, BC
2016 Claude Grenier, Austria
2015 Jim Rutledge, BC
2014 Remi Bouchard, QC
2013 Jim Rutledge, BC
2012 Jim Rutledge, BC
2011 Ken Tarling, ON
2010 Jim Rutledge, BC
2009 Ray Stewart, BC
2008 Yvan Beauchemin, QC
2007 Dave Barr, BC
2006 Graham Gunn, ON
2005 Hocan Olsson, QC
2004 Adam Brown, ON
2003 Doug Warner, ON
2002 Gar Hamilton, ON
2001 Bob Panasik, ON
2000 Al Balding, ON

ABOUT GOLFTEC:
Since 1995, GOLFTEC's mission has remained the same—to help people play better golf. The GOLFTEC experience is designed for golfers of all ages and abilities to work with an expert Coach to build a game improvement plan customized to their specific needs and goals. GOLFTEC's cutting edge training systems, including new OptiMotion, gives our Students and Coaches instant data-driven feedback. With millions of lessons given and more than 220 locations across the world, GOLFTEC is a perfect fit for PGA Members wanting to showcase their coaching skills and love of our great game.