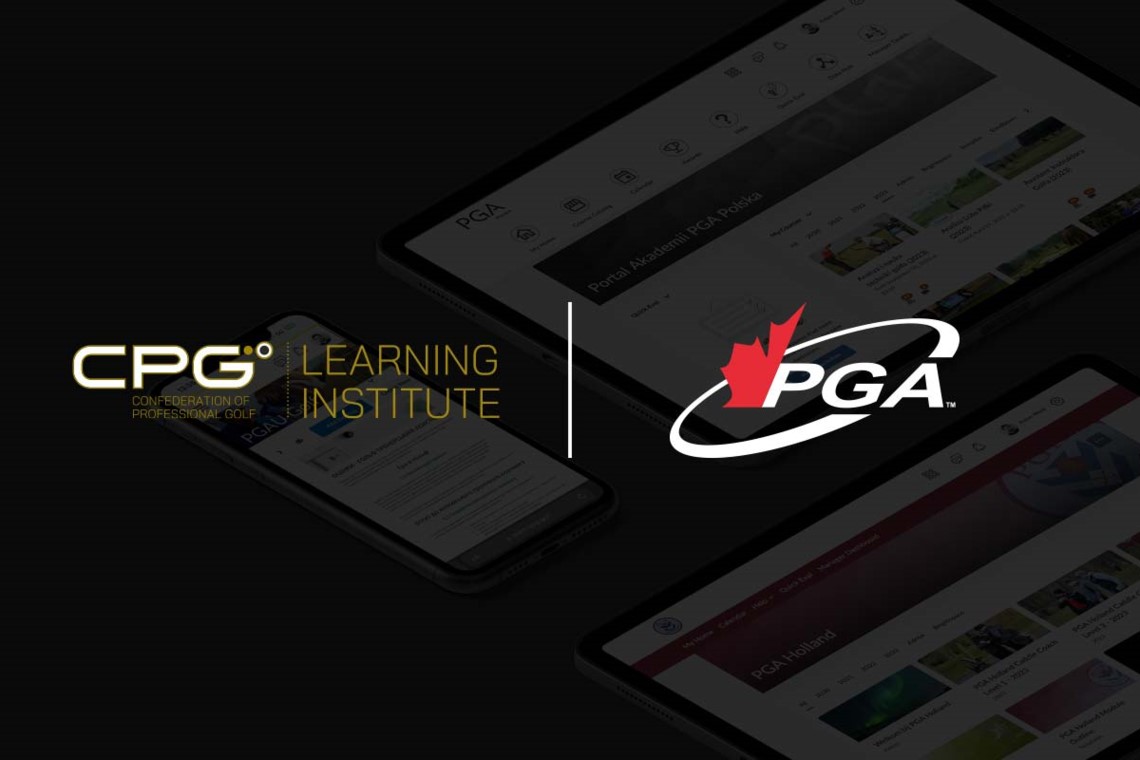 PGA OF CANADA SUPPORTS CPG TO ADVANCE GOLF EDUCATION THROUGH CPG LEARNING INSTITUTE
PGA of Canada continue to be leaders among professional golf associations and education, establishing a strategic collaboration with The Confederation of Professional Golf [CPG] that enhances education courses and content availability through the CPG Learning Institute (CPG LI) for the benefit of CPG Member PGAs and their individual PGA Members.
The CPG LI provides access to a vast array of courses, modules, and other educational material via a cutting-edge Learning Management System [LMS] powered by Brightspace/D2L. Through this partnership, the PGA of Canada will provide opportunity to learn from self-paced basic and advanced e-learning courses in the areas of golf operations, leadership and coaching to selected Member Country PGAs and their Members.
This content will cater to the educational needs of CPG Member Country PGAs and their individual PGA Members, providing them with tangible benefits and clear value, aligned with their needs and requirements.
Additionally, through the partnership, PGA of Canada will join PGA Holland in creating courses and shared resources in the area of Community Coaching - a game development initiative aimed at nurturing a robust supporting volunteer workforce for PGA Professionals across CPG Membership.
CPG Chief Executive, Ian Randell, expressed his excitement about the collaboration, stating, "This partnership represents a significant step in our commitment to offering greater opportunity and efficiency to our members. This expansion and enhancement of educational offerings provides our Member Country PGAs and their individual PGA Members, and aspiring PGA Members, with the opportunity to access a greater depth and breadth of resources.
"The PGA of Canada have been a longstanding and hugely impactful Member of the CPG and we, and our members, are extremely grateful for their on-going commitment to sharing their knowledge, expertise and resources. Their contributions will undoubtedly benefit the collective Member Country PGAs and is a great example of international collaboration for PGAs."
Kevin Thistle, CEO of the PGA of Canada, echoed these sentiments, stating, "The development of PGA professionals across the world is paramount to the growth of the sport, and our collaboration with CPG has resulted in innovative ways to educate golf professionals around the world. We are thrilled to continue lending our expertise to this endeavour and look forward to seeing the positive effects of our contribution across the CPG network."
This partnership reaffirms CPG's commitment to its Members by enhancing the educational resources available and the delivery of significant, clear and tangible values, whilst also continuing to strengthen its ties with Member Countries, leading to the overall growth and development of the sport.
ABOUT THE CPG
The Confederation of Professional Golf [CPG] is an association of 39 National PGAs, steered through the guiding principles of Togetherness, Collaboration and Development to provide a collective voice and opportunities for the benefit of the game.
The CPG is also a partner in Ryder Cup Europe as the sole member of the Ryder Cup European Development Trust [RCEDT] and is widely acknowledged as a lead body in the provision of golf development expertise on a global basis through its collaboration with The R&A in its developmental delivery. (cpg.golf)
ABOUT THE PGA OF CANADA
Established in 1911, the PGA of Canada is the second oldest and third largest professional golf association in the world. The PGA of Canada is a non-profit association comprised of nearly 3,600 golf professionals across the country. The association's mandate is to develop, promote and support its members in living a better life and earning a better living while growing participation, excellence and passion for the sport of golf. The association consists of the national office located in Acton, Ont., and nine Zone Offices across the country. (PGAofCanada.com)