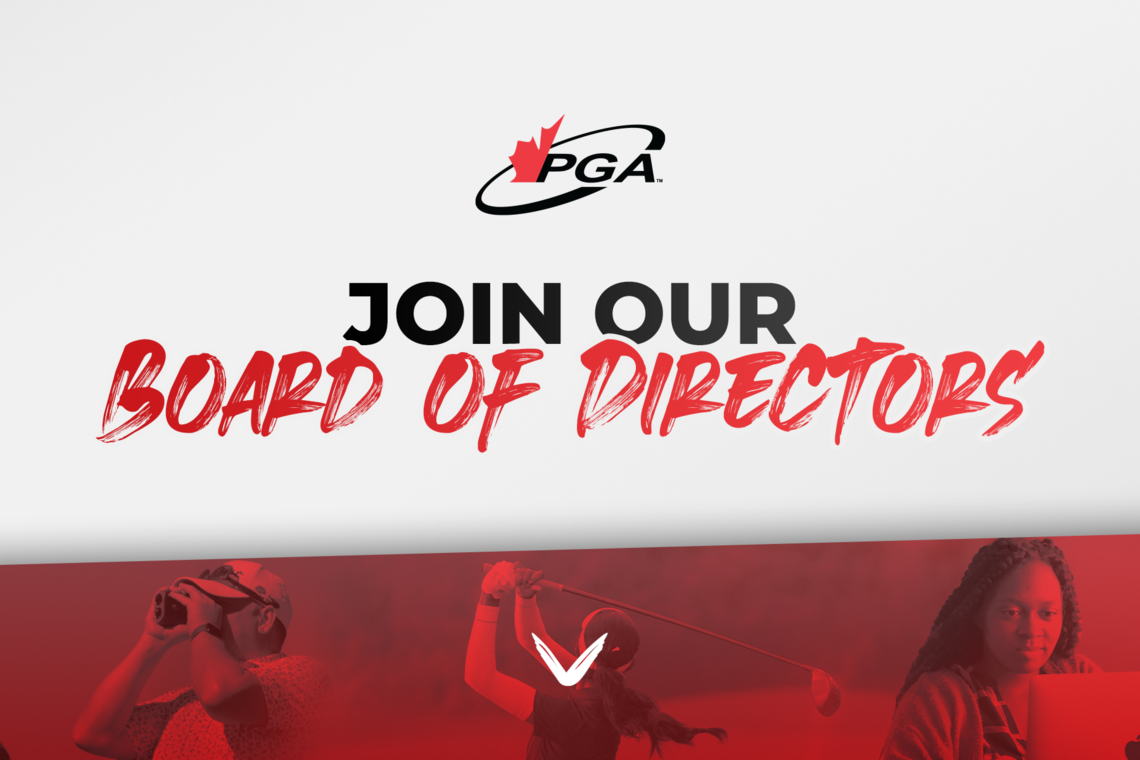 PGA of Canada Seeking Nominations for Two At-Large Board of Director Positions
Historic moment as association opens nominations to both members and non-members, striving to add diverse perspectives to its leadership
The PGA of Canada is currently seeking nominations for two at-large positions on its Board of Directors. A historic moment in the organization's history, the volunteer positions are open to both members and non-members. This change to the PGA of Canada National Board composition is a cutting-edge governance practice and achieves a key objective in the organization's strategic plan, to diversify the leadership
The addition of these two at-large members is the result of the PGA of Canada's Diversity and Inclusion Taskforce Report, as the association strives to create an inclusive and representative Board that reflects the diversity of Canada. The elected individuals, who will serve a three-year term as full voting members on the Board, will be essential in the governance of the organization, ensuring the implementation of the organization's strategic plan and that the needs of the 3,800 PGA of Canada members across Canada are at the forefront of conversation and decision making. Recently, the PGA of Canada's Board of Directors completed a skills and competency matrix to identify the needs for the two new positions based on the current composition of the Board. Based on the outcomes of this exercise and the need to diversify the perspectives and personnel on the Board to ensure that equity, diversity, and inclusion is at the forefront of the governance of the organization, the nominating committee is looking to solicit gender balance and/or traditionally underrepresented groups who have experience, skills and expertise in one or more of the following areas:
Environment, social responsibility, governance
Nonprofit governance experience
Risk management
Legal
Regulatory (fiscal, governmental, funding, legal regulatory)
Nomination application deadline – September 1, 2023 More information can be found on the nomination form, which can be found here. The nominating committee will review all submissions and by September 11, an email will be sent to all Class 'A' members with the committee's recommendation, but Class "A" voting members may vote for any two candidates they choose if an election is necessary. A bio will be provided for each candidate before the September 11-15, 2023 election. The elected candidates will be responsible for attending one in-person meeting each year, as well as one virtual meeting each quarter. Depending on circumstances, there may be other virtual meetings called throughout the year, and the opportunity to join various committees may arise. The strength of the PGA of Canada comes from the expertise of those trusted with seats at the decision-making table. As a board member, the elected candidates will be trusted to use their knowledge and passion to help lead important discussions and make decisions that will drive the industry forward for both colleagues and future generations. More than ever, we want you to have your voice heard. If you have expertise in the above-identified skills and would like to help shape the direction of the PGA of Canada, empowering golf professionals from coast-to-coast to grow the game and earn a fair living wage, we encourage you to apply for a leadership position on the association's Board of Directors.