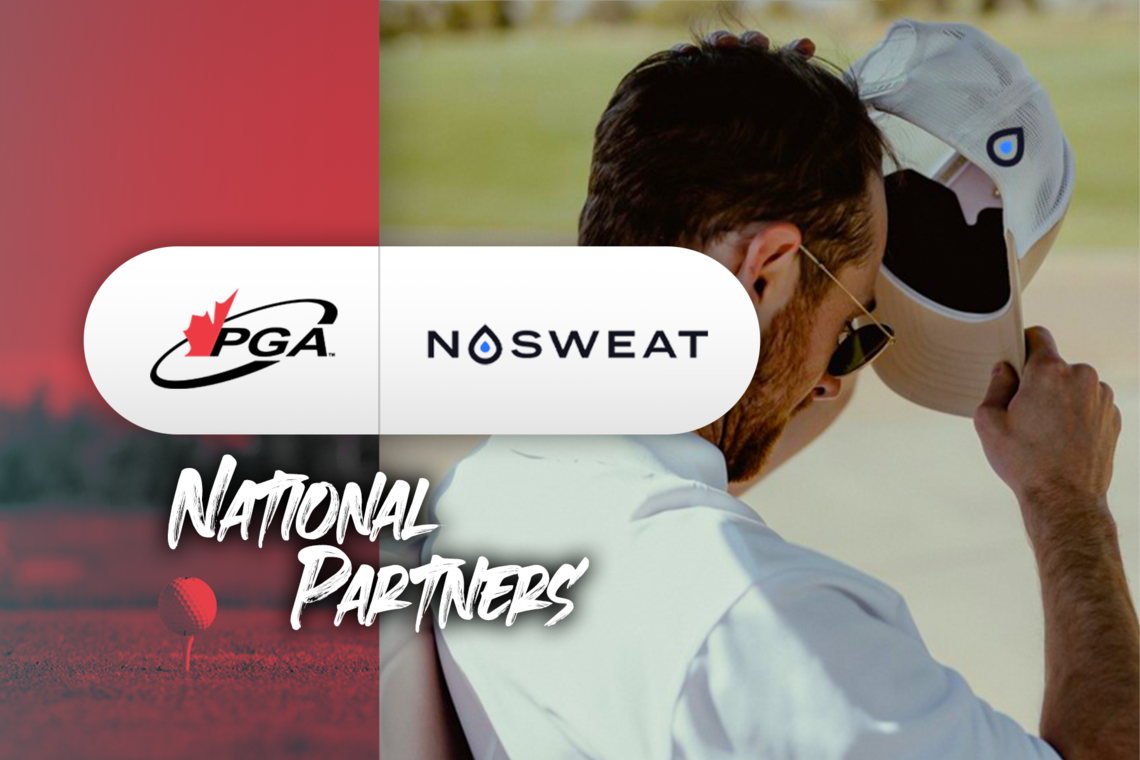 PGA of Canada Renews National Partnership with NoSweat
The agreement provides PGA of Canada members access and pricing to NoSweat product and sees the continuation of an innovative on-course contest at all national championships.
---

(Acton, ON) - The PGA of Canada is pleased to announce it has renewed its national partnership with NoSweat, a cutting-edge sweat technology company taking the sports industry by storm.
The multi-year agreement gives PGA of Canada members access to NoSweat product and pricing year-round as well as at all five of the association's national championships. It also sees the evolution of the innovative on-course contest called the 'NoSweat Hole of the Day'.
"NoSweat has continued to innovate within their industry and have come up with a solution to a common problem," said PGA of Canada CEO Kevin Thistle. "Beyond making a great product, NoSweat thinks outside of the box, helping us find the "NoSweat Hardest Hole in Canada," in 2021 and we are so excited to continue working together at our national championships."
For every round in a PGA of Canada National Championship, the toughest hole — whether a result of pin position, yardage, wind or scoring average — will be selected as the 'NoSweat Hole of the Day'. The player with the lowest score on the identified hole will receive a monetary bonus or gift and be featured on social media with the hashtag #NoSweatHOTD. If multiple players tie for low score, the winner will be selected by lucky draw.
"We are incredibly proud to continue our partnership with the PGA of Canada," said the company's EVP Mike Esposito. "We continue growing within the golf market as it has become a significant contributor to our overall success. The partnership with the PGA of Canada and their 3,800 professionals has helped spread the word that our product is beneficial not just for golfers, but for other sports and industries as well."
Utilizing patented SweatLock™ technology, NoSweat produces high-quality headwear liners built to increase performance, safety and hygiene for anyone who sweats. The comfortable, disposable liners are easily applied to the inside of any hat, helmet or visor, effectively absorbing sweat and wicking away moisture to eliminate stains and increase visibility.
NoSweat has undergone exponential growth in recent years with several notable athletes now sporting their product, including Stanley Cup Champion TJ Oshie; Superbowl Champions Golden Tate and Brandon McManus; and World Series Champions Dallas Keuchel and Matt Adams, along with Premier Lacrosse League star Myles Jones.

In 2018, NoSweat became an Official Licensed Partner of the PGA TOUR.
All PGA Professionals will have the opportunity to purchase NoSweat liners, with custom PGA of Canada branded packaging. To take advantage of the PGA Member Purchase Program Click Here.

To learn more, visit www.nosweatco.com or purchase on Amazon Canada HERE
To learn more, visit www.nosweatco.com.