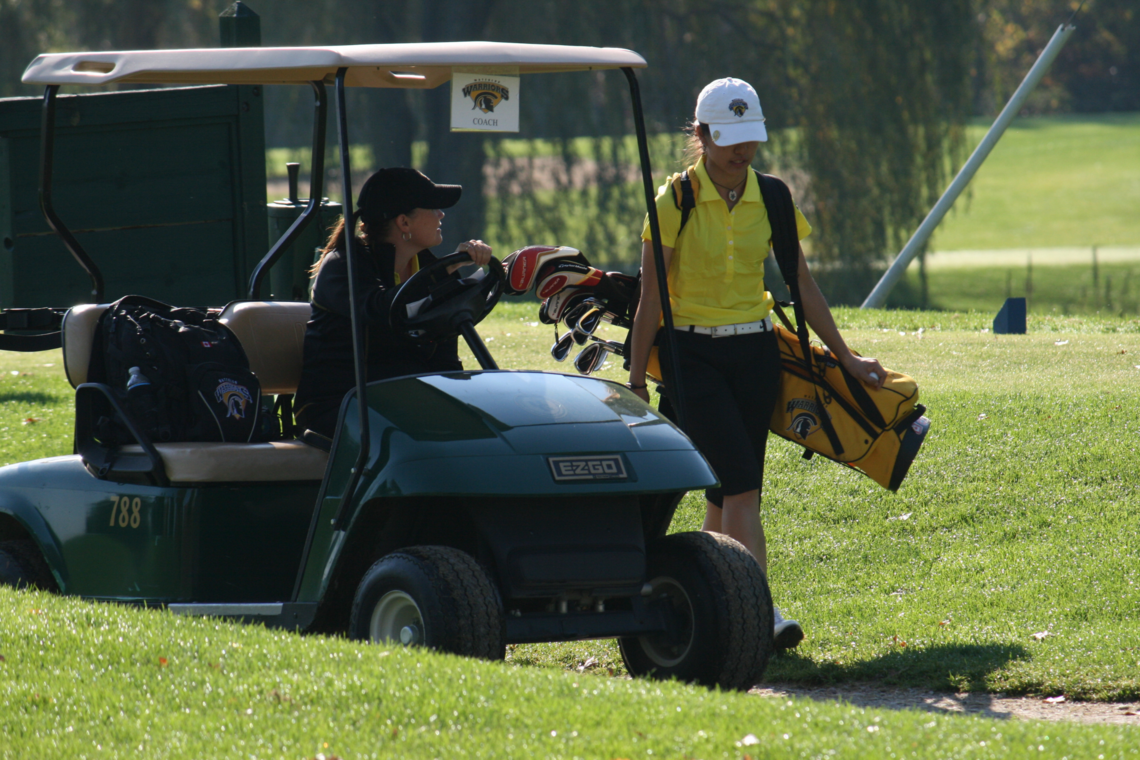 #NationalCoachesWeek Profile: Carla Munch-Miranda
Powered by SCOREGolf
Fate often has a way of shaping people's lives. For a teenaged Carla Munch-Miranda, it was a contract her family's construction company landed to renovate the clubhouse at Cambridge, Ont.'s Puslinch Golf and Country Club that placed her on the path from non-golfer to — nearly three decades later — the PGA of Canada's national coach of the year.
Puslinch needed help in the halfway house and kitchen, her father learned one day on the job. Specifically, the club was hoping to hire someone who didn't golf because every time an area tournament came around the summer staffers would book the day off to play. Carla, 17 at the time, was not a golfer, nor was anyone in the Munch family, and such a gig sounded sweet so she applied, got the job and went to work. By the second summer, however, she too was adding her name to the list of employees asking for time away to play in events. The game got its hooks into Carla, and, as happens with most, it never let go.
"(The owner) said to my father, 'You told me she didn't play golf!'" Munch-Miranda laughs in recollection.
They were just casual games at first, but growing up as a competitive athlete playing ringette, hockey, field hockey and baseball, Munch-Miranda wasn't much for half-measures. Once she started to fall for the game her desire to improve burned. She played often in the summer, sometimes competitively and sometimes with her dad, who picked up the sport too, but a career in the game was never on her radar. She studied education at the University of Waterloo, played on the field hockey team, and planned to teach high school physical education and geography one day. In the summers she worked at Puslinch, then at the local Toyota plant for the higher paycheques, and then at Cambridge Golf Club when Toyota stopped hiring students for a season. Teacher's college beckoned, or so she thought, for at Cambridge she delved further into golf, learning under owners Gary and Andy Byrne and from former touring pro Jerry Anderson, a Cambridge legend who tutored her in on-course management. She got good enough to where she could play in and turn pro and so she did, joining the PGA of Canada and eventually meeting her future husband Chris, then a fellow pro at nearby Savannah Golf Links. Together with the club's longtime superintendent, Blaine Miller, they took over Cambridge from the Byrnes in 2006.
"It's funny how things just fall into place sometimes," Munch-Miranda says.
Like a call out of the blue from Judy McCrae. McCrae was the athletic director at the University of Waterloo from 1994 to 2008, which coincided with Munch-Miranda's time there. She had read about Carla's venture into the golf industry and invited her to start a women's golf team at the school. Munch-Miranda did so in 2004 and the team has been hugely successful since the beginning, medalling at the provincial finals every year but one. That experience led Munch-Miranda to grow the junior program at Cambridge, which has camps and clinics for all ages and abilities. She launched what was essentially a forerunner to Golf Canada's Girls Club at Cambridge plus a program for competitive golfers called the Cambridge Cobras. Whatever the level, however, creating a fun and a friendly atmosphere has always been the mandate set forth by Munch-Miranda.
"I truly believe that we, as coaches, need to ensure that kids are enjoying the game because obviously someday down the road we want them to play this game forever," she says. "So whether they are competitive or just beginning, they need to enjoy it. They need to have fun while they're here. It needs to be social. As much as it's an individual game, it is fun for everybody to play in a team atmosphere and be social, especially with girls. For me, philosophy-wise, I need to make sure everybody is having fun and enjoying it.
"I'm not one to sit there and overhaul somebody's complete game," she continues. "They need to swing it like they do, they need to play like they do, but if I can help guide them along to become better players, then that's my feeling. Golf is a little bit different from the coaching end too. Like in hockey they scream and yell at the kids — it drives me absolutely crazy. We need to help guide them along, be kind, make sure they love coming to the golf course, make sure they love the game when they leave. So when they are all done and maybe they go off to a different university, or maybe they are 14 and they are done taking lessons, that they still love the game and that they're going to play it when they are 30 or 40 with their children. That's something that's really important to me here and that's something I make sure to instill in all the instructors here."
It's that attitude and the success it has yielded both at Cambridge GC and the University of Waterloo that led to Munch-Miranda winning both the PGA of Ontario and PGA of Canada coach of the year awards in 2019. She attended the PGA Merchandise Show in Orlando, Fla., in January for the first time — two sons in sports keep her very busy in the wintertime — to receive the PGA of Canada's Ben Kern Award in front of both her family and industry peers.
"I was very surprised and very honoured," she says about the recognition.
And in taking stock of her golf career on that night she admitted to feeling some regret about not having been introduced to the game at a younger age. She would have loved a longer runway and perhaps to play on a team in college. Which makes sense. Because that's exactly what she is doing for kids and young adults now, and exactly why she is considered one of the top coaches in the country.