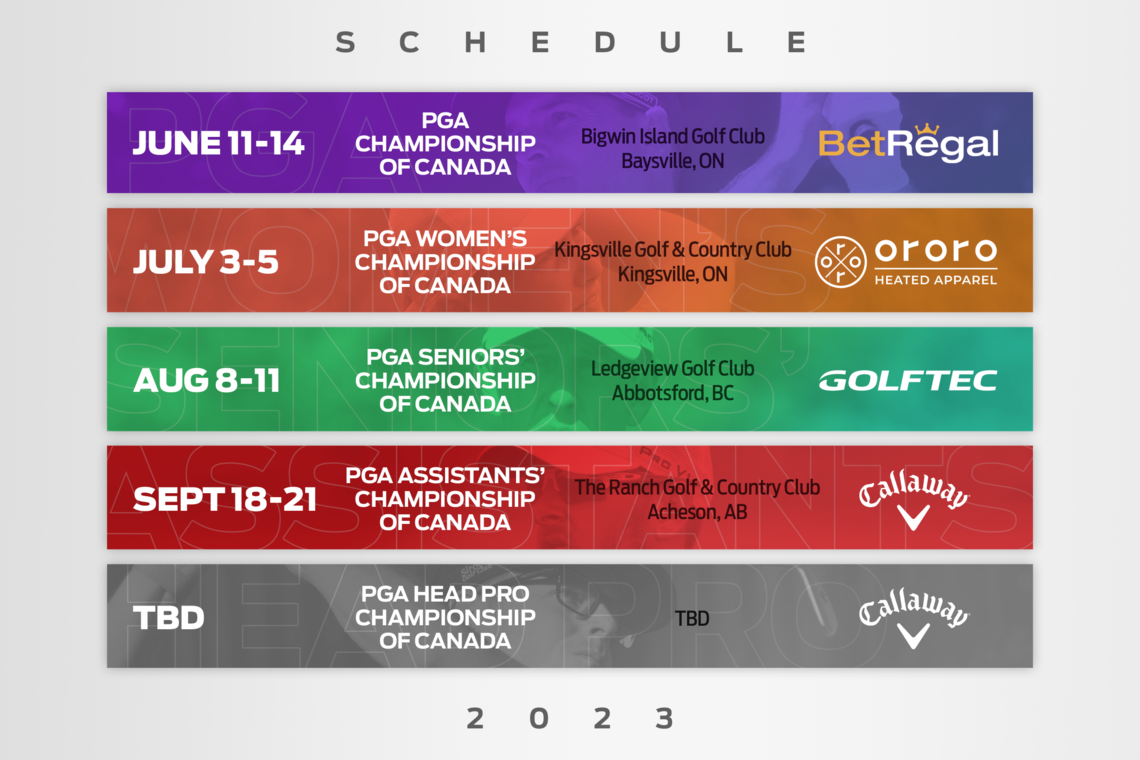 PGA OF CANADA ANNOUNCES 2023 NATIONAL CHAMPIONSHIP SCHEDULE
The PGA of Canada is pleased to announce the national championship schedule for the 2023 season.
st
playing of the BetRegal PGA Championship at Bigwin Island Golf Club in Baysville, Ontario from June 11-14. The flagship event will feature 75 of the top professionals in the country competing over the course of 54-holes, looking to join the likes of Arnold Palmer and Lee Trevino on the P.D. Ross Trophy. From there, we will move to Canada's southern-most city, Kingsville, Ontario, where Kingsville Golf & Country Club will host the top professional and amateur women in the country from July 3-5 for the 36-hole ORORO PGA Women's Championship of Canada. One month later, Ledgeview Golf Club in Abbotsford, British Columbia will host the top senior players in the country at the PGA Seniors' Championship of Canada presented by GOLFTEC. All eyes will be on reigning champion Jim Rutledge, who can tie Moe Norman's record of eight senior championship titles. The fourth national champion will be crowned September 18-21 just outside Edmonton, Alberta, as The Ranch Golf & Country Club will host the top assistants in the country at the PGA Assistants' Championship of Canada presented by Callaway Golf. Women are eligible to compete in all National Championships and will play at a course length slightly shorter than the men's yardage. "We are heading into this year's national championships with so much momentum after a terrific tournament season last year, which included the historic 100
th
BetRegal PGA Championship of Canada," said PGA of Canada president Gord Percy. "Some incredible venues have stepped up to host our professionals this year which will surely lead to the crowning of worthy champions." "We are thrilled to welcome back all our tournaments' supporters. To Callaway Golf, BetRegal, ORORO Heated Apparel, GOLFTEC, G&G Brands, Golf Away Tours and NoSweat, thank you for your continued support of our professionals and golf in Canada." Registration for the championships are now open.
Refer to the events page on PGAofCanada.com to register.
Contact PGA of Canada Championship Manager Matt Mueller via email at
matt.m@pgaofcanada.com
for more information.
*Note - the PGA of Canada Championship staff are working to finalize a location for the Head Pro Championship and will provide an update prior to May 1. The target dates are December 6-9.
The 2022 season saw five players from four provinces win events – Wes Heffernan at the BetRegal PGA Championship of Canada, amateur Sarah-Eve Rhéaume at the ORORO PGA Women's Championship of Canada, Jim Rutledge at the PGA Seniors Championship of Canada presented by GOLFTEC, Kevin Stinson at the PGA Assistants' Championship of Canada presented by Callaway Golf and Craig Gibson at the PGA Head Professional Championship of Canada presented by Callaway Golf. Four impeccable venues have been selected in three provinces for the 2023 national championship season, while the date and location for next winter's Head Professional Championship of Canada presented by Callaway Golf will be announced at a later date. The season will open with the 101