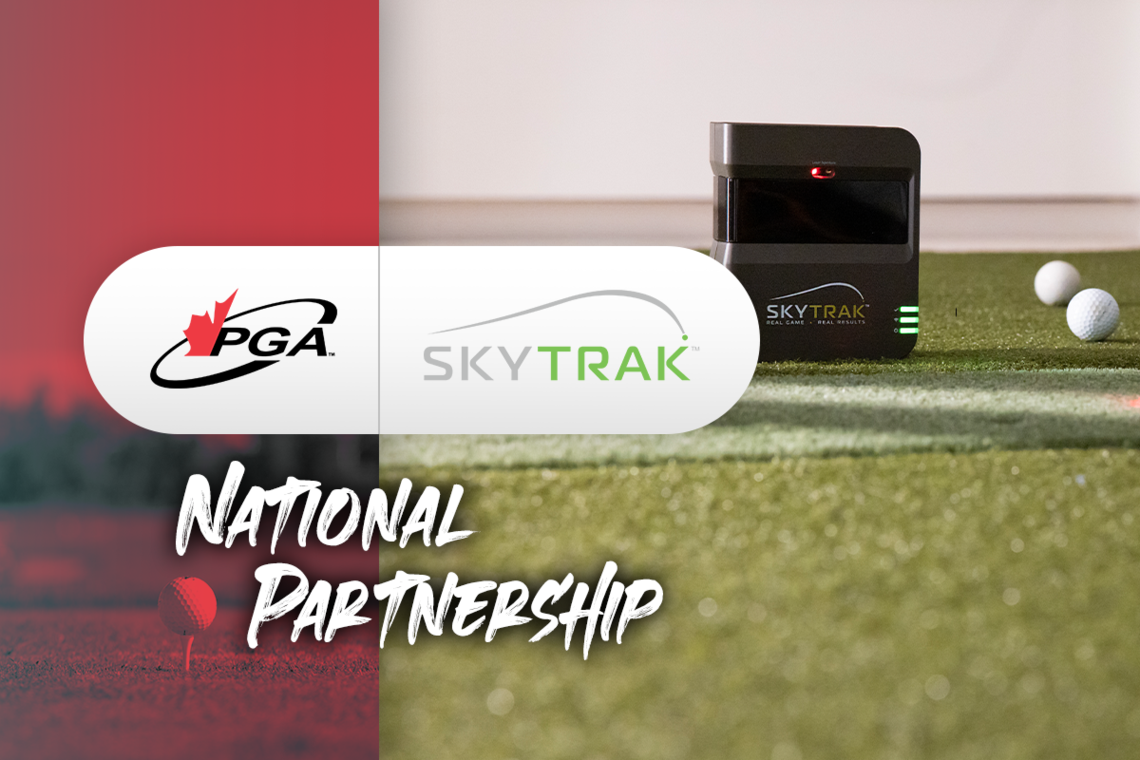 PGA of Canada adds SkyTrak as Official Consumer Launch Monitor of the Association
SkyTrak to also be involved with RBC PGA Scramble as prizing partner
It was announced today that SkyTrak, the #1 selling consumer launch monitor and golf simulator, has become a National Partner of the PGA of Canada.
The deal will give the 3,800+ PGA of Canada professionals across Canada access to special SkyTrak pricing and promotions, as well as contesting throughout the year to win product.
"More and more PGA of Canada professionals are bringing launch monitors and simulators to their facilities to improve their teaching and keep their doors open to golfers year-round," said PGA of Canada President Gord Percy. "We couldn't be more excited to partner with such great leaders in the launch monitor space. SkyTrak is trusted at some of the top facilities in the world and we are thrilled to give our professionals enhanced access to their products."
In addition to the promotions available to PGA of Canada professionals, SkyTrak, will also provide enhanced prizing and contest opportunities to RBC PGA Scramble participants.
"The PGA of Canada is one of the most well-respected golf associations in the world and we're excited to help professionals and golfers throughout the country introduce SkyTrak to their facilities and memberships," said Steve Davies, President of Jancor Agencies. "With more golfers than ever in Canada heading to indoor facilities during the winter months, the ability to showcase SkyTrak to RBC Scramble participants will give many the chance to bring our industry leading product into their homes."
In addition to game improvement software and access to the top simulation software in the industry, SkyTrak also offers top-of-the-line accessories including hitting mats, nets, and simulator studios to help you make the most out of your space.
For more information about SkyTrak, visit https://www.skytrakgolf.com/
About SkyTrak
SkyTrak is golf's most popular consumer launch monitor and simulator. SkyTrak provides golfers of all skill levels accurate, real-time feedback making it a complete practice, play and entertainment system. A great solution for consumers, teachers, club fitters and PGA Professionals, SkyTrak delivers quality ball flight simulations that reflect a golfer's actual performance.
About Jancor Agencies:
Jancor Agencies was created with the vision of helping golfers enjoy the game more, by providing the Canadian market with premium golf brands. Jancor Agencies is the Canadian Distributor for SkyTrak, SkyCaddie, Prestwick, TurfHound, and other premium brands. Jancor's team promises to provide the best experience possible to both our customers and our brand-partners. At Jancor we believe in building brands, and not just selling products.