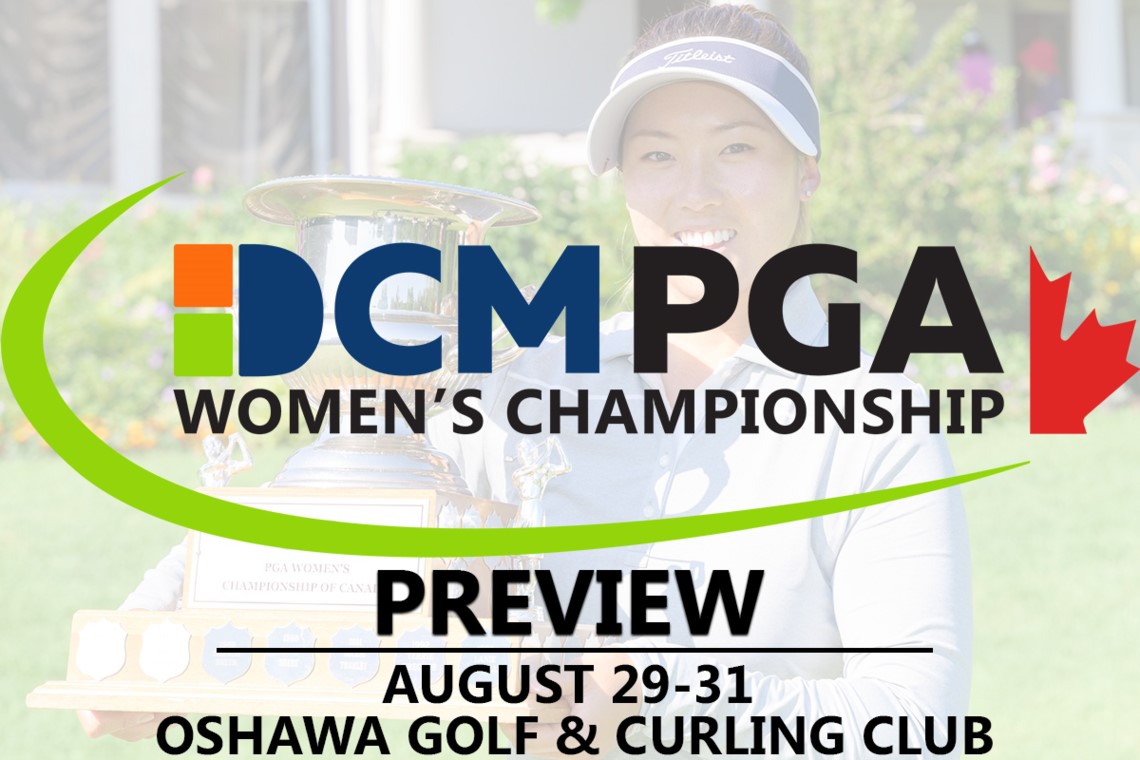 Oshawa Golf and Curling Club set to host 34th DCM PGA Women's Championship of Canada
Quick Facts:
Event Dates: August 30-31 (Practice Round on August 29)
36-hole individual stroke play
Purse Size: $35,000
Field Size: 35
Amateurs: 10
Course Details: Par 72/6200 yards
Previous Champion: Rebecca Lee-Bentham
Anticipation is at an all-time high for the 2021 DCM PGA Women's Championship of Canada after the pandemic forced the cancellation of the event for the first time since its inception in 1987 last year.
In addition, the event comes on the heels of one of the greatest tournament performances in PGA of Canada history earlier this month when Riley Fleming shot 25-under to win the BetRegal PGA Championship of Canada.
Next week's host club, Oshawa Golf & Curling Club, originally designed by George Cumming and Stanley Thompson, is an engaging layout that manages to blend seamlessly with its natural surroundings. The club proved to be a phenomenal test of golf when it previously hosted the DCM Women's Championship in 2006 when Marie-Josee Rouleau from St-Lambert, QC won the event in a playoff over Oakville, ON native Jessica Shepley, shooting 70-75 over two rounds.

The event has a list of champions that includes some of the greatest Canadian golfers of all time, such as Brooke Henderson (2015-2016), Alena Sharp (2004, 2011-2012) and Lorie Kane (1996-1999, 2001).
Here are a few players to watch for next week in Oshawa:
---
Six To Watch
Jennifer Ha
Playing on the Kent State University golf team until 2015, Ha racked up five NCAA tournament wins and was named to the Canadian National Golf Team in 2015. The Calgary, Alberta native competed on the LPGA Tour in 2017 and was the only rookie that season to record a top-10 finish.
Naomi Ko
The Victoria, British Columbia native is a top name to watch next week in Oshawa, fresh off qualifying for the second stage of LPGA Q-School after placing in a tie for 16th at first stage in California earlier this month. Ko played her final season at NC State University in 2019, putting a bow on her collegiate career with a 69 at the final round of the ACC Championship.
Emma de Groot
De Groot holds the University of Tennessee at Chattanooga women's golf school records for tournament wins (6) and lowest career scoring average (74.5). She also notched 20-career top-5 finishes at the NCAA level. Since turning professional, the Modern Golf Director of Women's Development has competed in the DCM PGA Women's Championship four times, placing T13, T6, 4th and, most recently in 2019, T23.
Christine Wong
Currently an instructor at University Golf Club in Vancouver, British Columbia, the Richmond, B.C. native competed on the Canadian Women's Golf Team in 2009 and represented San Diego State University from 2009-2013, winning four individual titles. In addition, Wong is a two-time BC Women's Amateur Champion and was the second-lowest amateur at the U.S. Women's Open held at Oakmont Country Club in 2010. Most recently, Wong claimed the PGA of B.C.'s Women's Championship in 2020.
Grace St-Germain
St-Germain claimed the Canadian Junior Girls Championship in 2014 and, two-years later, won the Ontario Women's Amateur. Following a strong collegiate career with Dayton State and Arkansas, and a four-year stint on the Canadian National Squad, the Ottawa, Ontario native turned professional in 2020.
Caroline Ciot
The Brossard, Quebec native most recently held status on the Symetra Tour in 2019, playing in two events. Ciot competed at the DCM PGA Women's Championship in 2019, firing a first-round 70 en-route to a T14 finish.
---
There will be even more to play for than just the $10,000 first-place prize this year. It was recently announced that the PGA of Canada has added a new National Award, the Brooke Henderson Female Player of the Year Award, and has named the tournament's trophy after five-time champion and PGA of Canada Hall of Fame member Lorie Kane.
There will be ranking points on the line at the event, as well as at all national championships and select Zone events, that will be used to determine who will be the first to accept the Brooke Henderson Female Player of the Year Award when it is unveiled in January.
"After the success of the BetRegal PGA Championship and Seniors Championship earlier this month, we are so excited to give some of the best female golfers in the country the opportunity to compete for the title of DCM PGA Women's Champion of Canada," said PGA of Canada Championship Manager Rob Watson. "Not only should we watch out for many of these talented women next week in Oshawa, but also for years to come as they advance their professional careers and grow the game of golf in Canada.
"Oshawa Golf and Curling Club will provide a worthy challenge and is the perfect venue for an event of this caliber," continued Watson. "We wouldn't be able to look forward to the great week of golf ahead if not for the continued support of DCM, who have a long-history of furthering the careers of female golfers."
Each year, DCM awards Power-Up Bursaries to women attempting to compete at golf's highest level. This year, seven players will be awarded $5,000 each to pursue their dream of playing golf at the highest level. The seven bursary recipients will be announced during the tournament week.
During both rounds next week, a hole will be deemed the NoSweat Hardest Hole of the Day. The players who record the lowest score on the hole will be entered into a draw for a $125 cash prize.
Just like at the BetRegal PGA Championship of Canada, LivRelief, the official pain relief cream of the PGA of Canada, will be hooking players up with product to keep everybody feeling fresh between rounds as they compete to be named the 2021 DCM PGA Women's Champion of Canada.
For more details and to follow the leaderboard throughout the week, click here