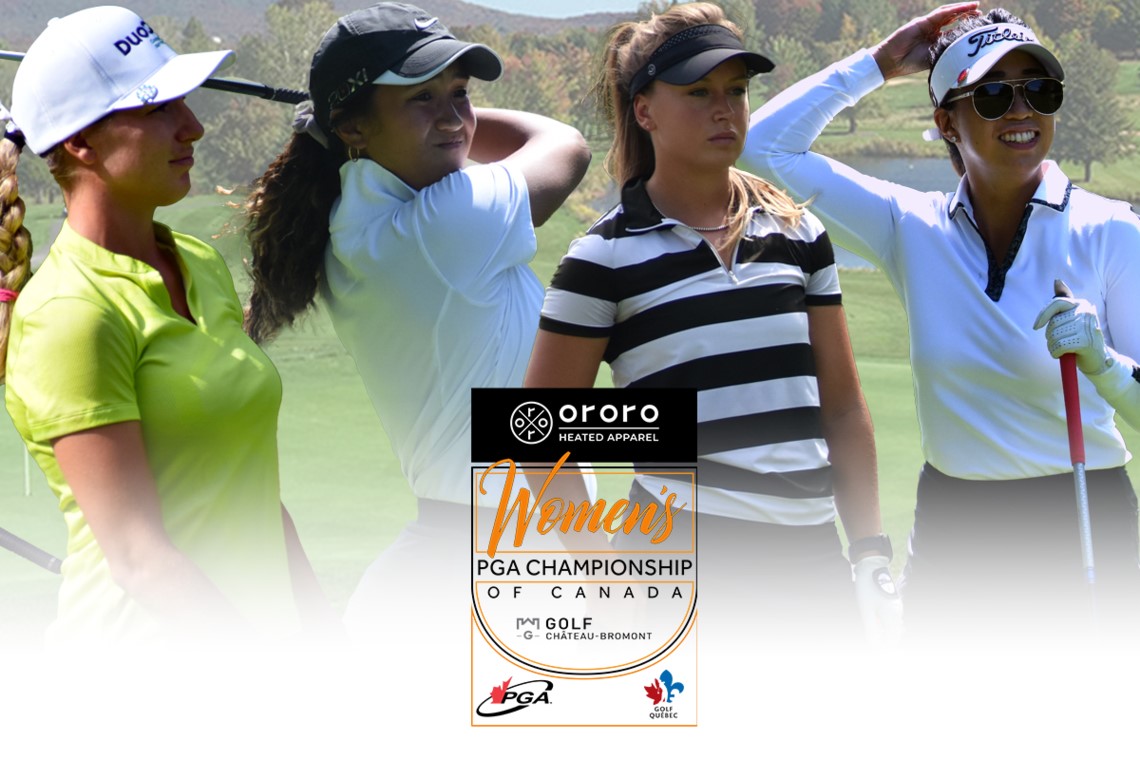 ORORO PGA Women's Championship of Canada at Château Bromont set for this week
By: Brendan Stasiewich
Quick Facts:
First-Place: $15,000
Reserved for PGA of Canada professionals: $15,000
Field Size: 42 players
Course Details: Par 73/6250 yards
2021 ORORO PGA Women's Champion: Christine Wong
Format: 54-hole individual stroke play
Schedule of Events, Pairings and Full Purse Breakdown
The PGA of Canada is thrilled to conduct the 2022 ORORO PGA Women's Championship of Canada alongside Golf Quebec at Château -Bromont in Bromont, Quebec this week from June 28-July 1.
The winner of the event is set to win $15,000 along with an exemption into the 2022 CP Women's Open, scheduled for August 22-28 at the Ottawa Hunt Club.
There is also $15,000 from the purse reserved exclusively for PGA of Canada professionals.
In addition, PGA of Canada Ranking Points are on the line to see which five players will head to New Mexico this October to represent the PGA of Canada at the Women's PGA Cup. Ranking Points are accumulated over a two-year stretch, including 2021 and 2022. Current rankings can be found here.
"The PGA of Canada is incredibly excited to return to Bromont to conduct one of the most sought-after Championships in Canada, featuring the top professional and amateur women in the country," said PGA of Canada Managing Director of Championships Akash Patel. "In addition to offering a great purse thanks to tournament title-sponsor ORORO Heated Apparel, as well as our partnership with Golf Quebec and the Bromont Invitational, the opportunity for our champion to play amongst the best in the world at the CP Women's Open will make for an intriguing tournament."
This year's event, run alongside our friends at Golf Quebec, combined the PGA Women's Championship and the Bromont Invitation for the ease of player's schedules.
Past champions of the ORORO PGA Women's Championship of Canada includes Brittany Marchand, Brooke Henderson, Alena Sharp, Nancy Harvey and Cathy Sherk.
Five to Watch
Christine Wong – University Golf Club (Vancouver, BC)
Wong had a fantastic 2021 season playing PGA of Canada events, winning the ORORO PGA Championship of Canada by five strokes. The University Golf Club Apprentice Pro was the only player under par that week at Oshawa Golf Club and was also the only woman in the field at the Assistants' Championship of Canada in Calgary a few weeks later, firing even par the first two rounds before a final-round 76 placed her in a tie for 32nd.
Rebecca Lee-Bentham – Epson Tour (Toronto, ON)
It will kind of feel like a title defense for Rebecca Lee-Bentham this week in Bromont, as Lee-Bentham won the 2019 PGA Women's Championship but was unable to attend the event in 2021 to attempt back-to-back victories. The Toronto, Ontario native has made the cut in one of her two Epson Tour starts this year.
Caroline Ciot – Chateau Bromont (Laval, QC)
Ciot may be having the best 2022 of any player in the field this week, having just claimed the Glencoe Invitational in Calgary a few weeks ago. In addition, she placed fourth at the PGA Women's Championship in 2021, shooting 71-74.
Kate Johnston – Tournament Player (Ayr. ON)
The former University of British Columbia team member has fond memories of the ORORO PGA of Canada Championship, placing within the top 10 in 2019 as an amateur and recording her first career hole-in-one at last year's event.
Valerie Tanguay – Epson Tour (Saint-Hyacinthe, QC)
Now a veteran at the event, Tanguay has placed T5, T5, T5, and 4th in her past four showings at the ORORO PGA Women's Championship. Is this the year she earns her first victory at the event in her home province?
Other notables to watch:
Kelsey Sear – Finished in a tie for 5th last year and her second-round 70 was bested only by champion Christine Wong.
Brooke Rivers – 17-year-old National Amateur Squad member. Will be a great experience for her to compete amongst the top professionals in the country. Looks to be first amateur to win the event since Brooke Henderson in 2015.
Emma de Groot - Seems to perennially be in contention at the event and member of the 2019 Canadian PGA Cup team.
Diana McDonald – Former South Atlantic Conference Player of the Year with Eastern Kentucky University. Placed in a tie for 5th at the event in 2021.
Casey Ward – Another member of the 2019 Canadian PGA Cup Team, will look to better her 12th place showing from last year.
Sadie Dewinton-Davis - Top 10 last year included a final-round 72. Game is sharp and should be a name to watch for on the leaderboard this week.