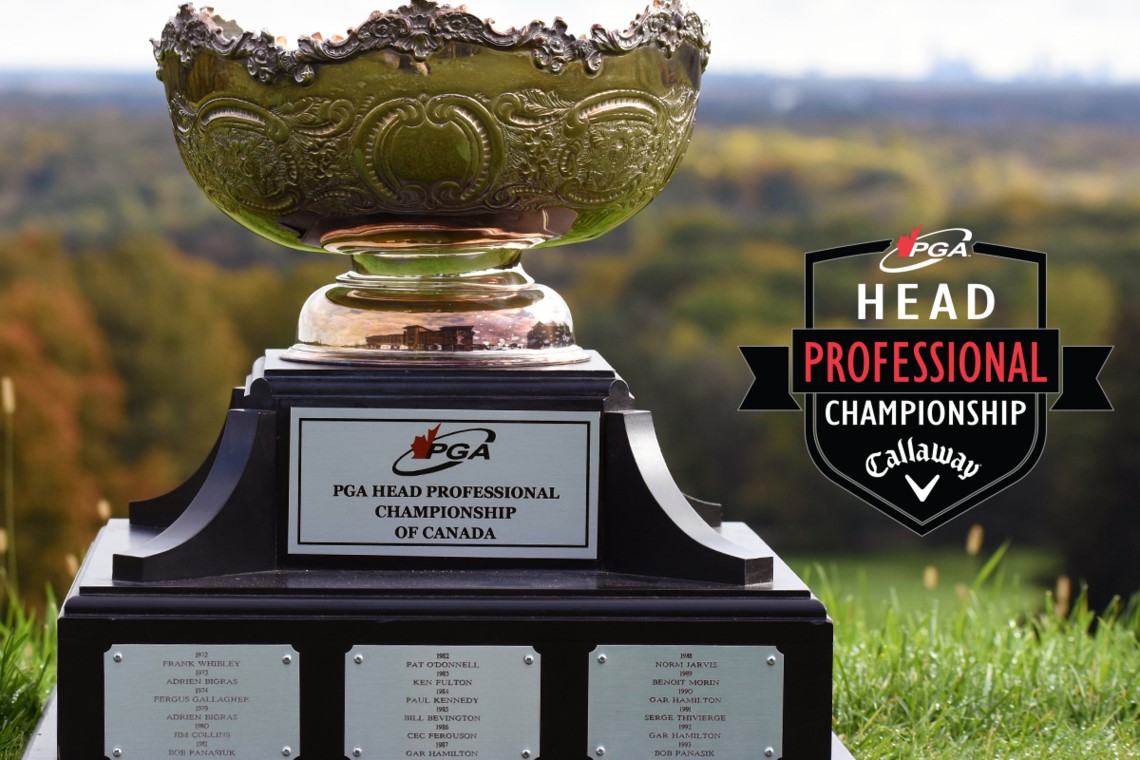 Nick Kenney takes one-stroke lead into final round of the PGA Head Professional Championship of Canada presented by Callaway Golf
(Fonthill – ON) – Carding six birdies on Wednesday, The National Golf Club of Canada Head Teaching Professional Nick Kenney managed to get around a difficult Lookout Point Country Club in 3-under par to take a one-stroke lead into the final round of the PGA Head Professional Championship of Canada presented by Callaway Golf with support from G&G Brands.
Two players, including Ed Maunder and Dean North, are right on Kenney's heels, both firing 2-under par 70. Meanwhile, a host of five players are two strokes back at 1-under.
The full leaderboard can be seen here.
While heavy rain and standing water on most holes led to the cancellation of what was supposed to be the first round on Tuesday, the golf course bounced back nicely, setting up players perfectly for the 36-hole championship – which is being played this year on Canadian soil for the first time since 2003.
"The National Golf Club closed in early October, which gave me the chance to play a lot of golf lately with some members and some kids I work with," said Kenney, who played NCAA Division I golf at Old Dominion University prior to turning professional in 2007. "Before the past few weeks, with two young ones at home and the demand for lessons, I wasn't playing at all. It was a blessing in disguise that we shut down since I was able to get a nice feel and get used to shooting some good scores."
Getting off to a hot start, Kenney birdied his first hole of the day and made two more on his front nine to make the turn in 2-under par early in the day. Despite "leaking oil" on the back nine, he managed to pull it together late, making birdie on each of his final three holes.
"I was just trying to end up under par, I made a 30-footer on 16 and 25-footer on 17, and then on the last hole I had 20 feet for eagle and just missed it," said Kenney, who was a member on the PGA TOUR Canada in 2010 prior to becoming a PGA of Canada Member in 2013. "You're grinding all day and then all of a sudden it was like 'oh geez, that was nice.'"
Kenney mentioned that after doing some course research, he was able to avoid most of the penalizing areas at Lookout Point (which there are plenty), to help get him into the house with the lead.
With many sponsor activations happening throughout the week, not to mention Callaway Golf's title sponsorship of the event with support from G&G Brands, Kenney noted the importance of the support, which allows events like this to happen for PGA of Canada members.
"Having these sponsors is massive. We feel like we're backed and supported, and it keeps us coming back," said Kenney. "It creates a big atmosphere that gets us excited, and it gets more players from all around Canada out to play in these events."
Focus Golf Targets conducted an activation on the driving range, which will continue tomorrow, which gives each pro three shots to hit one of their driving range targets placed 40 yards away. The player to come the closest with their three shots wins $250. The final result will be announced following the final round.
National Partner NoSweat also handed out a $125 prize to the player who conquered the "NoSweat Hardest Hole of the Day", which was the par-4 13th hole on Wednesday.
There were just five players who made birdie on No.13, and after running the names through a random generator, Cameron Gall wins the first NoSweat prize of the week.
BetRegal is still looking for you to support your local pro this week at the championship.
Simply head to this BetRegal link, and select your pro. The pro that wins the event will receive $10 for each vote cast in their name, half of which will go directly to supporting their golf club.
In addition, the pro that receives the most support, or unique 'votes', will also be awarded the banked funds that they have earned.
LivRelief, the official Pain Relief Cream of the PGA of Canada, has also been handing out their product to players this week.
The Ontario InterZone Team, which includes Ed Maunder, Gord Burns, Danny King and James Skrypec, lead the InterZone championship after finishing the day at even par, while Dean North was the low Club Professional on Wednesday.
It is also important to note that Benoit Boudreau mentioned a few times on Monday that he "felt something special coming." He is just two-strokes back at 1-under par. So, watch out to see if there is some more where that came from on Thursday.
Final round tee times will begin at 10:00 AM ET on Thursday, with players teeing off the first and 10th tees.