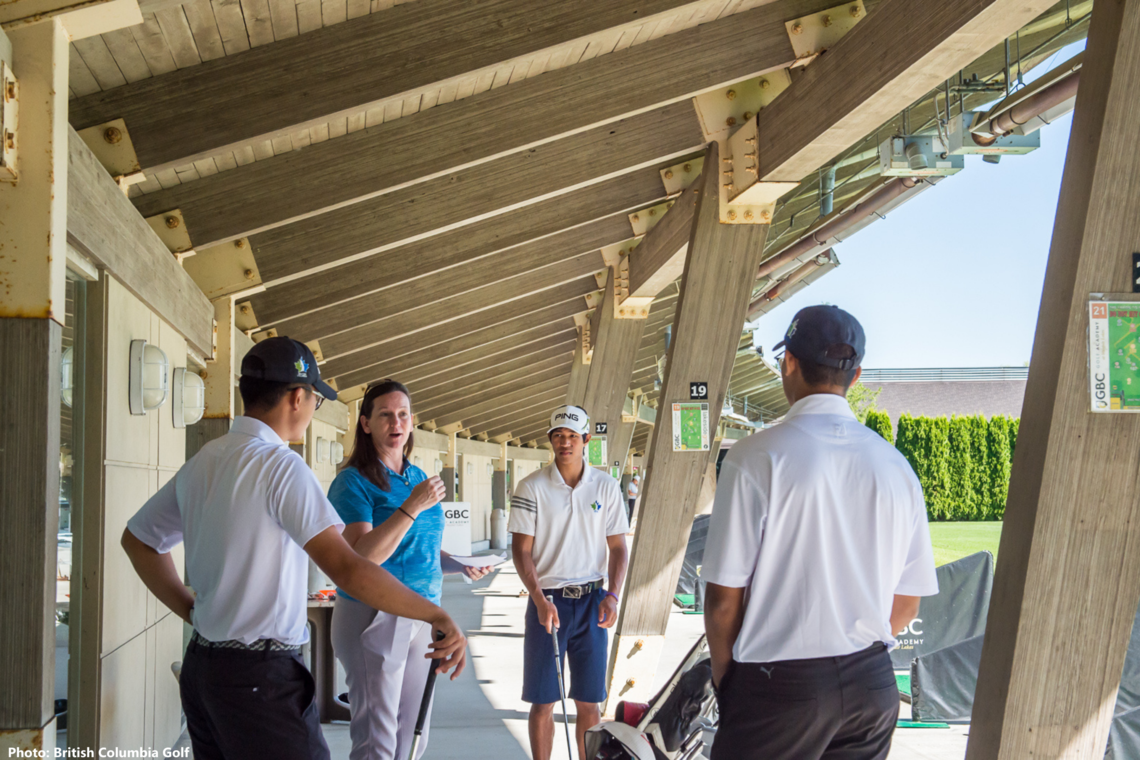 #NationalCoachesWeek Profile: Jennifer Greggain
Powered by SCOREGolf
Touring professionals rarely contemplate their retirement plans. As many will tell you, if you're on the road going from tournament to tournament thinking about your next job, you're probably not going to perform very well in your current one.
Jennifer Greggain was no different. The California-born, Washington State-raised, University of Washington-educated golfer turned pro in 1999 and immediately qualified for what was then known as the Futures Tour, the LPGA Tour's feeder circuit. She spent four years there before graduating to the game's top stage where she played 14 events over two seasons. Then more minor league golf on both sides of the border, all the while residing in Canada with her Alberta-born husband, a physician who very much wanted to remain in the Canadian medical system.
"Canadian guys are just so nice, right?" Greggain joked.
After 10 years of toil and not totally sure of what she would do next, Greggain called it a career. Though there were no tournament wins, it was a fulfilling journey filled with friendships and fond memories. One that stands out is getting paired with Lorena Ochoa and Laura Davies in the second round of the LPGA Tour's MasterCard Classic in Ochoa's native Mexico. The gallery following their group that day was by far the largest Greggain had ever experienced.
"I'll never forget how nervous I was on that first hole," she recalled. "I hit a three-wood for my drive and I hit the farthest three-wood I had ever hit in my life just because of how much adrenaline you have. I ended up birdieing the hole and I will just never, ever forget birdieing that hole while playing golf with Lorena Ochoa and Laura Davies, terrified and scared out of my mind."

So what to do next? True to the touring pro mantra, Greggain never looked ahead during her playing days, but based in Chilliwack, B.C., and strongly connected to Chilliwack Golf Club, dipping her toe in the teaching waters was at least intriguing and a way to stay in the game. As it turned out, it was the beginning of a passion that burns as strongly as playing herself ever did.
"I came into it with a very open mind as far as, how could this look for me. And I just really enjoyed connecting with people and helping them," Greggain explained. "That first year in 2009, working with kids, working with adults, I had a few competitive juniors as well and I would show them how to play events. Just that idea of connecting with them and helping them I think really just started the fire and I've pursued a lot of coaching opportunities since then."
Indeed she has. Upon certifying with the PGA of Canada (she is also an LPGA Teaching and Club Pro Division member), Greggain joined the staff at Chilliwack, becoming the director of instruction at the club's academy and building a top-notch junior program there. She was brought on as an assistant coach for the University of the Fraser Valley's golf team and helmed B.C.'s Summer Games squad on a number of occasions. She's been continuous in her pursuit of higher education with the PGA, completing the Teaching and Coaching Certification program and coaching and developmental workshops. She's TPI and K-Vest certified and last June she enrolled in the University of British Columbia's Master of High Performance and Technical Leadership program. Oh, and the mother-of-two became a Canadian citizen along the way as well. Her husband offered to relocate south so Greggain could be closer to her own family after so many years in Canada, but she never felt the pull home. She was home.
"There is a lot to be said about the support of a small community like this," Greggain said of her adopted hometown. "I felt super connected. Our kids felt super safe and connected here. So I really feel like a lot of my success can be attributed to that. It's so supportive. I never regret that we stayed up here. It's one of the best decisions we ever made."
With her love of coaching entrenched, Greggain set her sights on more experience with high-performance athletes and found it in February when she was named assistant coach of Golf Canada's Women's Amateur Team and Young Pro Squad. The draw of working with the country's finest young players, but also head coach Tristan Mullally, drew her to the job.
"It's been my goal to become a national coach and when I saw the posting I just thought it was a perfect fit for what I was looking to accomplish with the trajectory of my career," she said, adding she felt her decade of playing experience would lend relevance to the role.
Of course things haven't exactly gone the way as planned with COVID-19 cancelling college seasons, spring competitions and travel. Greggain was able to attend a couple of camps and make one campus visit before the shutdown, which precipitated the team to rely on virtual learning and Zoom calls. Based in B.C. as she is, Greggain, along with Victoria resident Robert Ratcliffe, assumed coaching responsibilities for the program's B.C. cohort of players, male and female. With golf in that province not shutting down as it did in others, Greggain was able to eventually do some in-person coaching at Vancouver's Northview Golf and Country Club and at Vancouver Island's Bear Mountain Resort, the program's official training centre. She even got to follow Junior Squad member Angela Arora while she captured the B.C. Junior Girls Championship.
"It was different. We had to be adaptable, we had to be resilient, we had to keep our hopes up and look to the future and see what we could do to best help our athletes while keeping their safety as the No. 1 priority," Greggain explained.
Despite the topsy-turvy first season, Greggain is extremely excited about her new role with Golf Canada and took time to laud the governing body partnering with the PGA of Canada on the creation of the Canada in Women Coaching Program, which she described as an "opportunity to get some more female coaches in our association plugged in with the national program."
"We have some amazing female coaches in our association," Greggain said. "I've had lots of female coaches reach out and ask me about the program and I've heard we've had some really good interest and lots of registrations. I'm just really encouraged to see how much interest there is in our female members in our association. It's going to be a really fun opportunity."
As Greggain can attest.