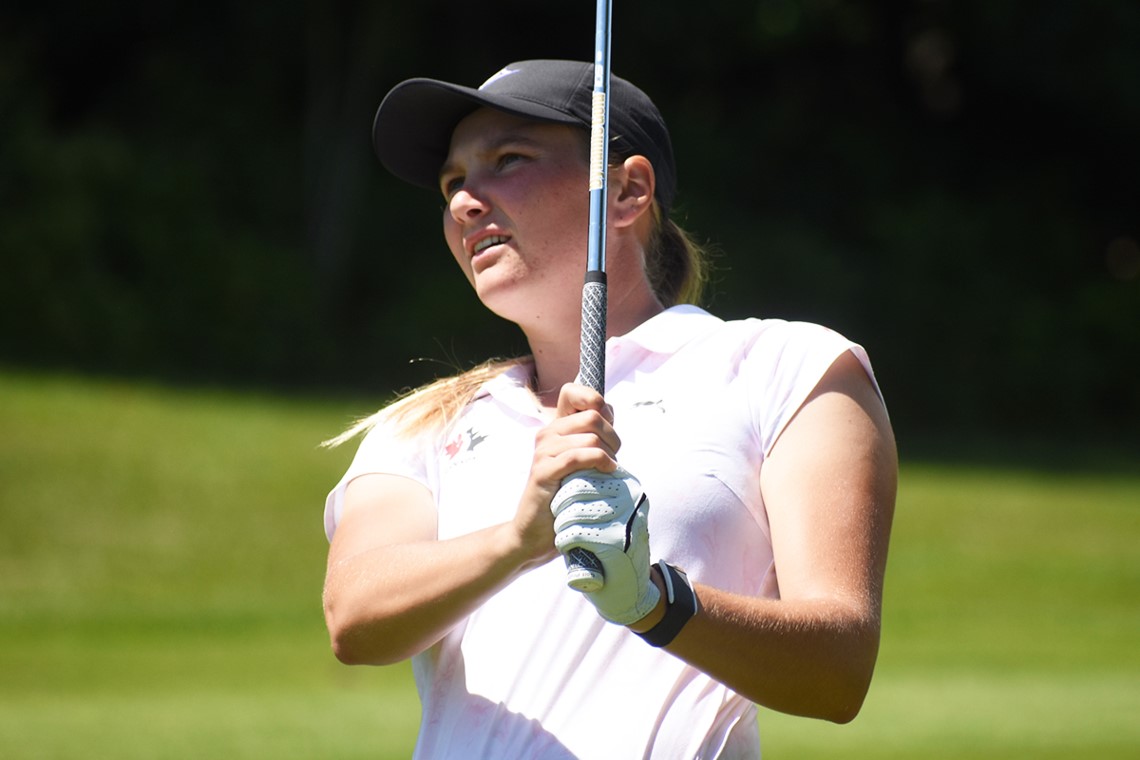 National Amateur Squad Member Sarah-Eve Rhéaume leads ORORO PGA Women's Championship of Canada at Chateau Bromont after first-round 69
(BROMONT, QC) – During the first round of the ORORO PGA Women's Championship of Canada at Chateau Bromont, Golf Canada National Amateur Squad member Sarah-Eve Rhéaume rolled in seven birdies and leads by one stroke following a first-round 69.
For the full leaderboard from the first round of the ORORO PGA Women's Championship of Canada at Chateau Bromont, click here.
"I started off a little rough, but made a few really good birdies early in my nine, and another good birdie on nine when I got up-and-down from the bunker," said Rhéaume, who placed T5 at the 2021 Canadian Women's Amateur. "I've played a ton of junior events here, so it always feels nice to come back to Bromont, especially to play in this event."
Though Rhéaume got out of the starting gate slowly with back-to-back bogeys to begin her round, she hit her stride mid-way through her opening nine with back-to-back birdies on the par-5 fifth and sixth holes.
Following a bogey on eight, she rattled off four birdies in her next five holes to propel herself into the lead, which she added to with another birdie on her final hole of the day.
Rhéaume, a native of Québec City, is set to enter her fifth season with the Furman University Women's Golf Team in South Carolina. The 22-year-old (as of yesterday) looks to be the first amateur to win the Women's Championship of Canada since Brooke Henderson in 2015.
"That would be so great," said the 2019 Quebec Women's Amateur Champion. "It is so amazing any time you can compare your name alongside Brooke."
This year's championship was combined with the Bromont Invitational and is being run alongside Golf Québec to help ease player's schedules throughout the country. Along with a cheque for $15,000 (should a professional win), the winner of the event will receive an exemption into this year's CP Women's Open.
The leaderboard is jam-packed after 18 holes, with South Korea's Min-G Kim folding into second place as the low professional with a seven-birdie first-round 70.
In addition to playing for the regular purse, there is also $15,000 reserved exclusively for PGA of Canada members. Chateau Bromont Apprentice Professional, and recent winner of the Glencoe Invitational as well as the past two Bromont Invitationals, Caroline Ciot, was the low PGA of Canada member, and is two-strokes back.
The second round of the 54-hole ORORO PGA Women's Championship of Canada will begin at 7:30 A.M. on Thursday morning.
About ORORO Heated Apparel
Hailing from the Midwest, we understand that the cold can interfere with your full enjoyment of life! That's the reason why, in 2015, we created ORORO Heated Apparel. ORORO's current product line includes heated jackets, vests, hoodies, gloves, mittens and socks. With over 500,000 happy customers, ORORO is on the cutting edge of technology, helping you enjoy life in cold climates. For more information, please visit www.ororowear.com.
About PGA of Canada—THE LIFEBLOOD OF THE GAME OF GOLF
Established in 1911, the PGA of Canada is the second oldest and third largest professional golf association in the world. The PGA of Canada is a non-profit association comprised of nearly 3,600 golf professionals across the country. The association's mandate is to develop, promote and support its members in living a better life and earning a better living while growing participation, excellence and passion for the sport of golf. The association consists of the national office located in Acton, Ont., and nine Zone Offices across the country. For more information, please visit https://www.pgaofcanada.com/.
About Golf Québec – Initiate passions, build dreams
Founded in 1920, Golf Québec is the provincial sport federation whose mission is to increase participation in golf and develop excellence. Some of Golf Québec's core services include the Golf in Schools Program, First Tee as well as Get Linked initiatives, the Introduction Tour, Junior Golf Development Centres (JGDC), Rules of Golf, World Handicap System, course rating services, Golf Fore the Cure, as well as the Québec Golf Hall of Fame. In addition, Golf Québec conducts regional and provincial championships to bring the local golf enthusiasts to surpass themselves and eventually reach the upper spheres of professional tours. For more information, please visit https://www.golfquebec.org/en/.
About Golf Château-Bromont
Founded in 1964 and located at the foot of Mount Brome in Bromont, over the years Golf Château-Bromont has been renovated with the participation of renowned architects Howard Watson and Graham Cooke. The Château-Bromont course is now considered one of the most prestigious public courses in Québec with its immaculate greens and panoramic setting. Host to many prestigious Canadian, provincial and regional championships, there is no doubt that Golf Château-Bromont is the perfect place to host the most prestigious amateur and professional championships. For more information, please visit https://chateaubromont.com/golf-chateau-bromont/