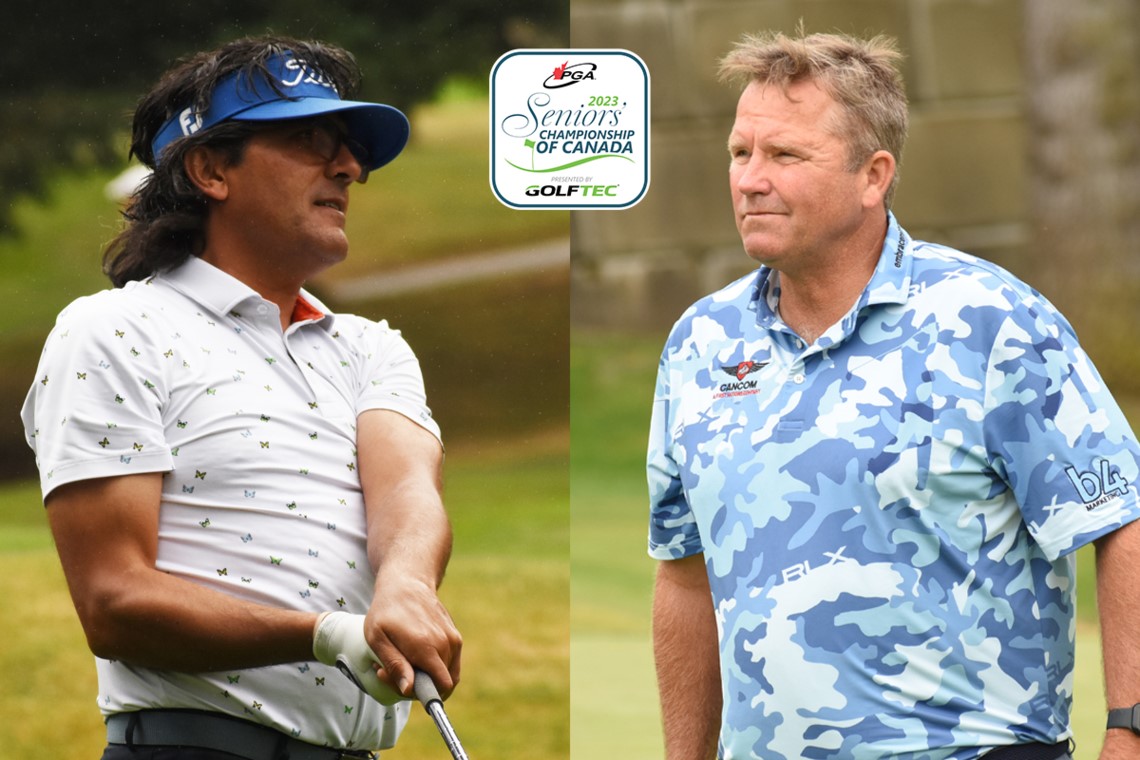 Moniz co-leads with McLean after firing low-career National Championship round at PGA Seniors' Championship of Canada presented by GOLFTEC
By: Brendan Stasiewich, PGA of Canada
Past PGA of Ontario President Michael Moniz had quite the memorable opening round of the PGA Seniors' Championship of Canada presented by GOLFTEC at Ledgeview Golf Club in Abbotsford, British Columbia on Wednesday, firing his low-career national championship round – a 67, which featured five birdies – to share the lead with Alan McLean.
Prior to Wednesday, the Maple Downs Head Professional had yet to fire an under-par round on the national stage. He quickly changed that, making birdie his first chance out of the gate, and bookended his round with a couple more late birdies to enter the clubhouse at 3-under par.
"The food will taste a little better tonight and the drinks will taste a bit colder after that," said Moniz. "I got here on Monday and played the practice round yesterday and if you based it off of that, this would have been a complete 180 (degree turn), but I kept it in play and here at Ledgeview you have tight corridors to hit the ball into, which usually isn't a strength of my game, but I found the green a few times and made some putts today."
Moniz is a name stay among leaderboards and tournament rosters in both PGA of Ontario Zone events and PGA of Canada National events. Often found with a smile, the 52-year-old notes how important it is for professionals to stay active with the sport.
"We wear many hats, but we need to have the playing aspect," said Moniz. "Whether it is locally in Zones or Nationally, or at home with members or students, I think it's a huge aspect of what we do."
An interview with Michael Moniz can be found here.
Teeing off a few groups after Moniz, fellow PGA of Ontario professional Alan McLean continued his red-hot summer with a matching 67 to take a share of the lead.
"It's a great little golf course," said McLean, who finished T42 at the US Senior Open last month. "I took some chances off the tees, and they paid off. The greens were a bit of a struggle, which is the protection of the golf course, but I generally kept the ball in front of me and I'm happy with the result.
"I feel like you can really take advantage here of a good tee shot. If you miss in the wrong place it's a tough up and down but generally the driver is the best club in my bag, so I like to take some chances," McLean continued.
In addition to a noteworthy finish on the national stage earlier this summer in Wisconsin, McLean also claimed the PGA of Ontario Zone Championship, shooting 67-68 at Barrie Country Club to win by three over David Li Sheman.
"I think I'm trying to play more patient. For example, if I hit my driver and it's not perfect, I'm not going to try to make a fantastic shot, I'll take what is given to me and try to eliminate bogeys," said McLean. "I hit a few balls every day, between lessons I'll schedule an hour to hit balls, and inside 100 yards I've improved a lot."
An interview with Alan McLean can be found here.
Jim Rutledge has an opportunity to match Moe Norman's record of eight PGA Seniors' Championship of Canada wins this week. Rutledge began his tournament with an even-par 70 and is three off the lead with 36 holes to play.
Each day of the event, one hole is deemed the NoSweat Hardest Hole of the Day. The player that conquers the hardest hole is given a $150 bonus thanks to NoSweat. The 6th hole was the most difficult hole on Wednesday, only giving up three birdies. After a random draw, Harmeet Kahlon is today's winner.
Second round tee times are set to begin on Thursday at 7:00 AM PST.