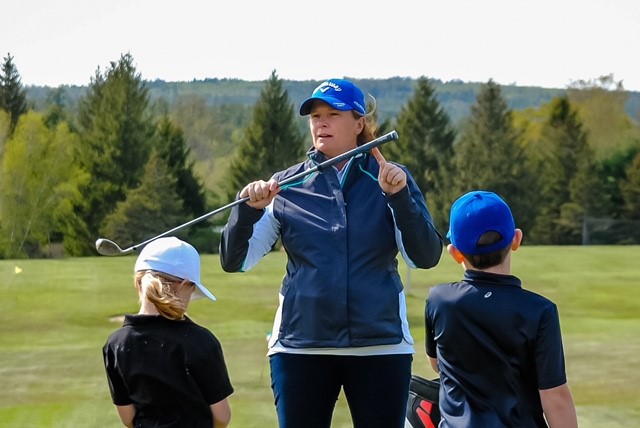 Member Profile: Sara Wilson, Metro Ladies Golf Inc. Founder
By Jason Logan
You wouldn't think a PGA of Canada member who grew up a junior golfer at a private club and worked at another for 14 years would ever lack a sense of belonging in the golf industry. But such was the case for Sara Wilson circa 2013, and it led to the creation of a company that introduced the sport to hundreds of Nova Scotia women, some of whom credit it for saving their lives.
Wilson was born in Halifax and raised in Sudbury, Ont. She and her family played their golf at Idylwylde Golf and Country Club, where she was inspired by then-head professional Diane Tuck, Northern Ontario's first female pro.
From there it was back to the city of her birth to attend Dalhousie University, where she played on the women's hockey team and obtained an arts degree. She followed that with a business certificate from Mount Saint Vincent University and membership in the PGA with a job at Ashburn Golf Club, starting in 1995.
Wilson spent nearly a decade-and-a-half at Ashburn and left when her kids came along, first a daughter and then twin boys two years later. When it was time for her to return to work she opted for the benefits and regular hours of a government job rather than the golf industry. Motherhood and a 9-to-5 life kept her from playing the game, though it remained in her blood, and soon she developed the itch to not only play, but to be among golfers again. She missed the camaraderie of club life that she'd experienced as a junior at Idylwylde and as an employee at Ashburn. She missed having golf friends. But she wasn't in a position to join a club. So instead, she decided to start one, so to speak.
"There has to be people like me who don't belong to a club who really want to play golf," Wilson explained of her thought process, adding the idea started to percolate after she attended government seminars on getting girls and women into sports.
That club, or "community," as someone early on described it, is Metro Ladies Golf Inc. Wilson founded it, owns it, operates it. It is a now 170-plus members strong, having sprung to life with 50 eager women signing up during a 2013 information session held at Halifax-based golf store Golf Central. In essence, it is a golfing society like those that have become trendy around the world in recent years. It offers instruction, leagues, Golf Canada membership, a club championship, bag tags and even merchandise. Play circulates among different golf courses and there have been trips south in the winter — to places such as Jamaica, the Bahamas and Mexico. The age of its members ranges from 30-somethings to 80-somethings, the latter set leading the way onto the dance floor or wherever else on the road.
"They've been everywhere, seen everything, and don't care," Wilson jokes.
But it's something else some of the seniors in Metro Ladies share with Wilson that stops her in her tracks.
"People remind me every day that Metro Ladies has saved their lives," she explains. "They lost their husbands, they're alone, and now I'm connecting women and yes they're sharing golf, but they're also doing things outside of golf every day."
It was a huge leap of faith for Wilson to start the business, but she wasn't without preparedness and family support. With her government contract up, she enrolled at the Centre for Entrepreneurship Education and Development in Halifax where she was assisted with her business plan — everything from incorporating to marketing and advertising.
To make ends meet — "I felt like my passion would help me succeed but who knows if I was going to make money," she admits — Wilson dove back into golf full time, teaching lessons "like gangbusters" at a local driving range. Then she became the director of instruction at Oakfield Golf and Country Club, juggling that job with running Metro Ladies. A busy year in 2020 given COVID and she's had little time to sleep. And now a few more balls — or maybe knives — have been added to the act as, in September, Wilson accepted the position of General Manager at Paragon Golf and Country Club in the Annapolis Valley. Paragon is a terrific facility — a full range and two practice holes! — that has been without a PGA pro for 15 years and hadn't undergone a change of management in 40. Opportunities abound, believes Wilson.
"Being a small zone, and I never want to leave this zone, the opportunities don't come around that often for great jobs," she says. "Always in the back of my mind I wanted to be a head professional or a director of golf but it never seemed to be the right fit for me … I think one of the reasons they looked to hire me was the entrepreneurial spirit I have and how to make money and do things differently."
Help, both volunteered and hired, will keep Metro Ladies running smoothly with Wilson in this heightened role, though she says that the league pretty much runs itself these days. Instruction is always welcomed, and she plans to do some half-days at Paragon through the summer, but what the club is really about is the sense of belonging the women feel playing golf and doing other things together. She is not Metro Ladies, Wilson tells her members, they are.
"I pretty much just opened up the door and pushed everything out of the way so they have no barriers in front of them," Wilson concludes.
A door to the greatest of games.