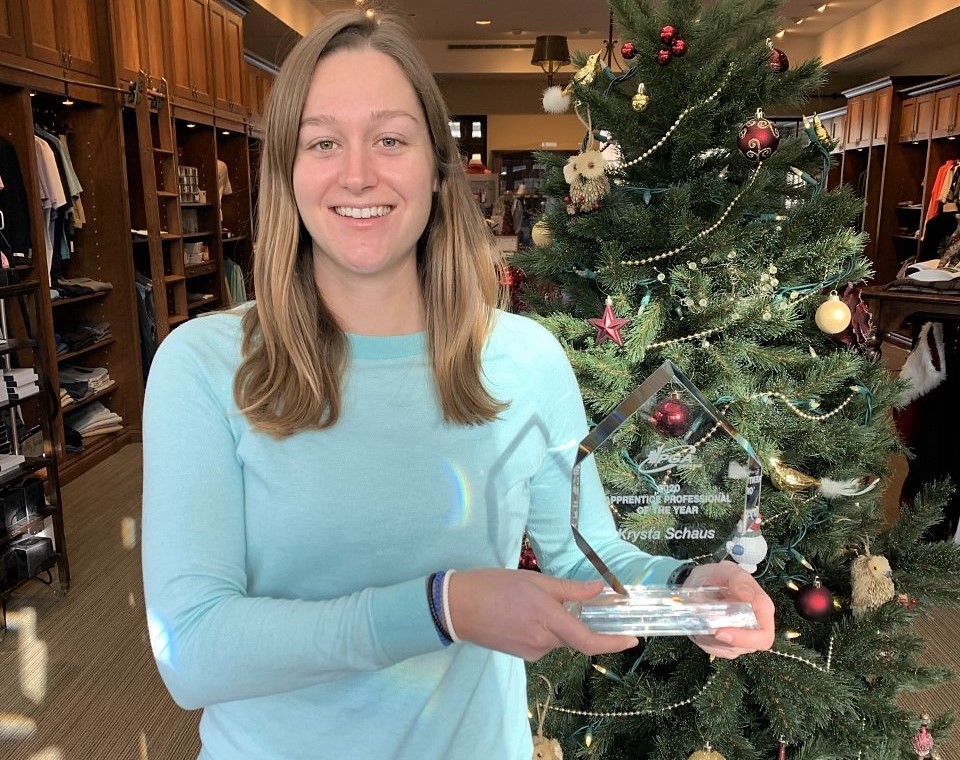 Member Profile: Krysta Schaus, Moe Norman Apprentice Professional of the Year
By: Jason Logan
The inability of the golf industry to gather in person for this year's PGA Merchandise Show in Orlando, Fla., and, by extension, for Canada Night, the PGA of Canada's end-of-week capper honouring its National Awards winners, was like a buried lie in the rough to start the season. However, there were some silver linings that emerged from the virtual proceedings.
For instance, for the first time in history those award winners were not notified in advance. Without travel arrangements needing to be made, that was unnecessary. As a result, suspense was added to the evening with the top-three nominees in each category spotlighted on camera as the winner's name was unveiled during a cyber ceremony. In a way, the PGA of Canada's National Awards went Hollywood.
Krysta Schaus logged on that night from her downtown Toronto abode. An assistant professional at Toronto Golf Club, she was up for the evening's first honour, the Moe Norman Apprentice Professional of the Year Award.
Butterflies fluttered in her stomach as co-host Kayla Grey opened an envelope to discover the winner, and when Schaus' name was read she did her very best to remain composed and give thanks and not be distracted by her brother/roommate who was celebrating wildly in the background.
"The nerves were still going even though it wasn't in an environment where you are surrounded by a lot of people just because the awards do mean so much to us, especially in a year like COVID where we have gone through a lot of changes," said Schaus. "We had a crazy, crazy golf season in terms of the number of rounds played so to be even a finalist for an award for the PGA of Canada was exciting."
A native of Fredericton, Shaus got a relatively late start in the game, beginning to play at 12 after a childhood of competitive baseball and hockey. But she took to it quickly, using length off the tee as her primary weapon and eventually competed on the national stage against the likes of Brooke Henderson. That helped her get recruited by Erskine College in South Carolina, where Schaus spent one year as a pre-med student before switching to sport management. She realized she'd rather spend her afternoons on the golf course than in science labs. She had no aspirations of playing on the LPGA Tour, she says, even after winning the 2016 New Brunswick Ladies Provincial Championships by nine shots. Instead, she wanted to be a college golf coach, and she did so as a graduate assistant at Gardner-Webb University in North Carolina where she obtained a Master of Business Administration, Marketing.
After six years of education in the U.S., Schaus found herself longing for home. She missed the little things about Canada, including talking to people about hockey, and so in June of 2018 she packed up her Volkswagen Jetta, picked up her father from the Charlotte airport, and made the 24-hour drive back to Fredericton, where she went to work at her home track, Fredericton Golf Club, and began sending applications to top spots in Toronto.
She targeted Canada's biggest city for two reasons. One, she hadn't played much golf in the Greater Toronto Area with national junior and amateur events tending to take place in smaller centres. And two, she sought a change of pace after living in the small towns of Due West, S.C. — "one stoplight, a Subway, and a gas station," she describes — and Boiling Springs, N.C., while in school. Doug Rankin, the longtime head professional at Toronto GC, reached out fairly quickly and invited Schaus to visit for a weekend to interview for a position. As an out-of-towner, she got to stay on property in one of the rooms above Toronto's historic clubhouse, play the golf course with two members, including Steve Thomas, the former Toronto Maple Leaf, and discuss her future with one of the most respected members of the PGA of Canada in Rankin. Schaus was smitten.
"When you actually get to Toronto Golf Club and drive down the driveway and see the clubhouse for the first time, it's just an experience like nothing else," Schaus says. "I immediately knew that Toronto Golf was special and a big reason why I knew it was special was of course the environment there is spectacular, and right away the membership was extremely friendly with me, but again, Doug knew that I was new to the club professional side of the business, but he saw that as an opportunity to help me learn and help me grow. And the fact that he took the time to sit me down and say, 'Listen, I want you here, I want to help you become that golf professional that you want to be, and I'm going to set you up with the tools to succeed,' I mean, done deal right there, when you have someone like Doug telling you things like that."
And very clearly Schaus has soared at Toronto. The gamut of her responsibilities runs from organizing club events to making merchandising decisions for the pro shop to teaching lessons. That latter area is where Schaus' passion truly lies and she's grown a solid stable of clients at the club. Janet Mackinnon, ladies club captain, says that several women at Toronto have said they wished Schaus had unlimited time to teach them.
"Many members shared their opinion with me that Krysta was such a great young hire, it would be a shame if we were to lose her to another club too soon. After only one season, they knew that she would be highly sought after," wrote Mackinnon in support of Schaus' nomination for the Moe Norman award.
They need not worry about that.
"I'm extremely happy where I am at the Toronto Golf Club," Schaus says. "In the past I've seen there have been a lot of great professionals who were there for two or three years and then they jump on to the next position, but I'm ok where I am. I'm happy to climb the ladder here and see what opportunities come up."