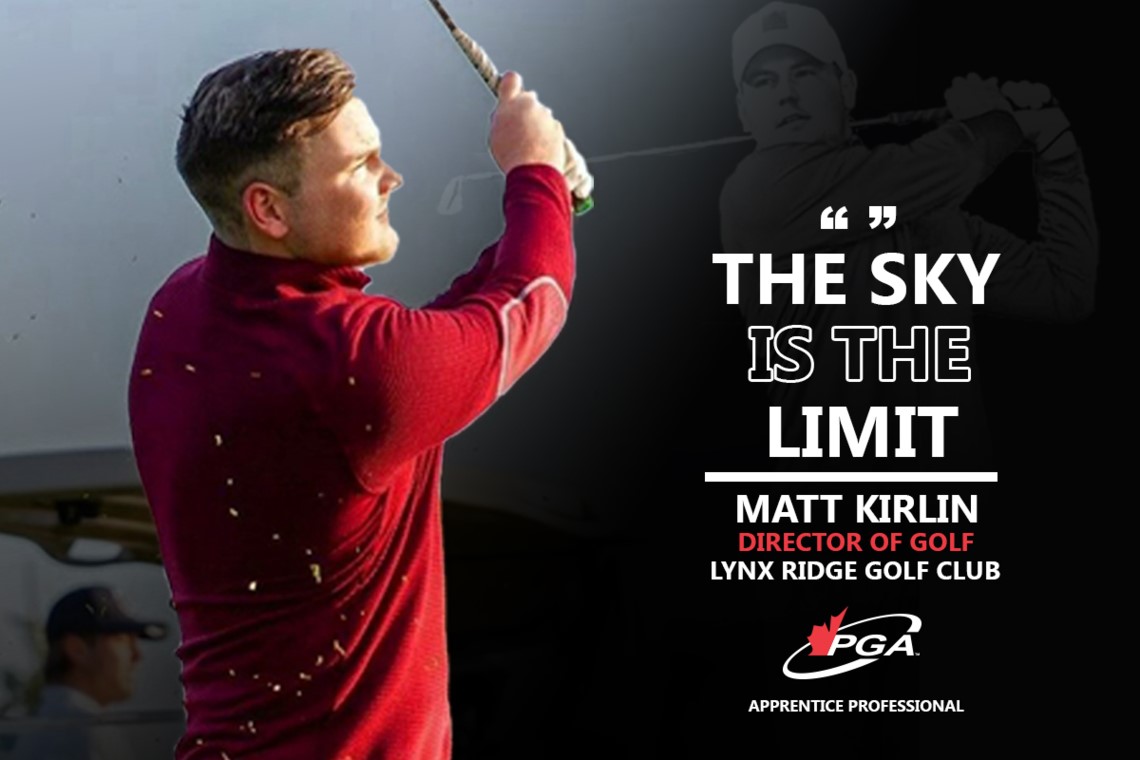 Matt Kirlin adds youthful energy to Lynx Ridge operations
By: Adam Stanley
It's been an impressive career for Matt Kirlin. And at 27-years old, that career is just getting started.
Kirlin, who has been a PGA of Canada Apprentice Professional since 2015, became the Director of Golf at Calgary's Lynx Ridge Golf Club when he was just 25.
The long-time junior member at the club was thrilled to return to the course filled with members he calls 'family' and inject some youthful energy into one of Calgary's top semi-private facilities.
"I don't believe I do everything right," says Kirlin with a laugh, "but the last three years my focus has been on making golf more fun and more accessible to people who might be nervous coming to a higher-level golf course like ours."
For starters, Kirlin has taken an approach to social media ripped from the playbook of many of the world's top brands. Scroll-stopping drone footage of the club, culture-specific photos of the members, and videos including Finn Scooters (it was the first club in the country to purchase a fleet of the single-rider golf scooters) are all intertwined to create a clean aesthetic. There are no big 'sales' messages posted – and people have responded well to that.
Kirlin says being the first course in Canada to acquire the scooters was initially a small experiment, but people drove in all the way from Saskatchewan, even, to try the scooters. Golfers picked Lynx Ridge for a getaway just to try them.
"You can't really put a dollar figure on that, but it helped drive awareness of the experience. Telling people to 'come to Lynx Ridge because it's a ton of fun,'" says Kirlin.
Kirlin says 'fun' is the name of the game at Lynx Ridge. Prior to COVID-19 impacting the way they do business, the club used to always have music going and the atmosphere was comparable to that of a downtown-Calgary patio.
From a business standpoint, Kirlin helped put together a clubhouse renovation plan that combined the pro shop and snack area into one flow-through room to increase customer touch points.
There was a wall between the two areas previously, but the staff broke that wall down so golfers through the turn could pick up pizza-by-the-slice, paninis, fresh-grilled burgers, or, if they've had a tough front nine, Kirlin laughs, they can inquire about lessons while grabbing a beer.
"People thought I was absolutely crazy for doing it," admits Kirlin. "But now that people have seen it in practice, I get a lot of calls like, 'can I see those business plans?' It was a big thing I did in my career. It was a bit of a risk, but it enhanced how our members check in, boosted pro shop sales and snack sales, and from a bottom-line perspective, we added a substantial amount of money by combining those two programs."
Kirlin tried making a go of it as a professional himself – he grew up in Abbotsford, B.C. and played junior golf alongside a pair of PGA TOUR winners in Adam Hadwin and Nick Taylor – but after spending a few winters in Arizona and witnessing how truly good golfers across North America are, he decided to head back to Canada.
Sports, he says, was ingrained as a potential career path for him from a young age.
His family moved from Abbotsford to Calgary and Kirlin joined Lynx Ridge, since the club was down the street from where he lived. After graduating from school, thinking he was going to become a pilot, he had an excellent summer playing competitive golf in Alberta. But, after his eye-opening experience in Arizona, he decided to pivot and learn the business of golf.
"I felt like there were huge opportunities to grow as a golf pro and change the dynamic of a 'traditional' golf pro," he says.
In 2015, Kirlin returned from Arizona and got a job working at The Links of Gleneagles, which, at the time, was hosting the Mackenzie Tour-PGA Tour Canada's ATB Financial Classic. That, he says, was the most important year of his career so far – the experience working under three pros and adjacent to the Mackenzie Tour staff was invaluable for his growth.
The following year he got a call from Lynx Ridge seeing if he wanted to come back as an assistant professional. While it was a tough decision, considering the momentum he had at Gleneagles, his heart pulled him back to Lynx Ridge.
The average age of the management at Lynx Ridge is only 34, and the demographic of the membership is unique – there is an older generation who have been around since the course opened, along with children of those initial members now joining. However, the whole group has embraced the cultural shift and the excitement, Kirlin says, as the club is about to install four new simulators next to its expanded pro shop, giving members access to golf 12 months of the year.
"I've always said I would stay at Lynx Ridge until I can't serve the membership or grow the business any further," says Kirlin, "but to me, the sky is the limit at the moment."